Faculty
Kenneth Parks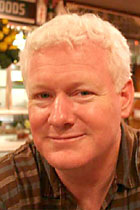 Associate Professor of Theatre
B.A., Centre College of Kentucky; M.F.A., University of Mississippi
email
website
Ken is the Scenic & Lighting Designer for Macon Theatre productions and Lighting Designer and Production Manager for the Dance Department's annual Spring Dance concerts. Recent work includes The Rimers of Eldritch, As You Like It, The Children's Hour, and the Classics Department's production of The Bacchae.
His classes include Basics of Design, Scenic Design, Lighting Design, Design Portfolio, and Design Studio. He publishes the department's e-newsletter, the Macon Theatre News, and serves as webmaster for the Theatre Department website.
James A. Ackley, Sr.
Adjunct Instructor in Theatre
B.A., Virginia Military Institute; Licensure Certificate in Theatre Education, Virginia Commonwealth University
email
Brooke Edwards
Visiting Assistant Professor of Theatre
B.A., M.F.A., University of Illinois
email