June 21, 2019
Endstation production, The Bluest Water, features local story and familiar faces
The newest production by Randolph College's professional theatre in residence, Endstation Theatre Company, hits home locally—and not just because it tells the story of Nelson County survivors of the historic Hurricane Camille. Randolph's faculty and students have played a large role acting and creating the set in The Bluest Water this summer.
In August 1969, Hurricane Camille, the second-most intense hurricane on record to hit the United States, brought devastation to Central Virginia. The production follows survivors Jared and Liz, 50 years later, as they try to figure out what happened to a friend who lost his family to the storm, and as they remember the dead and try to heal from their own wounds. On the 50th anniversary of Hurricane Camille's landfall, The Bluest Water honors and remembers those who lost their lives and the first responders who risked their lives to protect those who survived. The story was conceived by Jason Chimonides (who also wrote the play) and Geoff Kershner and is directed by Aaron C. Thomas.
Randolph faculty and students acting in the show include: theatre professor Stephanie Earl, who portrays Neddy McCullough; Elizabeth Beamon '20, who portrays Shauna; Ho'ola Bush '20, who portrays Nathan Fictner; and Zach Fair '23, who portrays Bobby Cassells/Tyler. Meanwhile, another group of Randolph community members has been working behind the scenes to create props and set the scene. Heather Sinclair, a theatre professor and Randolph's technical director, is contributing her skills as technical director for the production, and Chris Perez '22 and Dakota Willard '21 are working as carpentry apprentices.
In the role of Nathan Fictner, Bush plays a marine struggling with PTSD. Bush earned the role by auditioning last year and will also appear in several ensemble parts.
"Working with professionals from Endstation has been a really nice experience," Bush said. "As an actor, it's inspiring. My acting career so far has been characterized by people of my own age or younger, but working with Endstation has given me the opportunity to work with people older and more experienced than myself and it motivates me. It comforts me in a way that makes me feel like this is a career that I can pursue."
Both Perez and Willard are also excited to work with professionals and use their stagecraft skills to contribute to the show.
"My dream job in theatre is to be a technical director or technical theatre teacher at a high school, so this is the perfect opportunity," Perez said.
The message of the play hits extra close to home for Willard.
"I'm most excited to work on The Bluest Water because it's about my hometown," Willard said.
As Randolph's professional theatre company in residence, Endstation Theatre Company uses the campus as the home base for its summer program. Founded in 2007, Endstation is known for producing new works, reinterpretations of classical plays, and other works chosen specifically for the Central Virginia community based on the historical, current, and cultural events of the area.
Endstation also hosts the Embark! Youth Theatre Conservatory, a two-week summer program held at Randolph that gives rising 3rd through graduating 12th graders the opportunity to hone their skills under the direction of theatre professionals from around the region and nation. Randolph students also benefit from the partnership with apprenticeship opportunities, workshops, and access to Endstation's specialized designers, technicians, and artists.
"Endstation's partnership with Randolph College is absolutely essential to our work," said Chris Bailey, managing director for Endstation. "The beautiful campus, supportive community, and the housing accommodations create the perfect environment for creating top-notch art, and further enables us to easily recruit performers and staff from across the county.
"Our educational programming, and specifically our apprenticeship program, are major tenets of our mission," Bailey continued. "Our close relationship with the theatre department, and specifically chair and professor Stephanie Earl, affords us the opportunity to work with and provide professional training to Randolph students who are looking to take the next step in their theatre careers. We are thankful for Randolph's support and proud to call this excellent institution our home."
For tickets and more information about The Bluest Water, visit www.endstationtheatre.org.
SHOW TIMES:
7:30 p.m. on June 21, 22, 26, 27, 28, 29
2 p.m. on June 23, 30
Location:
Thoresen Theatre, Harold G. Leggett Building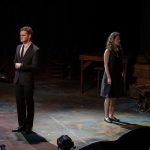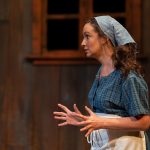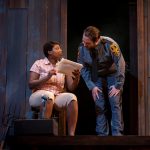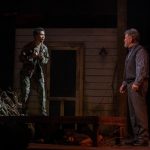 Tags:
acting, apprenticeship, Chris Perez, Endstation Theatre Company, events, Heather Sinclair, Ho'ola Bush, Liz Beamon, performing arts, stage management, Stephanie Earl, theatre