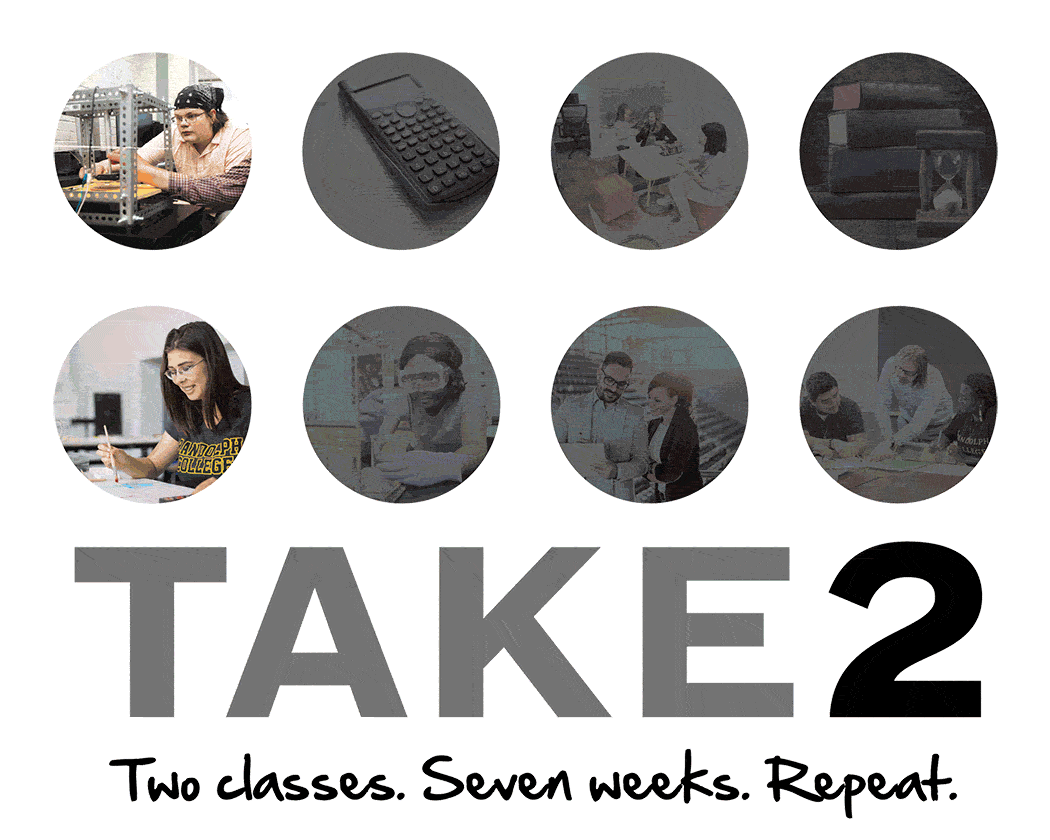 About TAKE2
Randolph's innovative TAKE2 model is a better design for the way students learn and live—both in today's world and tomorrow's.
Randolph College is launching a new curricular model designed to help our students have a successful, enjoyable, and rewarding academic experience.
The central idea of TAKE2 is built into its name: Beginning in fall 2021, Randolph students will take two classes at a time for seven-week sessions, instead of four or more courses per semester. No classes will be held on Wednesdays in order to allow for extracurricular activities, community engagement, a cognitive break to study and prepare for classes, field trips, and internships.
Why make this change?
For decades, the typical academic model at most liberal arts institutions has consisted of students taking four or five courses each semester, while at the same time juggling extracurriculars, jobs, athletics, and other passions.
Because it's always been that way, few people have thought to change it.
Randolph's faculty not only questioned it, they decided to come up with a better and more creative solution—one that would allow our students to sharpen their focus with immersive learning, gain life balance with a more flexible schedule, and most importantly, thrive within a supportive, student-centered environment.
How will it help our students?
We believe that by allowing students to focus on two classes at a time, rather than spreading their attention across four or more courses, TAKE2 will improve learning and offer greater opportunities inside and outside the classroom.
TAKE2 will:
foster a more intensive academic experience and enable faculty and students to dive more deeply into course material.
provide faculty with more time for academic support to help students conquer particularly difficult concepts or explore newly discovered passions.
allow students to take greater advantage of the many resume-building extracurricular opportunities that Randolph offers, including dance and theatre performances, internships, research projects, jobs, community service, clubs, athletics, and more.
This revolutionary approach to learning will not only set Randolph apart from other liberal arts colleges, it will create a distinctive college experience designed to better meet the needs of 21st-century students.

Class Schedule Comparison – TAKE2 vs. the Common Model
Typically, students under a common model schedule take four or five classes each week for an entire semester. Under TAKE2, Randolph students will take two courses for seven-week sessions, with no classes on Wednesdays. This allows for a more intensive learning experience designed to better meet the needs of today's students.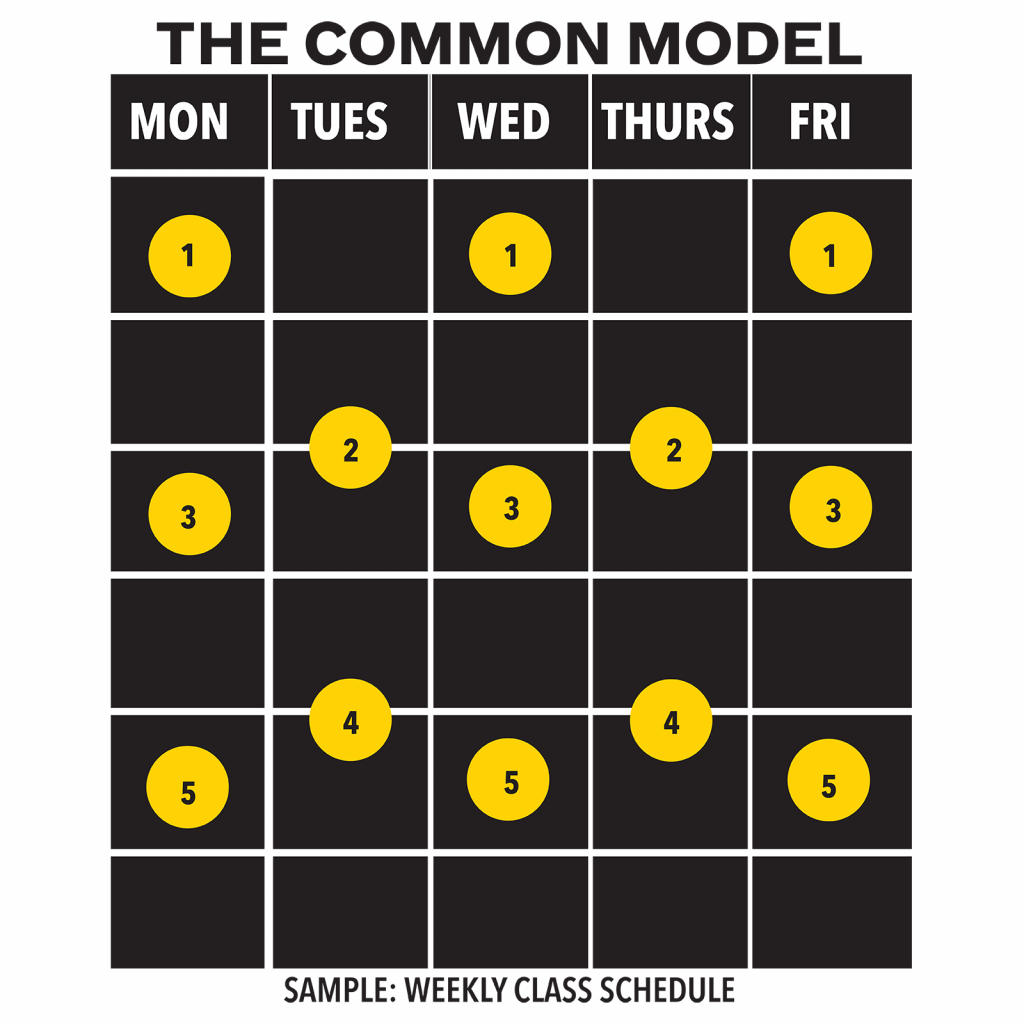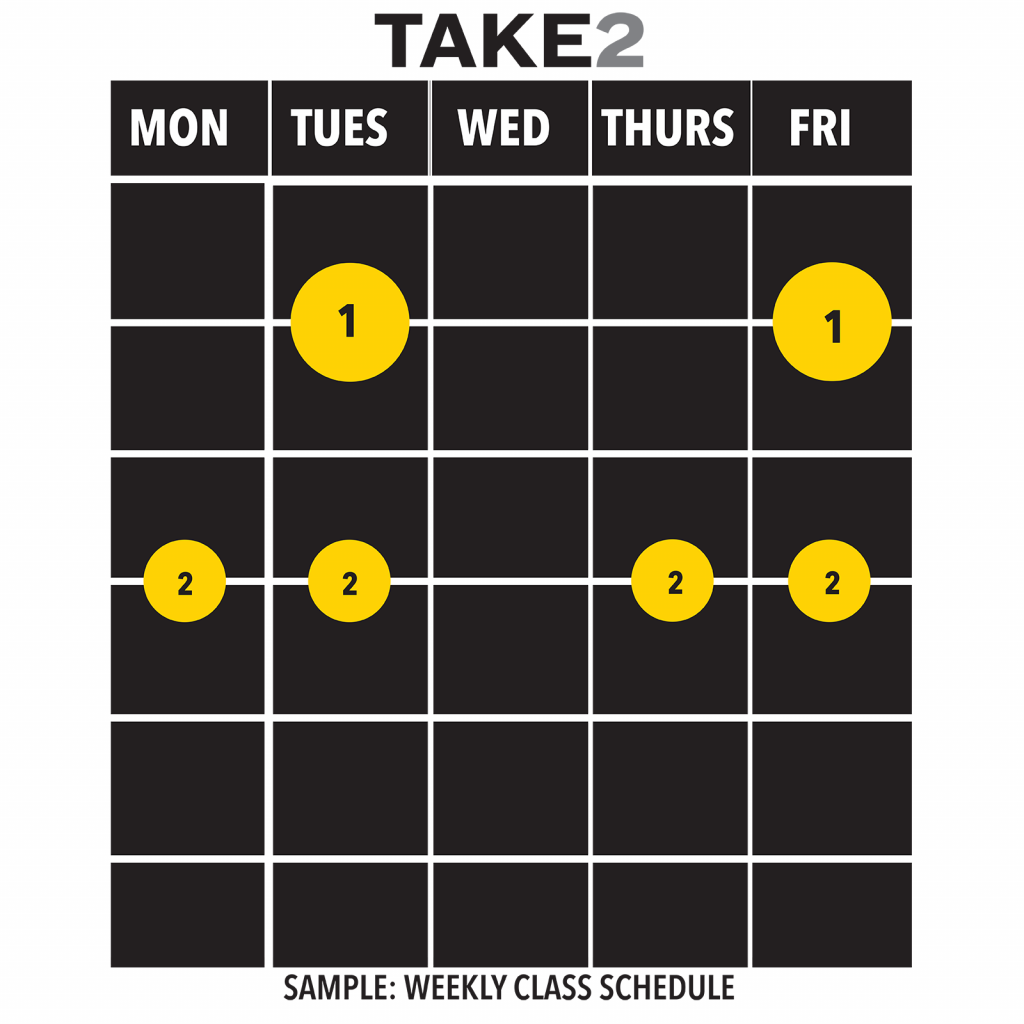 Daily Activity Schedule Comparison – TAKE2 vs. the Common Model
Under the TAKE2 model, students will be able to focus on just two courses each session, which provides an enhanced and more meaningful learning experience and offers greater opportunities inside and outside the classroom. Randolph's students will sharpen their focus, maintain a better work-life balance, and thrive within our supportive, student-centered learning environment.