August 12, 2014
3D printer helps make lifelike masks for Greek Play
Randolph College students got a head start on the Greek Play this week by beginning to build several theatrical masks with the help of new technology.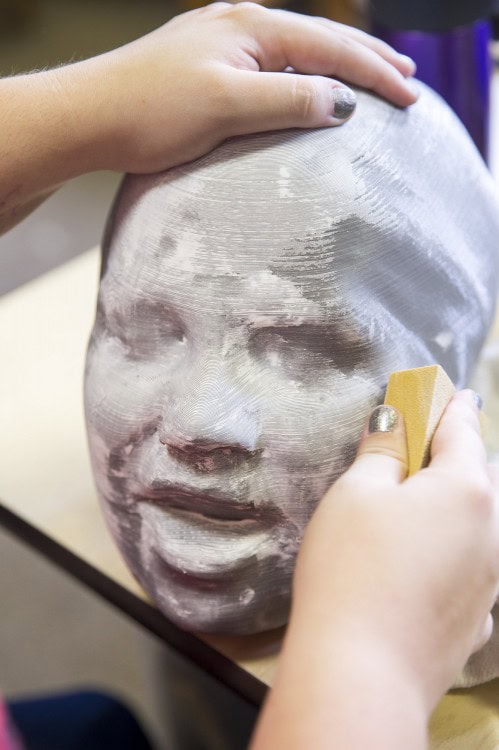 Monday morning, eight plastic heads—nearly perfect replicas of the actors' heads—were lined up on a table in the Greek Play office. The models were created using cutting-edge 3D scanning and printing technology. Whereas molds for the masks traditionally have been made using much older techniques, such as pouring plaster over an actor's face, the Randolph College Center for Ancient Drama (CAD) is testing a more modern idea this year.
"We're really excited to find out if we succeed with our ideas about using 21st century technology—3D printing—to help create 5th century B.C.E. technology—linen theatrical masks," said Amy R. Cohen, a classics professor and director of the CAD.
Four students—Hannah Edwards '16, Allison Veaner '16, Marianne Virnelson '17, and Daisy Howard '17—are on campus three weeks early to help Cohen make the masks before the semester begins. Monday morning, they used spackle and sanding blocks to perfect the model heads before sealing them with polyurethane. Today, they began making plaster molds from the of the faces.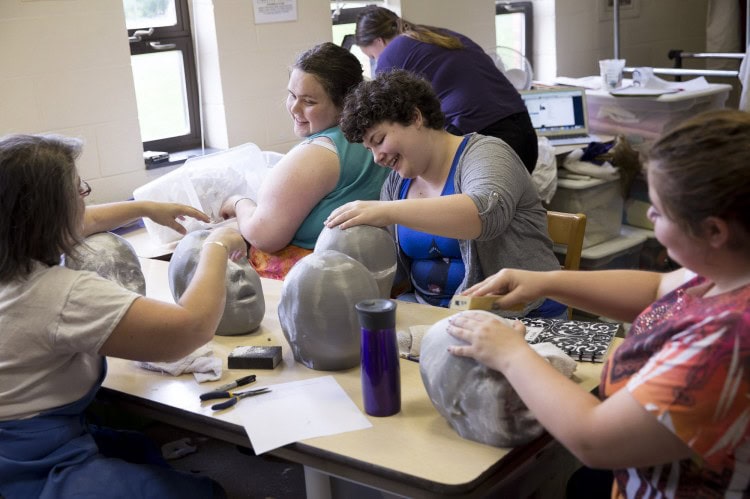 In the biennial show, students produce a play from ancient Greece with the techniques that Greek thespians used more than 2,000 years ago. The play is performed in the Mabel K. Whiteside Greek Theatre in the Dell.
This year, the featured play is Oedipus the King by Sophocles. It will be performed on October 10 – 12 at 4 p.m. each day.
The 3D scans of the actors heads were provided through a partnership with GoMeasure3D, which included an internship for a Randolph College student. The purchase of the 3D printer, a MakerBot Replicator Z18, and the summer mask-making project were made possible by gifts from Andy Scott and John Scott in memory of their mother, Martha Roddenbery Scott '57; and Willard Johnson and Marilyn Hall in memory of their mother Margaret Ellis Johnson '31.
Tags:
Amy R. Cohen, classics, greek play