August 13, 2014
Crime lab internship gives student her own CSI experience
Lexi Harrington '15 has wanted to work in a crime lab for years. It was her way of combining an interest in helping her community and in science. It also motivated her to major in chemistry at Randolph.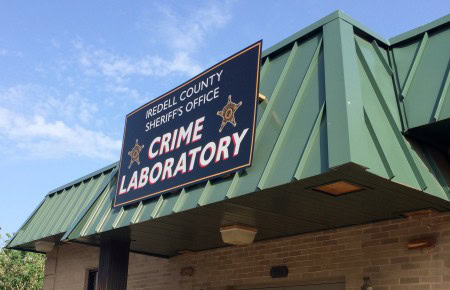 But she was a little uncertain about her choice—until she spent this summer working in the Iredell County Crime Lab in North Carolina. "It was such a positive and confirming experience," she said. "Once I started working, I walked into the lab, and I realized I could do this. I've only completed three years of my degree, and I already know how to do all this."
As the summer intern this year, Harrington shadowed each person in the crime lab to learn about what they did. Then she worked alongside them on tasks ranging from testing the amount of alcohol in blood to determining whether a spoon had traces of heroin.
Due to her lab experience at Randolph, Harrington grasped most of the techniques for the tests early on. She did learn a lot of new information, though, especially about the legal requirements for conducting crime lab work.
Her biggest surprise was the time involved in analyzing fingerprints. "I watch a lot of CSI," she said, noting that the TV shows about forensic scientists show computers returning fingerprint matches rapidly. "In reality, they have to upload the fingerprint, choose 10 different spots specific to that fingerprint, and it comes back with 10 or 15, or sometimes 20 different matches," she said. "You have to go through manually. It's not completely automated like I thought it was."
The internship went well enough that Harrington has accepted an invitation to return to the crime lab over winter break this year. "I'm excited to go back and learn a little more," she said.
When Harrington graduates next spring, there may be job opportunities at the lab, although she also plans to go to graduate school for chemistry.
Tags:
chemistry, internships