August 14, 2014
SUPER program begins with crash test field trip
The academic year has already begun for 27 new math and science students at Randolph College.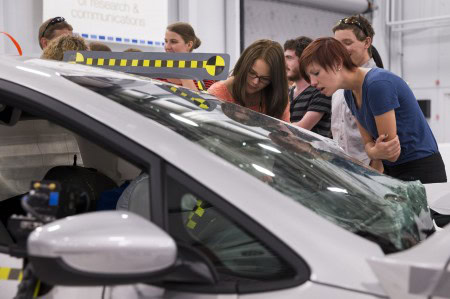 First-year students arrived for the Step Up to Physical Science and Engineering at Randolph (SUPER) program on Wednesday. For the next two weeks, the students will take courses designed to give them a head start on their pathway to becoming scientists and engineers.
The group started the experience on Thursday with a field trip to the Insurance Institute for Highway Safety Vehicle Research Center in Charlottesville, Virginia. There, they learned how math and physics is applied in vehicle safety testing and also observed a crash test.
In addition to academic courses, the SUPER program includes social activities designed to help acclimate students to college life. This year's students will do everything from take field trips to the Lynchburg region's Center for Advanced Engineering and Research, to play disc golf on campus, to meet local scientists and engineers who will serve as mentors to the students.
"We are proud to have the largest group of SUPER students yet here on campus and ready to get a jump start on their college education," said Peter Sheldon, a physics professor and director of the SUPER program. "These students represent the future of their fields, and we will help them build a foundation for a successful career in science, mathematics, and engineering."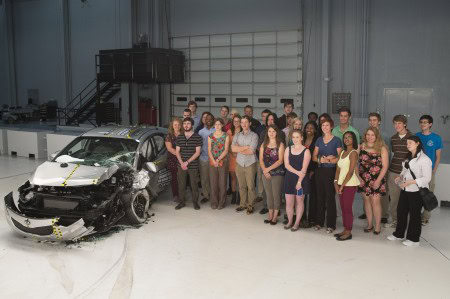 The SUPER program was started in 2010. For the past two years, a $600,000 grant from the National Science Foundation has helped the program grow and provided four-year scholarships to select SUPER participants.
Tags:
biology, chemistry, engineering, mathematics, National Science Foundation, physics, science, SUPER