July 1, 2019
Setting the stage: Summer Research explores art of stagecraft
Although she is a history major, Karyn Heisig '20 often jokes that her minor in theatre is a "half major."
"I've always seen myself working in professional theatre somehow," Heisig said. "I've dabbled a little bit in acting on stage, but I've always been drawn more to what's going on backstage and how everything that happens there helps the show come together."
Heisig is currently working on a Summer Research project with Heather Sinclair, theatre professor and technical director at Randolph, to take a closer look at the art of stagecraft and the entire process that goes into creating a set. In particular, they are focusing on scenery, lighting, and sound. Heisig is drawing stage renderings and designing a miniature set for the play, Looking for Normal, by Jane Anderson.
Another phase of the project is to analyze the tools and skills needed to teach stagecraft at a small, liberal arts college like Randolph. Heisig and Sinclair are surveying college theatre professors about how they teach stagecraft to determine what kinds of hands-on experiences students are getting at other schools.
"Part of the project is to better understand the types of students who take stagecraft classes so that I can improve the way I teach and work with them here," Sinclair said. "There aren't a lot of studies on academic teaching when it comes to technical theatre, so another one of our end goals is to take these findings to national conferences and share what we've learned."
Theatre has played a significant role in Heisig's Randolph experience. She has been part of the technical and stage management teams for almost every Randolph theatre production since her first year, and even acted in the College's production of The Lion, the Witch, and the Wardrobe last fall. Heisig views Summer Research as a way to test all of her combined stagecraft skills.
"I had heard about the Summer Research program before I started going here and always thought it was something I should do," Heisig said. "I wasn't sure if I wanted to do it as a history project or a theatre project, but I decided to do stagecraft because of a class I had taken with Heather in the fall. It seemed like a really cool idea to be able to take all of these concepts I had learned and actually apply them into a project and see it come to life."
Despite being heavily involved in theatre, Heisig has an equal passion for history. She hopes to one day earn a Ph.D. and teach.
"I've always been a very theatrical kid and have always gravitated towards the arts," Heisig said. "History actually came from my grandparents—my grandfather, specifically. He taught history at Indiana University, so he was always giving me his leftover books. I grew up reading historical biographies, and it's always been something that I enjoy doing, and I love learning about different people, places, and things."
The Summer Research program concludes with final presentations this Wednesday! Here is the schedule for the Summer Research Program Symposium: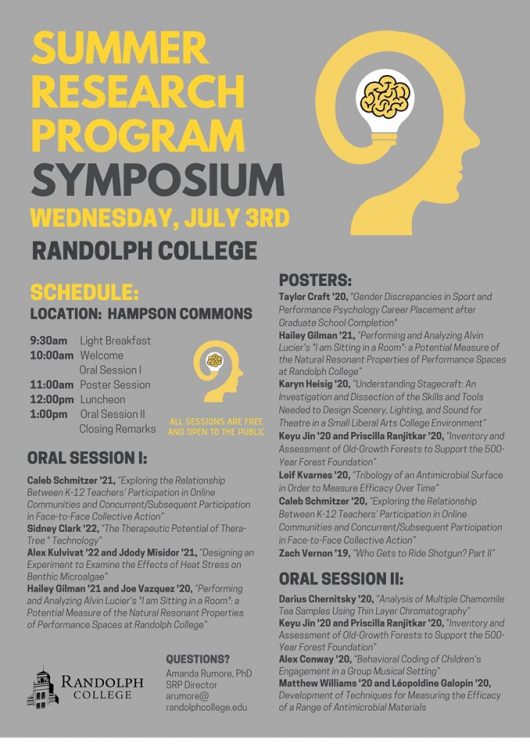 Tags:
Heather Sinclair, Karyn Heisig, performing arts, student faculty research, summer research, summer research 2019, theatre