April 12, 2019
Dungeons & Dragons comes to Randolph: spring theatre production, She Kills Monsters, opens April 18
Monsters will take over the Thoresen Theatre stage on April 18—and only one girl can stop them. Agnes Evans and her heroic and humorous exploits in a fantasy world will be the focus of Randolph's spring theatre production, She Kills Monsters.
In She Kills Monsters, Agnes (portrayed by Liz Beamon '20) leaves her childhood home in Ohio following the death of her teenage sister, Tilly (portrayed by Marissa Guske '19). When Agnes finds Tilly's Dungeons & Dragons notebook, she stumbles into a journey of discovery and action-packed adventure in an imaginary world that was Tilly's refuge. This high-octane, dramatic comedy laden with homicidal fairies, nasty ogres, and 90s pop culture offers a heart-pounding homage to the geek and warrior within us all.
Written by Qui Nguyen, Randolph's production of She Kills Monsters is directed by theatre professor Stephanie Earl.
"This play is immediate, accessible, and emotionally charged," Earl said. "It's hilarious, dramatic, and bold. I was drawn to the fact that Qui Nguyen has proven himself as a playwright, a TV and film writer, and a strong voice for America today. I love how Nguyen has infused this script with pop culture fun."
Underneath it all, Earl believes She Kills Monsters holds a message of inclusion.
"I believe this play speaks to the younger generation and to many issues important to them—finding your tribe, being true to yourself, and keeping an open mind about all people," Earl said.
In addition to Earl's work as director, students are receiving guidance from theatre professionals both from the College and beyond. Daisy Howard '17, who has worked professionally in wardrobe and costume shops since her graduation, is leading costume design. As a student, she was involved in numerous Randolph theatre productions.
"I think it's so good for our students to see what Daisy has accomplished in just two years," Earl said. "She still knows our facilities and our students as she did before, but she is bringing so much knowledge and experience to this production."
Also working closely with students is Patrick Earl, an adjunct professor in theatre who teaches stage combat courses. He has helped choreograph 14 fight scenes in the production.
"This production makes great use of our actors' stage combat skills," Earl said. "The 'monsters' that appear in this play are often shown as puppets or projections, and our students are playing the monsters that our protagonists encounter and fight. It's exciting to see our students make this production come alive by performing the skills they've learned in class."
Earl said the cast and stage crew for She Kills Monsters have worked hard and bonded during rehearsals.
"This particular group of students has brought discipline, positivity, and bravery to the rehearsal process," Earl said. "They have really embraced the bold style that this play demands. My favorite memory of this cast will always be the evening rehearsal we used to play Dungeons & Dragons. I thought it was important for every cast member to get a chance to see what the game is really like. We have several cast members that play very regularly, and they were kind enough to prepare a game for us. It was insanely fun for everyone to play together, and we learned so much about the play at the same time."
Show Information
Show Times: April 18, 19, and 20 at 7:30 p.m.; April 20 and 21 at 2 p.m.
Location: Thoresen Theatre, Leggett Building
Tickets: May be purchased at the door or online at http://www.randolphcollege.edu/tickets/
Photo Gallery: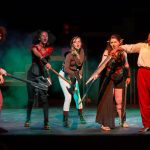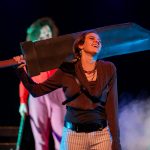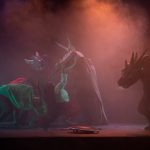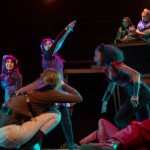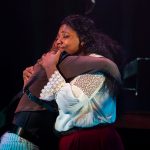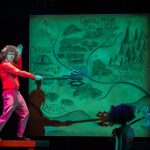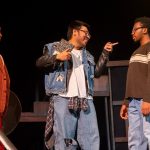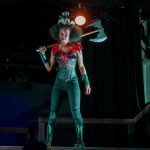 Tags:
Daisy Howard, Dungeons & Dragons, events, Liz Beamon, Patrick Earl, performing arts, She Kills Monsters, Stephanie Earl, theatre