BIG LOVE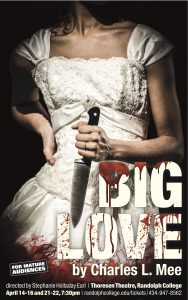 Fifty brides flee their fifty grooms and seek refuge in a villa on the coast of Italy in this modern re-making of one of the western world's oldest plays, The Suppliant Women by Aeschylus. When the fifty grooms catch up with the brides, mayhem ensues. This dark, romantic comedy includes pop music, violence, and romance, while examining issues of gender politics and acceptance.
April 14, 15, 16, 21, and 22
$10/$8/$5
Intended for mature audiences.
Order your tickets from the link below or reserve at 434-947-8562
Thoresen Theatre is in the Leggett Building on the Randolph Campus. Find your way to the theatre and parking: Randolph College Theatre Map