THE SEA VOYAGE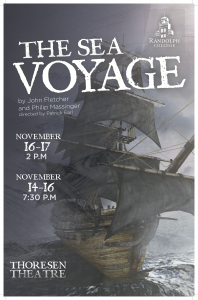 The Sea Voyage is a comedy first performed in 1622. Inspired by Shakespeares The Tempest, this play includes singing, dancing, shipwrecks, unexpected love, reunions, French pirates, castaways, a society of Amazonian women, and a little buried treasure. The Sea Voyage will take audiences on an unforgettable adventure.
by John Fletcher and Philip Massinger
directed by Patrick Earl
November 14, 15, & 16 at 7:30pm
November 16 & 17 at 2pm
$10/$8/$5
Order your tickets from the link below or reserve at 434-947-8562.
Thoresen Theatre is in the Leggett Building on the Randolph Campus. Find your way to the theatre and parking: Randolph College Theatre Map