The Lion, The Witch, and The Wardrobe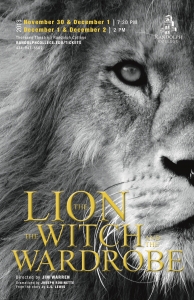 Join us this holiday season for a dramatization of C.S. Lewis' classic, as we faithfully recreate the magic and mystery of Aslan, his struggle with the White Witch, and the adventures of four children who inadvertently wander from an old wardrobe into the exciting, never-to-be-forgotten Narnia, where it's "always winter but never Christmas." This story of love, faith, courage and giving, with its triumph of good over evil, is a true celebration of life.
dramatized by Joseph Robinette from the story by C.S. Lewis
directed by Jim Warren
November 30 & December 1 at 7:30pm
December 1 & December 2 at 2pm
$10/$8/$5
Order your tickets from the link below or reserve at 434-947-8562.
Thoresen Theatre is in the Leggett Building on the Randolph Campus. Find your way to the theatre and parking: Randolph College Theatre Map