Faculty
Emily Chua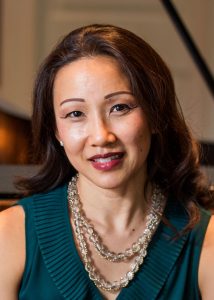 Professor of Music, Chair of the Music Department
B.A., Florida State University; M.M., D.M.A., College-Conservatory of Music, University of Cincinnati
(e-mail)
Pianist Emily Yap Chua made her international solo debut at The Cultural Center of the Philippines in Manila, where she was described as "a remarkably passionate piano soloist . . . vividly enchanting," [The Daily Tribune] and praised for "tonal beauty and clarity," "a graceful, effortless manner," and a performance described as "vibrant, . . . spirited and movingly expressive." " . . . The overall impression Chua gave was of an exceedingly talented young pianist readying herself for greater acclaim. . . ." [The Philippine STAR]
An active soloist and chamber musician, her collaborations include performances with musicians of orchestras and institutions around the world, including recitals with members of the Cincinnati, San Francisco, Detroit, Nashville, Charlotte, and Virginia Symphony Orchestras, as well as faculty from the College-Conservatory of Music at University of Cincinnati (CCM-UC), The Juilliard School, Indiana University, Florida State University, and University of Miami, among others.
Chua earned the Bachelor of Arts degree in music with minors in mathematics and dance from the Florida State University, graduating magna cum laude, and continued on to graduate study at the College-Conservatory of Music, University of Cincinnati. As a full scholarship student and teaching assistant at CCM-UC, she earned the Master of Music degree in piano performance and the Doctor of Musical Arts degree in piano performance with a cognate in music theory. She is an active clinician and adjudicator and in demand nationally as a collaborator, and her students have been prizewinners in competitions in the Mid-Atlantic and Southern regions. Her CD recording of the piano works of composer Kent Holliday, a project in collaboration with pianist Nicholas Ross, was released by Centaur Records in 2009. Her recording of new song cycles with soprano Katherine Jolly was released by Navona Records in 2019. Among her upcoming performances is a recital at Weill Recital Hall, Carnegie Hall, in January 2020.
Dr. Chua is Professor of Music at Randolph College, where she coordinates the Guest Artist Series and teaches Piano, Accompanying, Music Theory, Women in Music, and Chamber Music, and team-teaches in the interdisciplinary BFA Colloquium and Senior Seminar. She has been recognized at the College with both the Katherine Graves Davidson Faculty Scholarship Award (2010) and the Katherine Graves Davidson Faculty Service Award (2018).
Hermina Hendricks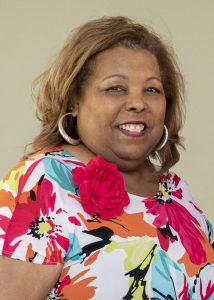 Senior Lecturer in Music
B.S., Defiance College; M.M.Ed., James Madison University; C.A.G.S., Virginia Polytechnic Institute & State University
(e-mail)
A native of Lynchburg, Virginia, Hermina is a music educator and multicultural student services administrator. Her daily work days at Randolph College are spent balancing time as Director of the Multicultural Services Office that involves coordinating and creating diverse programs, advising student organizations, chairing committees that oversees diverse issues along with student affairs matters and teaching music history courses, such as Jazz Appreciation and Popular music in America in the Music Department.
She is presently the Organist and Choral Director of the Senior Choir at Diamond Hill Baptist Church in Lynchburg, VA and is also the artistic and music director for the "Soulsters from the Hill" (DHBC), vocal ensemble specializing in the presentation and preservation of black spirituals derived out of the century in America, and in the century spiritual music genre.
She teaches Music Appreciation courses part-time at Central Virginia Community College.
During the early 1990s, Governor Gerald Baliles appointed her to the Virginia Commission for the Arts, serving for five years and later was appointed to serve on the National Endowment for the Arts- Arts Education Review Board in Washington, D.C. Those appointments enabled Hermina to become exposed to the vast arts agencies and institutions not only in Virginia but throughout America that were totally committed to having diverse arts programs in their respective locales for citizens to experience and enjoy the value of the arts- musical, visual, theatrical, etc. Her service in these distinct organizations allowed her to see the larger picture of why art is so important and vital to each individual throughout America.
Presently, she is a member of the Lynch's Landing Board of Directors, The Get! Downtown Steering Committee (mission is to host an annual downtown festival to welcome all college students to Lynchburg annually), Area II Advisory Panel for the Virginia Commission for the Arts, the Sphex Club, The Lynchburg Chapter of The Links, Inc., The Lynchburg Chums, Inc., The Roanoke Chapter of The Girlfriends, Inc., Delta Kappa Gamma Society International, Friends committee of Sankofa Arts, and Pink Auction Steering Committee.
Her on-going research projects are entitled "A Journey Taken". This research explores the life and educational contributions of Clarence W. Seay, principal and educator of Dunbar High School in Lynchburg, VA 1938-1968 and "My Soul Has Grown Deep"- research exploring the growth and development of African American spiritual from the centuries.
Hermina has a Bachelor of Arts Degree in Music Education from Defiance College, Ohio, Master of Music Education Degree from James Madison University, and a Certificate of Advanced Graduate Study in Curriculum and Instruction specializing in music from Virginia Tech University. Her current status is ABD (All But Dissertation). She is married to Donald W. Hendricks.
Daniel Raessler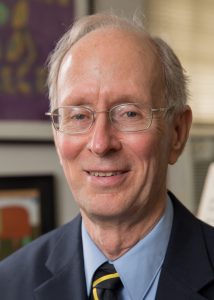 Charles A. Dana Professor of Music, Emeritus
B.A., Fresno State College; M.A., Ph.D., University of California (Santa Barbara)
(e-mail)
Whether participating in a national Sacred Harp sing in Birmingham, Alabama; watching Zuni Kiva groups perform the Comanche Dance at their Pueblo in New Mexico; or hearing Delta bluesman T-Model Ford sing for a small group of students in his living room in Greenville, Mississippi, Prof. Raessler enjoys a wide range of music.
His interests have led him to pursue research on a variety of topics, from historical keyboard performance practices to women in music, from Busoni's compositional style to his revisions of works by Liszt and Schoenberg, from humor in hillbilly music to disability issues.
His edition of two piano works by Jane Guest Miles appears in volume III of Women Composers: Music through the Ages, while his articles have been published in the U.S., England, and Europe in such journals and dictionaries as Early Music, The Music Review, The Piano Quarterly, Journal of the Arnold Schoenberg Institute, Quodlibet (a Spanish journal in which his article on keyboard touch was translated into that language), Exceptional Parent, The New Grove Dictionary of Music and Musicians, and in the Encyclopedia of the Blues and the 60-volume Oxford Dictionary of National Biography.
Those interests and scholarly activities, along with his having participated in summer seminars and institutes funded by the National Endowment for the Humanities, in the College's Colloquium and American Culture Program, and continued study of literature inform his teaching of European and American music history.
Randall Speer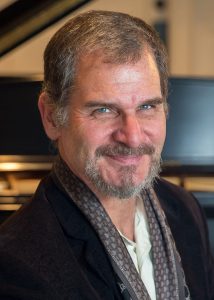 Professor of Music
B.A., California State University, Fresno; M.A., University of Iowa; D.M.A. College-Conservatory of Music, University of Cincinnati
(e-mail)
Randall Speer's 2012 Carnegie Hall debut conducting Mozart's Solemn Vespers, K.339 with the New England Symphonic Ensemble, a distinguished chorus, and world class soloists was hailed as "stunning, memorable, and sensitively led" (MidAmerica Productions, 2012). He has led choral and orchestral performances in the United States and Europe with a variety of ensembles including the Mississippi Valley Chamber Orchestra, the Lynchburg Symphony Orchestra, the Vidin Philharmonic Orchestra (Bulgaria), and the Varna Symphony Orchestra (Bulgaria). An alumnus of the internationally acclaimed Dale Warland Singers, he served in Minnesota as founder/director of the critically acclaimed vocal chamber ensemble Voce Magna, and the Voce Magna Symphonic Chorus. He also founded a women's prison chorus there – a truly unique and powerful experience in the communal benefits of choral singing. He currently serves as  Professor of Music at Randolph College and Music Director at Court Street United Methodist Church in Lynchburg, Virginia.
At Randolph, he directs choral and instrumental ensembles, teaches courses in vocal performance and conducting, and serves as Music Director to music theatre and Greek Play productions. In 2010, Speer was honored as a recipient of Randolph College's Katherine Graves Davidson Award for bringing distinction to the college. He has earned degrees in music education and choral conducting from California State University, Fresno, the University of Iowa, and the University of Cincinnati College-Conservatory of Music.
Speer has performed as tenor soloist in local and regional oratorio, opera and musical theater productions including the Fresno Lyric Opera (Fiddler on the Roof), Magnum Chorum (Bach Christmas Oratorio), the Mississippi Valley Chamber Orchestra (Carmina Burana), the Lynchburg Community Concert Series (Amahl and the Night Visitors and Missa Luba), and the Lynchburg Symphony Orchestra (Beethoven Symphony No. 9).
Speer's compositions have earned distinction in competition (Riverside Masters Chorale, 1989), and are published with Fred Bock Music. His compositions recorded by the National Lutheran Choir, were reviewed as "a significant contribution to the choral repertoire" (Choral Journal, December, 1990).
Leigh Berkeley
Clarinet and Saxophone Instructor
B.A., Virginia Polytechnic Institute and State University; M.A., University of Maryland-College Park
Tara Bouknight
Voice Instructor
B.M., Indiana University; M.A.T., Indiana University; M.M., University of Tennessee
Tara Bouknight has sung with numerous opera companies and apprentice programs such as Indianapolis Opera, Knoxville Opera, Newberry Opera, Opera North, Opera in the Ozarks, and Opera on the James. A frequent soloist with the Roanoke Symphony Orchestra, her oratorio experience includes Mozart's Requiem, Faure's Requiem, Bach's St. John Passion and Magnificat, Durufle's Requiem, Vivaldi's Gloria, and Haydn's Mass in Time of War.
Doug Brown
Trumpet and French Horn Instructor
B.M.E., University of Tennessee
Kevin Chiarizzio
Trombone Instructor
B.M., University of Memphis; M.M., D.M.A., University of Illinois at Urbana-Champaign
Dr. Kevin Chiarizzio holds degrees from the University of Memphis and the University of Illinois at Urbana-Champaign. Chiarizzio is active as a musician and teacher in the Central Virginia area. He is currently the principal trombonist with the Lynchburg Symphony Orchestra and performs regularly as a substitute trombonist with the Roanoke Symphony. Previous orchestral positions include the principal trombonist with the Waco, Bryan, Danville (IL), and Arkansas symphonies. Chiarizzio has twice performed as a soloist at the Eastern Trombone Workshop (2008, 2005) and performed with both the Mid-South Probone Ensemble (2011) and the William Cramer Trombone Choir (2008) at the International Trombone Festivals. He also performed as a featured soloist with the Liberty University Wind Ensemble's performance of John Mackey's Harvest trombone concerto (2012). Dr. Chiarizzio serves as an audio and literature reviewer for the International Trombone Association Journal. He teaches low brass at Randolph College and Liberty University.
Gina DiCarlo
Violin and Viola Instructor
B.M., B.M.E., Eastman School of Music
Christopher Fosnaugh
Percussion and Drumset Instructor
B.M., College-Conservatory of Music, University of Cincinnati; M. M., Eastman School of Music; post-graduate studies, Cleveland Institute of Music
Percussionist Chris Fosnaugh is currently a regular performer with symphony orchestras across the nation. A former member of the Tucson Symphony Orchestra in Arizona, he has performed with the Los Angeles Philharmonic, the Cleveland Orchestra, the Kansas City Symphony, the Virginia Symphony, the Richmond Symphony and the Honolulu Symphony Orchestra among others. Fosnaugh is also a past fellow of the Spoleto Festival USA in Charleston, South Carolina, and a former substitute with the New World Symphony.
As a member of the Cadets of Bergen County Drum & Bugle Corps from 1997-1999, he served as percussion section leader in 1998, during which they won their seventh Drum Corps InternationaI World Championship. He earned the Bachelor of Music degree at the College-Conservatory of Music, University of Cincinnati, where he was a Baur Scholarship awardee. He continued on to the Eastman School of Music, where he earned a Master of Music degree with Performer's Certificate and was a teaching assistant in the percussion studio of John Beck. Fosnaugh also pursued additional post-graduate work at the Cleveland Institute of Music where he was a student of Richard Weiner and Paul Yancich. He can be heard on CD recordings of the Eastman Wind Ensemble and the Kansas City Symphony, and on recordings of the Los Angeles Philharmonic on iTunes.
Fosnaugh is a former faculty member of the North Carolina Governor's School in Winston-Salem, NC. He teaches drum set lessons at Randolph College, maintains a private studio in Lynchburg, and instructs the E.C. Glass High School percussion section. Chris Fosnaugh endorses Vic Firth sticks and mallets and is a Vic Firth Education Team member.
Alycia Hugo
Flute Instructor
B.M., M.M., New England Conservatory of Music
Since completing her Master of Music in Flute Performance at the New England Conservatory in Boston, flutist Alycia Hugo has pursued a varied and interesting professional career as an orchestra member and recitalist. Her teachers have included John Wummer (New York Philharmonic Orchestra), James Pappoutsakis and Lois Schaefer (both with the Boston Symphony Orchestra), and Marjorie Lockwood (Phoenix Symphony Orchestra).
She is a four-time winner of the National Flute Association Convention Performers Professional Flutist Competition, achieving national recognition for her skills as a performer of twentieth century music, and is a two-time winner of the National Flute Association Professional Flute Choir Performer Competition performing at conventions throughout the United States. Ms. Hugo has also been a semifinalist and finalist in the Myrna Brown Artist Competition in Dallas, Texas.
For two summers, Ms. Hugo performed as a member of the Rome Festival Orchestra in Rome, Italy, and as a member of the Hugo/Garat Trio performed in recital at the Debussy birth place at St. Germaine-en-laye, France. She has performed as soloist with several orchestras in the New England area as well as with the Roanoke and Lynchburg Symphony Orchestras and currently serves as principal flutist with the Roanoke and Lynchburg Symphony Orchestras and the Opera Roanoke Orchestra. She is a member of the Wintergreen Festival Orchestra and teaches flute performance at Liberty University, Lynchburg College, and Randolph College.
Nora Moore
Voice Instructor
B.A., Elon College; M.A., Boston Conservatory
Nora Moore's voice has been described as one with "genuine pearlescence." She has performed with Opera Carolina, Opera on the James, Charlotte Symphony, Central Piedmont Opera Company, Central Piedmont Community Theatre, Cantate Singers of Virginia, and Charlotte Oratorio. She is currently active in opera, oratorio, and musical theatre. Some of her operatic roles include Despina in Cosi fan tutte, Euridice in Orfeo and Euridice, Gretel in Hansel and Gretel, LRRH in Little Red Riding Hood, Alice in Alice in Wonderland, and Leila in The Pearl Fishers. Her favorite oratorio work includes soprano solos in Messiah and Mozart's Vesperae Solennes de Confessore. She was recently the soprano soloist in Randolph College's production of the Mozart Requiem with the Lynchburg Symphony Orchestra.
Moore has employed her dance talents in performances of Oklahoma, Guys and Dolls, Crazy for You, Blood Brothers, Carousel, and Hello Dolly.
After earning a degree in Voice Performance from Elon College, she went on to receive her Master's Degree in Opera from the Boston Conservatory. Moore thoroughly enjoys teaching at Randolph College.
Bill Parrish
Oboe Instructor
B.F.A., Carnegie Mellon University; M.M., University of the Arts; A.D., College-Conservatory of Music, University of Cincinnati; post-graduate studies, University of Michigan
A former member of the Honolulu Symphony Orchestra, William Parrish has participated in the Sarasota Music Festival, Los Angeles Philharmonic Institute, Music Academy of the West, and the Spoleto Festival. For ten years he served as the Associate Director of the Pre-College Division at Juilliard School. Parrish was a finalist in the 1989 Concert Artist Guild auditions and a prizewinner in the 1988 Lucarelli International Oboe Competition at Carnegie Hall.
Rafael Scarfullery
Guitar Instructor
B.M., Brooklyn College, City University of New York; M.M., D.M.A., Shenandoah Conservatory of Music
Rafael Scarfullery began his musical studies at the Music Academy "Patria" in San Pedro de Macorís, Dominican Republic and later attended the Conservatorio Nacional de Música of Santo Domingo. He is a past recipient of the highest classical music award (El Casandra) in the Dominican Republic, and performed at Carnegie Hall in the spring of 2013.
Curtis Smith
Piano and Organ Instructor; College Organist
B.M., College-Conservatory of Music, University of Cincinnati; M.M., Indiana University;  D.M.A., College-Conservatory of Music, University of Cincinnati
Curtis Ryan Smith began his piano studies in his hometown of Macon, Georgia, where he received his first lessons from concert pianist Louise Barfield. His teachers have included Eugene and Elisabeth Pridonoff, Edmund Battersby, and James Tocco. He has also received additional training from Harvey Wedeen, Norman Krieger, and Michael Coonrod.
In addition to performing, Smith is an enthusiastic teacher. He currently serves an adjunct professor of music at both Randolph College and Liberty University in Lynchburg, Virginia, and also teaches privately out of his home. He has served as an associate instructor of secondary piano during his time Indiana University and as a graduate assistant in secondary piano while at CCM, where he taught both group piano classes and private piano lessons.
In 2013, Smith was invited to perform the Beethoven Piano Concerto No. 1 in celebration of the 100th anniversary of the Matinée Musicale in Cincinnati. He was also invited to perform a solo recital as the season finale of the 100th anniversary celebration of the Morning Music Club of Macon, Georgia. In addition to the standard repertoire, he is also an enthusiastic champion of lesser known works, featuring composers such as William Grant Still, Benjamin Britten, and most notably, the piano works of his namesake composer, the late pianist-composer Curtis Curtis-Smith. Smith is also an active chamber musician, collaborative pianist, and concerto soloist. He is married to concert pianist Woori Kim, with whom he performs in the piano duo Les Quatre Mains.