From one year to the next, we try to do things that are very different. It's all about giving the students a taste of all the genres that are out there and all the different styles that are out there.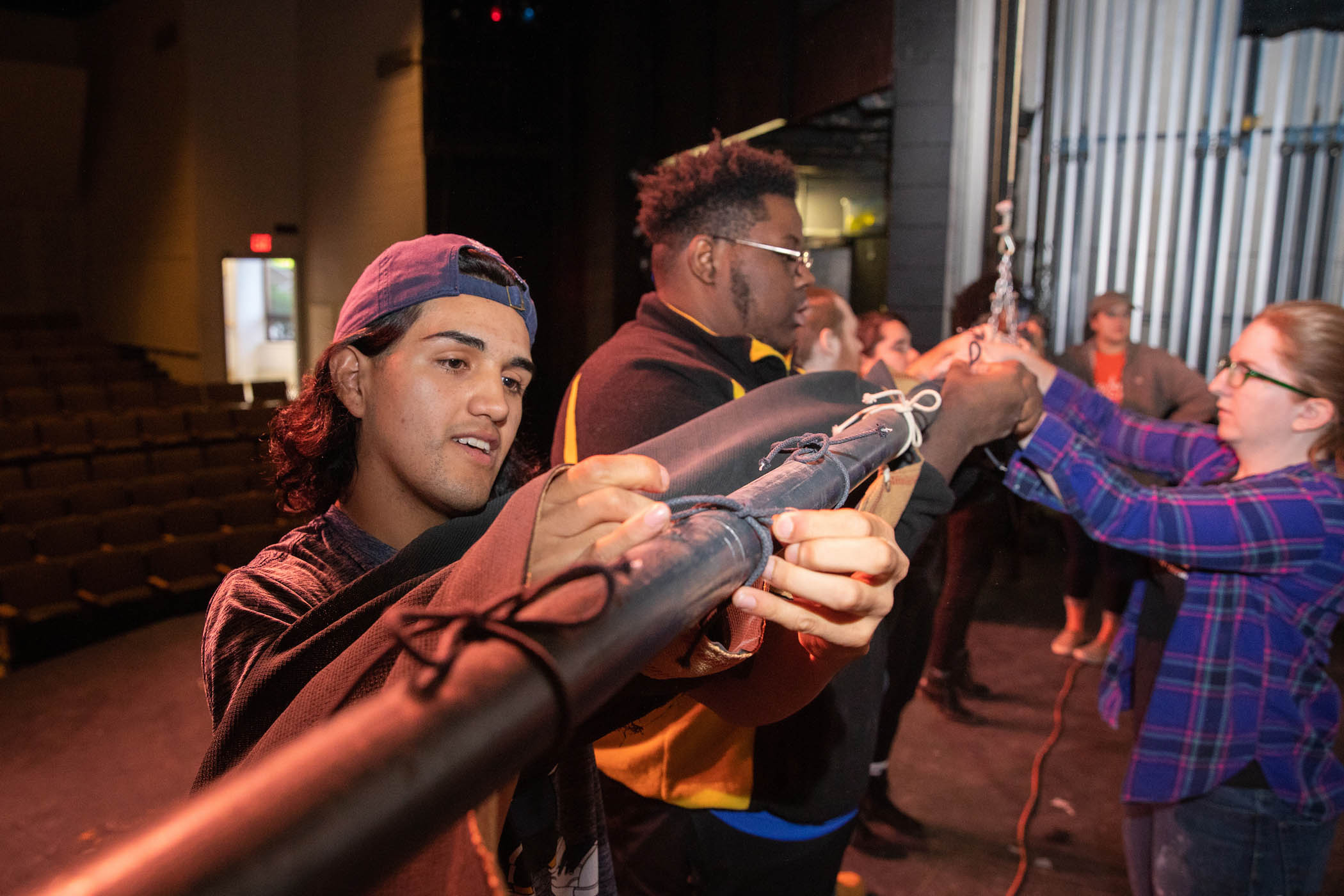 Why Study Theatre at Randolph?
The Randolph College theatre program builds the fundamental skills required for performance and technical production and expands students' understanding of the role theatre plays in our society, its foundation, and how it enriches our lives.
Both theory and application are primary considerations. Regardless of class year, students are encouraged to participate in all phases of production, from acting and play writing to set design and construction.
The theatre faculty members work closely with students to plan for and meet future goals, whether they involve graduate school or a career.
In addition to a theatre major and minor, Randolph offers BFA degrees in design and technology, acting, and directing.
Majors also have opportunities for experience with the College's Greek Play tradition and our professional company in residence Endstation Theatre.
Bachelor of Arts Degree in Theatre
Bachelor of Fine Arts Degree in Theatre: Acting
Bachelor of Fine Arts Degree in Theatre: Design and Technology
Bachelor of Fine Arts Degree in Theatre: Directing
Minor in Theatre
Minor in Technical Theatre
Art
Classics
Dance
English
Media and Culture Studies
Randolph theatre students are exposed to a wide breadth of theatrical expression, emphasizing the best of period and contemporary work and the variety of production styles.
Through coursework and production experiences, majors hone their specialty area of emphasis while cultivating generalist approach which recognizes the interrelationship of actor, script, performing space, and audience.
Areas of emphasis include acting, directing, design and technology.
Faculty mentors work with students to build an individually crafted program of study and set of experiences that maximizes artistic growth and opportunities after graduation.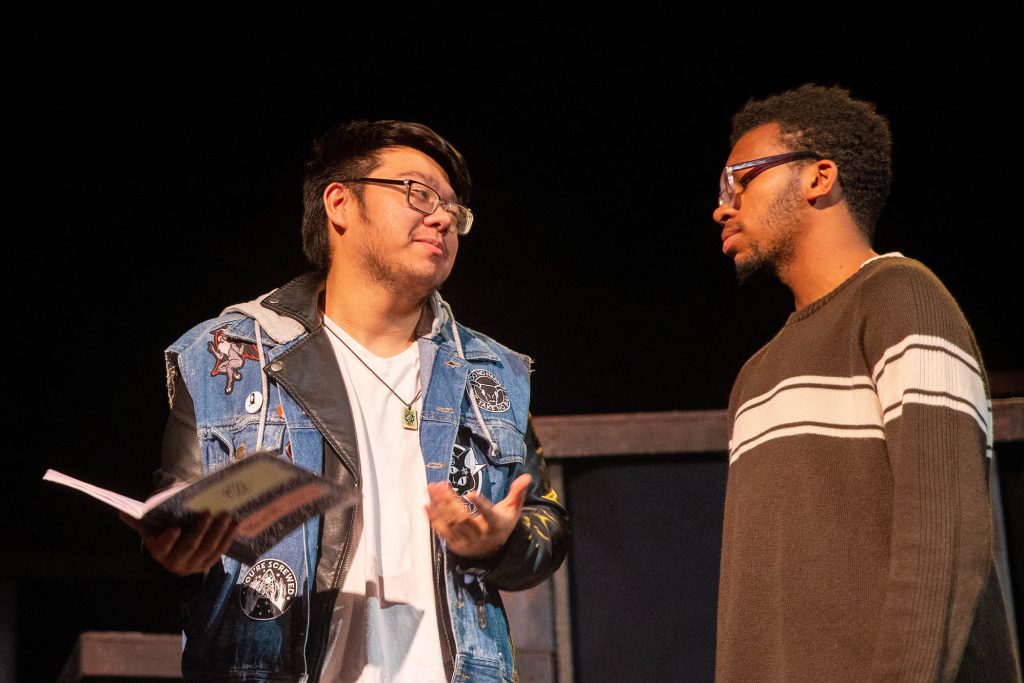 Productions
The department presents 2-3 productions per year, including at least one on the Thoresen mainstage and one in the Lab Theatre. While serving the campus community, these productions serve as capstone projects for senior theatre majors.
Senior Capstone
A senior production is arranged in consultation with the department and gives theatre majors an opportunity to research and produce a work of their choosing.
Small Classes
Randolph classes are full of engagement and interaction.  Students get the full attention of their professors and develop camaraderie with their classmates.  
The Honor Code
Randolph students live by our Honor Code and act with the highest integrity in both academic and social life.
Study Abroad
Opportunities for study elsewhere, such as in the Washington Semester Programs at the American University in Washington, D.C., as well as study-abroad programs, are available.
Intercultural Competence
All Randolph students learn global citizenship with the capability to accurately understand and adapt to cultural differences and find commonality.
Internships
Randolph students put classroom learning into practice by participating in internships.
With help from the Career Development Center, political science majors have experienced government at work during internships in the congressional offices, federal and state offices, political campaigns, advocacy groups, social service agencies, and more. ing with social service agencies.
Recent internships include the Department of Veterans Affairs, Moms Demand Action, CASA, U.S. State Department, SAWA, U.S. House of Representatives, and more.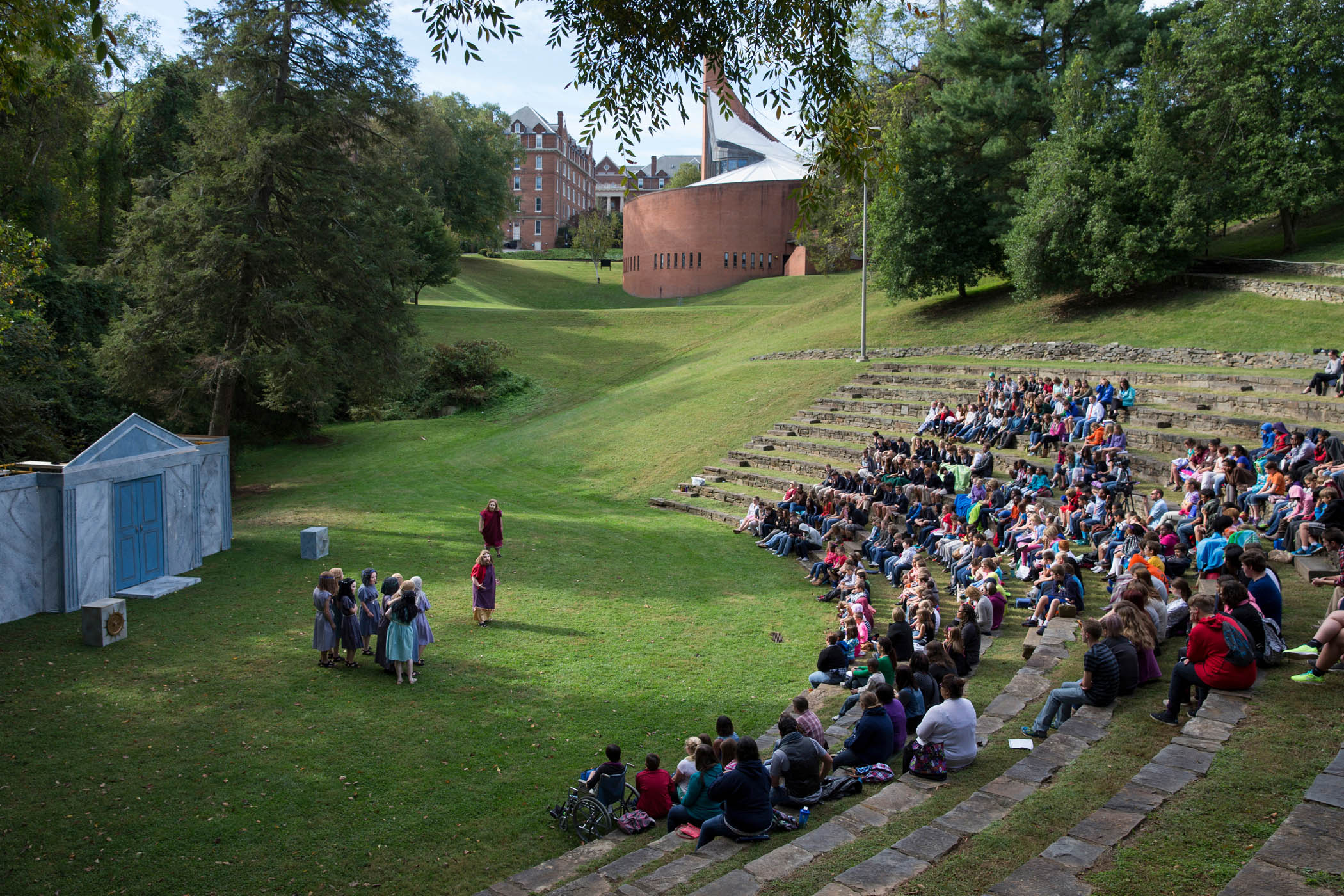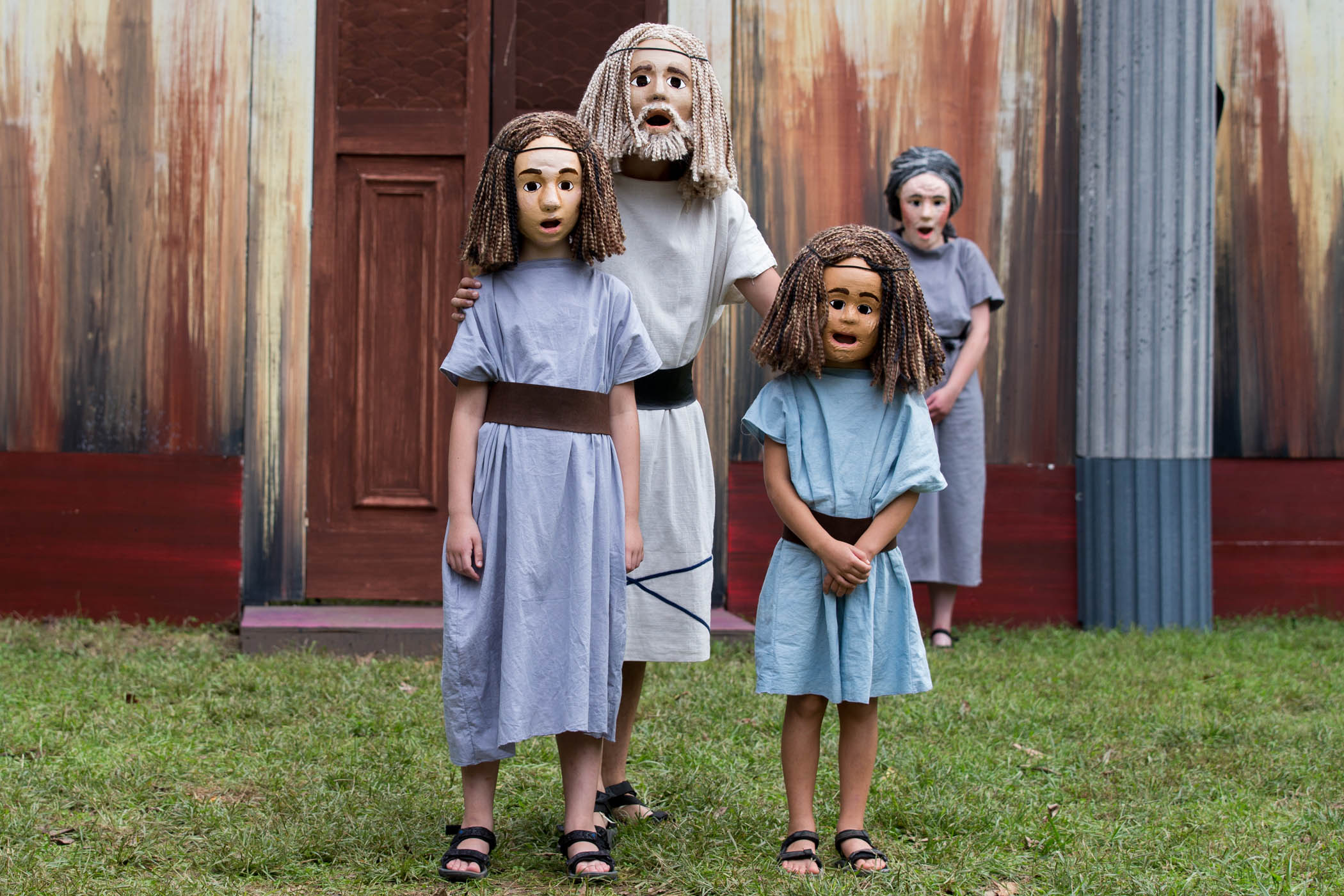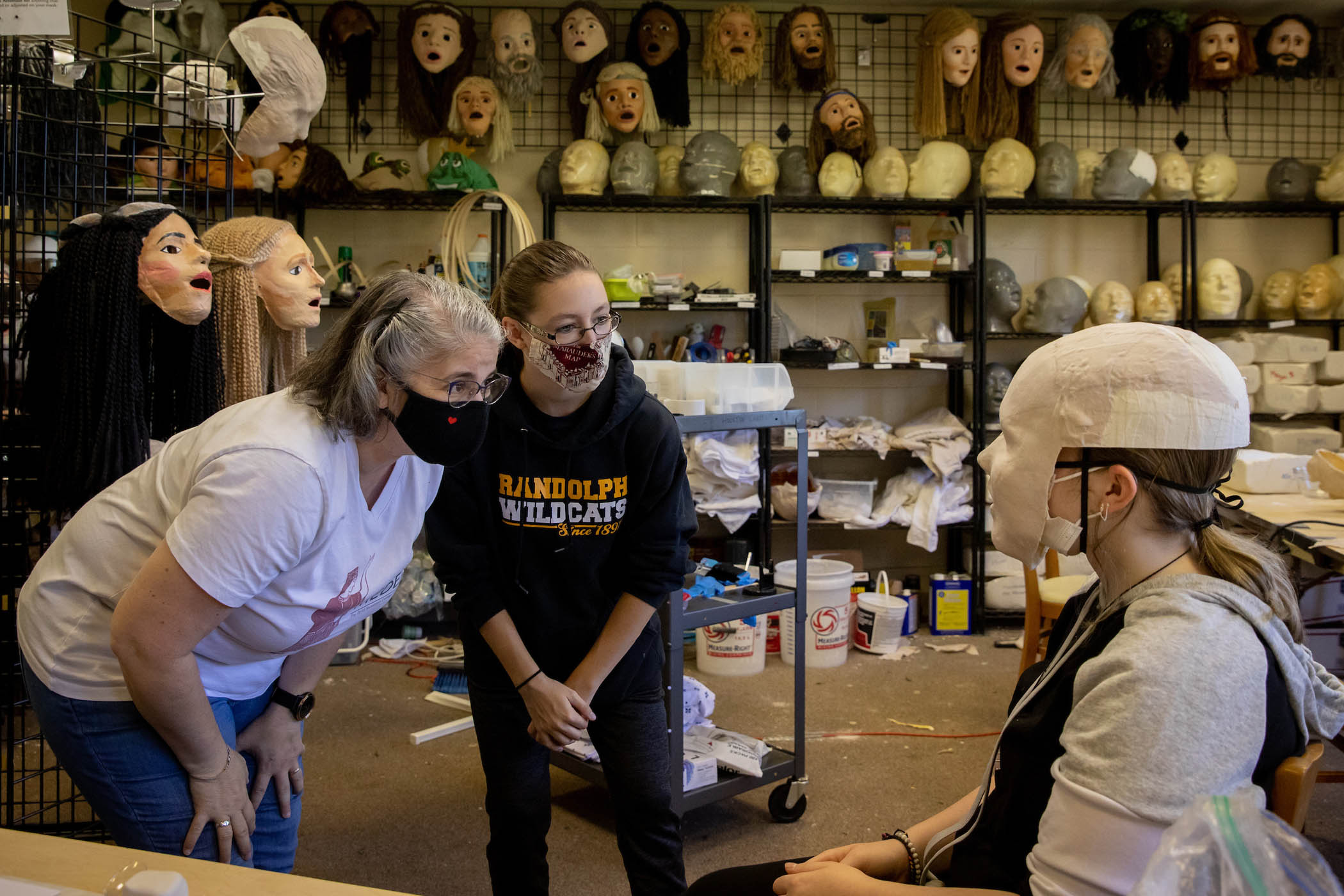 Unique among colleges and universities in the United States, our tradition of the Greek Play goes back to 1909. Every other year, students perform an authentic Greek drama. The production adheres to the original conventions that governed theatre in the time of the great tragedians, believing that the best plays will emerge from the conditions for which they were written.
The College boasts the Mabel K. Whiteside Greek Theatre, a classic outdoor Greek theatre also affectionately known by students as The Dell. This unique facility allows the plays to be performed in daylight for an audience seated in a semi-circle around the performers. 
Endstation Theatre Company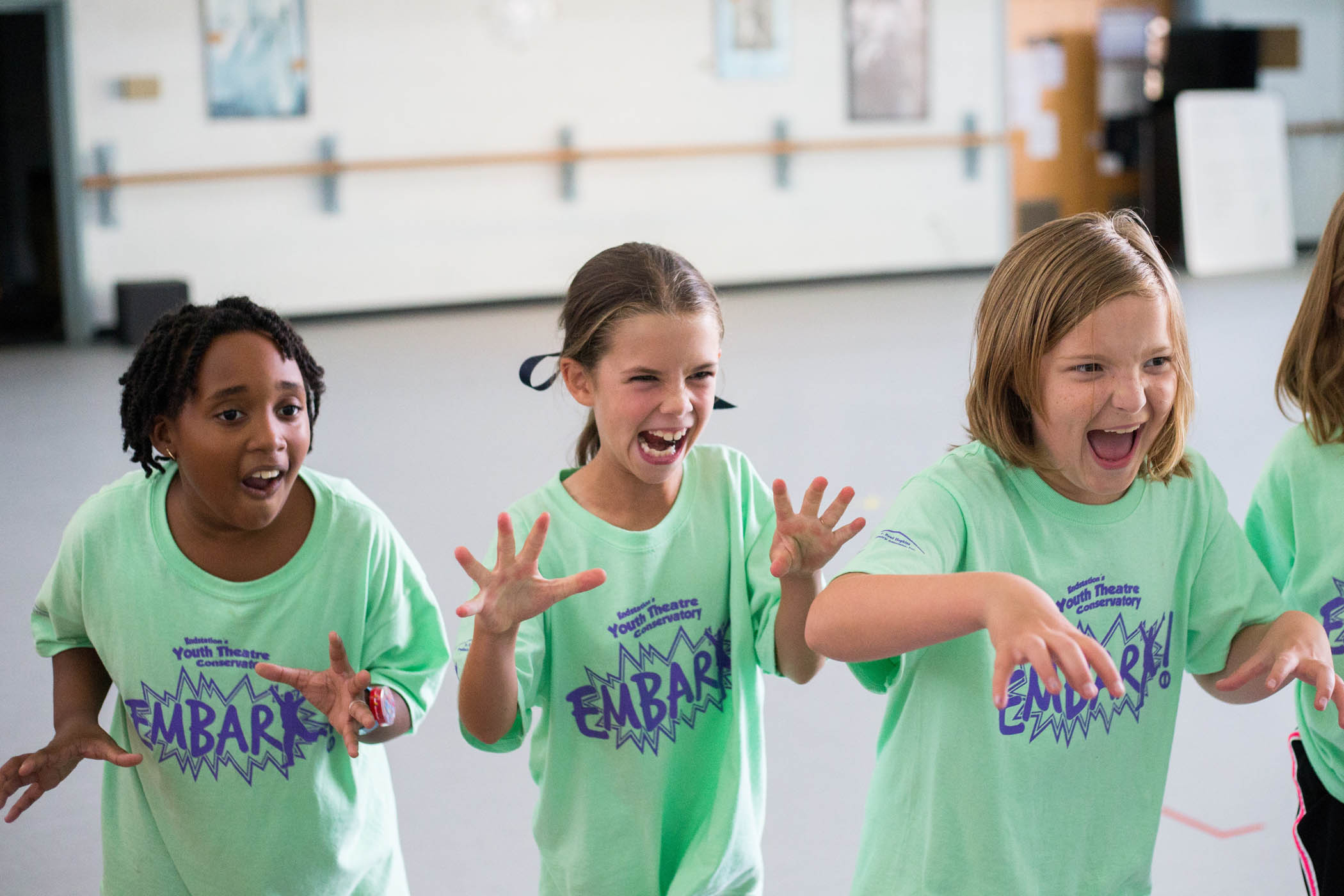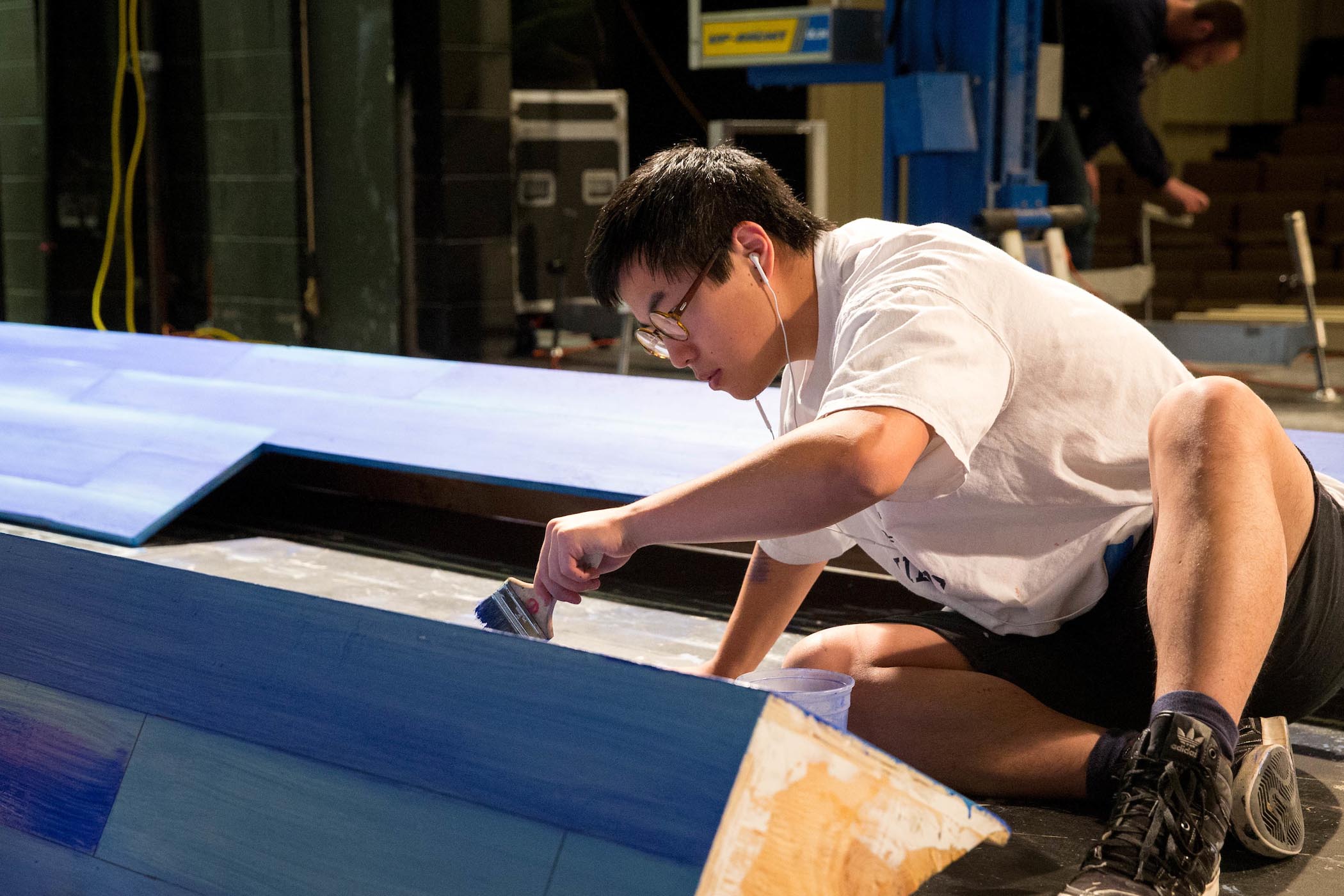 As Randolph's professional theatre company in residence, Endstation Theatre Company uses the campus as the home base for its summer program.
Founded in 2007,  Endstation is known for producing new works, reinterpretations of classical plays, and other works chosen specifically for the Central Virginia community based on the historical, current, and cultural events of the area.
Productions are performed in the College's Thoresen Theatre as well as other campus venues such as the Mabel K. Whiteside Greek Theatre (aka The Dell) and Michels Plaza as well off-campus sites like Thomas Jefferson's Poplar Forest, the Academy Center for the Arts  and the Old City Cemetery.
Endstation also hosts the Embark! Youth Theatre Conservatory, a 2-week summer program held at Randolph which gives rising 3rd through graduating 12th graders the opportunity to hone their skills under the direction of theatre professionals from around the region and nation.
Randolph College students enjoy apprenticeship opportunities, workshops, and access to Endstation's specialized designers, technicians, and artists.
More information: www.endstationtheatre.org
Sock and Buskin, the student drama club, supports the theatre productions and promotes drama as an essential part of life at the College.
Historic Preservation Law
Janie Campbell '12, history major
Preservation Consultant, law firm of Rogers Lewis Jackson Mann & Quinn, LLC, Columbia, South Carolina
Janie's group works with developers seeking tax credits for rehabilitating historic properties.
"I work closely with project architects to ensure that historic, character defining elements of each building are preserved and restored, which can vary tremendously as what is significant to a 1929 airplane hangar is vastly different from what makes a 1963 mid-century modern motel unique!"
She writes National Register of Historic Places nominations and Historic Preservation Certification applications, which detail the property's significance. She also conducts site visits to ensure work is being completed as described and photographs the before, during, and after conditions of each project.
"Randolph certainly laid the foundation for my research and writing skills. The Summer Research Program, in particular, prepared me for the type of place-based research I do now. "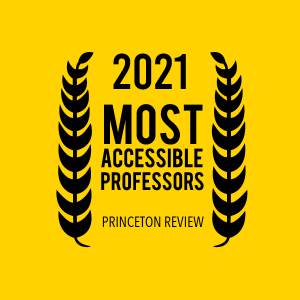 Top Ranked Professors
Randolph College's faculty are consistently recognized as among the best in the nation. The Princeton Review ranked the College in the Top 20 for most accessible professors in the 2021 edition of its flagship college guide, The Best 387 Colleges.
Randolph has been ranked in the top 20 for most accessible professors for four consecutive years.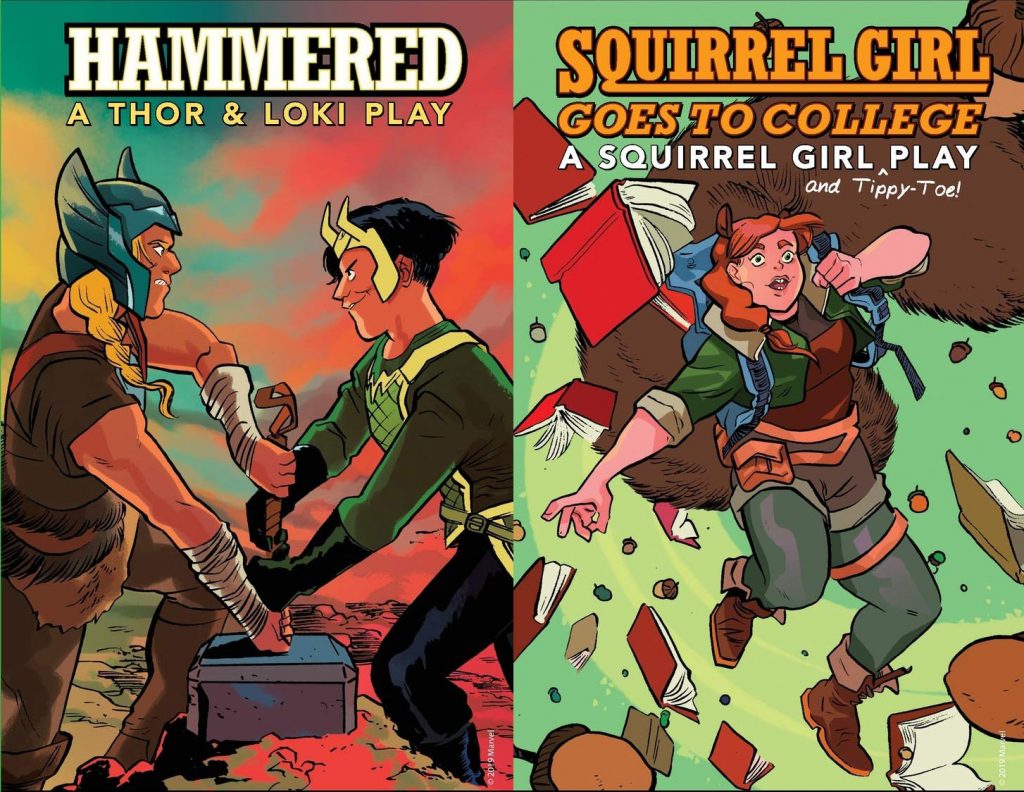 The 2021 Randolph College Greek Play: Heracles and Deianeira
by Sophocles
October 1-3, 2021
Marvel Double Feature
Hammered: A Thor and Loki Play
by Christian Borle
and
Squirrel Girl Goes to College: A Squirrel Girl Play
by Karen Zacarias
November 16-21, 2021
The Spitfire Grill, a musical
Music and book by James Valeq
Lyrics and book by Fred Alley
February 24-27, 2022
Randolph students can take advantage of unique programs which give them a more enriching education than can be found anywhere else.
The Randolph Plan
Randolph students work with faculty mentors to explore a broad range of disciplines as they chart their academic path.
Learn More
'Shakespeare isn't scary': Students strive to make the Bard's work more accessible
This story is part of an ongoing series featuring the work of students and faculty participating in Randolph's 2022 Summer […]
Read More