The arts are an integral part of an abundant life, and we ensure that opportunities are available to every student for their artistic growth and development.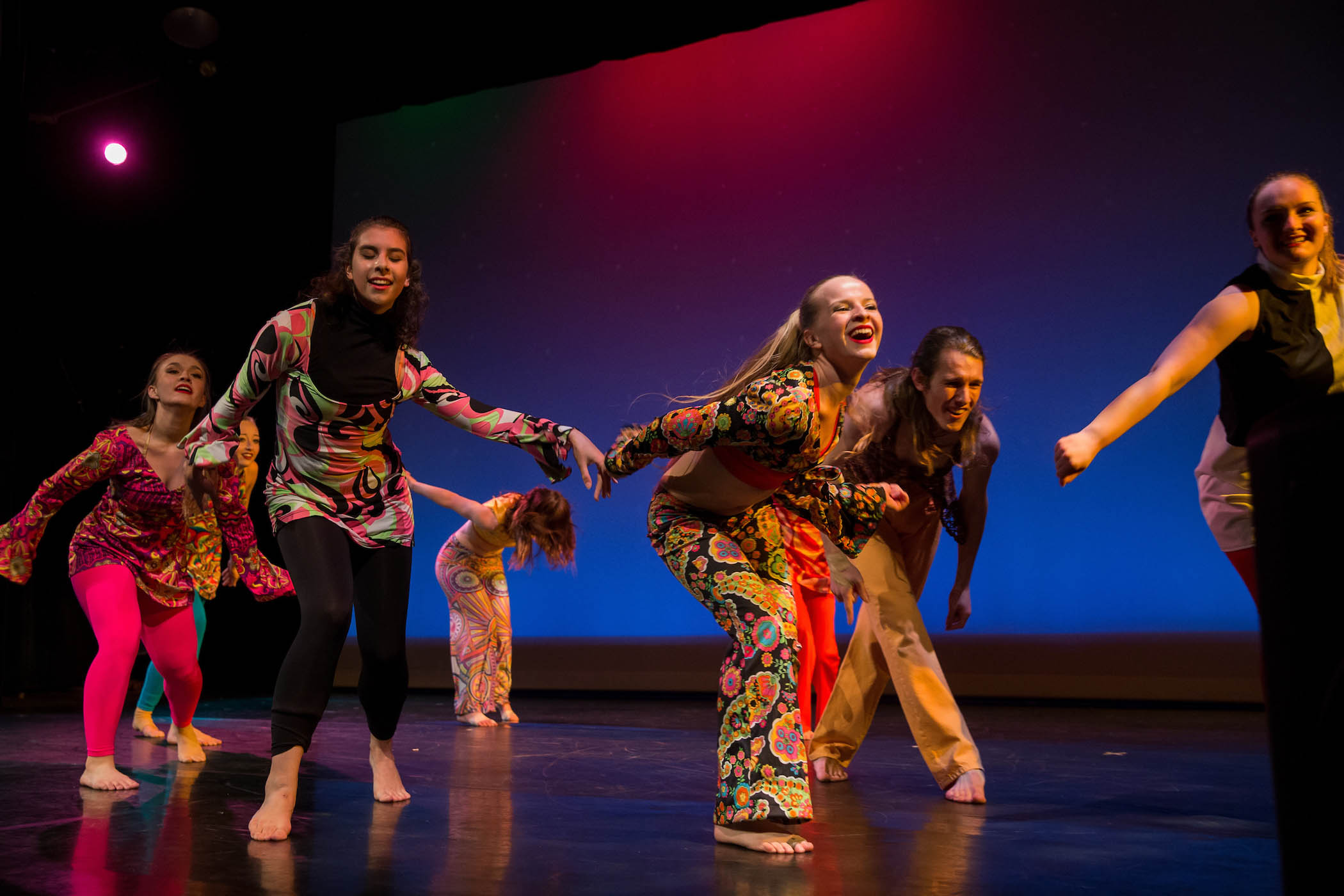 Why Study Performing Arts at Randolph?
Students from all majors and academic programs are welcome to enroll in performing arts coursework and participate in productions and performances. Whether experiencing the joy and power of movement in a dance class, singing in Chorale or playing an instrument in Chamber Orchestra, or being part of a theatre show onstage or backstage, every student gains valuable experience, understanding, and appreciation of the performing arts during their time at  Randolph.
Dance
The dance program offers courses in ballet, jazz, contemporary, and musical theatre dance technique which are open to all students. These classes expose students to the joy and power of movement, as well as the discipline of dance. Students develop both physical and spatial awareness and increased flexibility and coordination. Dance history courses give students the opportunity to connect dance to its societal context. Additional course offerings include Pilates, dance composition, and repertory.
Music
The music program fosters an understanding of music as both a form of artistic expression and a language. Course offerings in the department acknowledge this and provide the opportunity to pursue music's three interrelated areas: its theory, history, and performance. Students may pursue performance study through individual lessons or in a group setting by joining the Chorale or the Chamber Orchestra. In theory classes, students will develop their understanding of the construction and use of the musical language. Music history courses examine the cultural and sociological role of the art form.
Theatre
The theatre program is directed toward developing an understanding and appreciation of the interrelationship of actor, script, performing space, and audience. The department's curriculum centers on courses that explore performance (acting and directing), text (literature and playwriting), and performing space (design and technology), and that recognize—in various considerations of styles, periods, history, standards, and conventions—the essentiality of the audience in completing the theatre circle. Theatre majors are guided through the academic and production programs to hone their specialty area of emphasis while cultivating a generalist approach to theatre. The program is dedicated to exposing each student to the breadth of theatrical expression in their time on campus, emphasizing the best of period and contemporary work and the variety of production styles, while providing an individually crafted program of study and set of experiences that maximizes artistic growth. The department offers a major in theatre (both B.A. and B.F.A. options, with tracks of specialization) and minors in dance, music, theatre, technical theatre, and musical theatre, as well as a low-residency M.F.A. in theatre.
Productions
Our interdisciplinary performances include a Performing Arts Showcase in the fall and a Cabaret in the spring, with dance, music, and theatre all represented onstage. 
The Fall Showcase, Candlelight Concert, Winter Showcase, and Spring Concert include ensemble performances of both dance and music students. Chorale and Chamber Orchestra are often featured together in these concerts.
The theatre program presents two to three productions per year, including at least one on the Thoresen mainstage and one in the Lab Theatre. Capstone projects for senior theatre majors provide those students with an opportunity to research and produce a work of their choosing.
Randolph theatre students are exposed to a wide breadth of theatrical expression, emphasizing the best of period and contemporary work and the variety of production styles.
Through coursework and production experiences, majors hone their specialty area of emphasis while cultivating generalist approach which recognizes the interrelationship of actor, script, performing space, and audience.
Areas of emphasis include acting, directing, design and technology.
Faculty mentors work with students to build an individually crafted program of study and set of experiences that maximizes artistic growth and opportunities after graduation.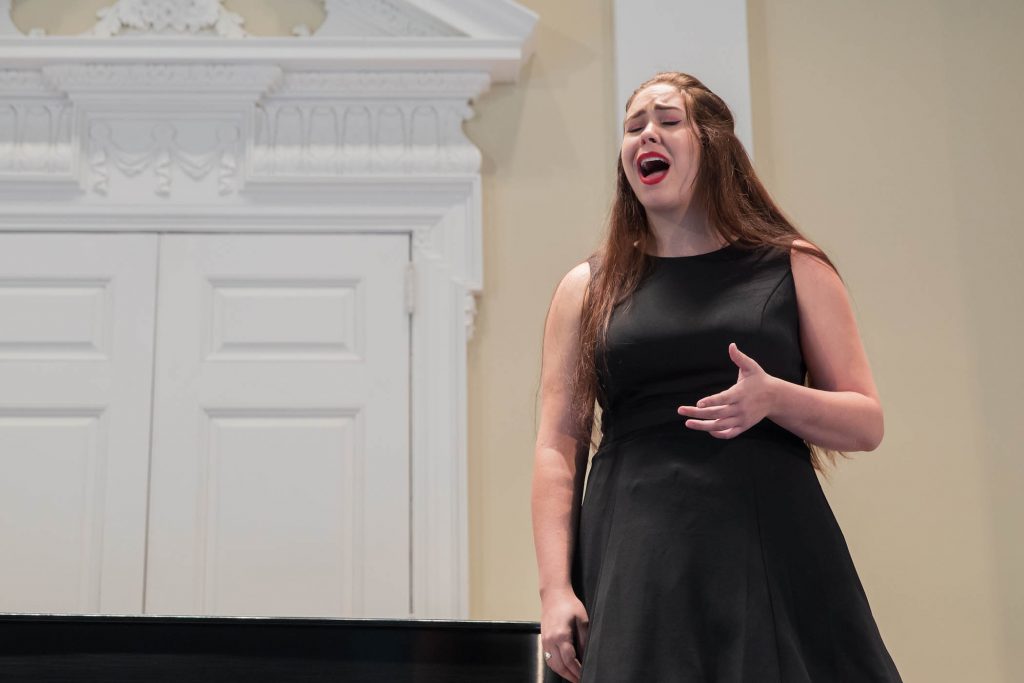 Small Classes
Randolph classes are full of engagement and interaction. Students get the full attention of their professors and develop camaraderie with their classmates.
The Honor Code
Randolph students live by our Honor Code and act with the highest integrity in both academic and social life.
Study Abroad
Opportunities for study elsewhere, such as in the Washington Semester Programs at the American University in Washington, D.C., as well as study-abroad programs, are available.
Intercultural Competence
All Randolph students learn global citizenship with the capability to accurately understand and adapt to cultural differences and find commonality.
Internships
Randolph students put classroom learning into practice by participating in internships.
With help from the Career Development Center, political science majors have experienced government at work during internships in the congressional offices, federal and state offices, political campaigns, advocacy groups, social service agencies, and more. ing with social service agencies.
Recent internships include the Department of Veterans Affairs, Moms Demand Action, CASA, U.S. State Department, SAWA, U.S. House of Representatives, and more.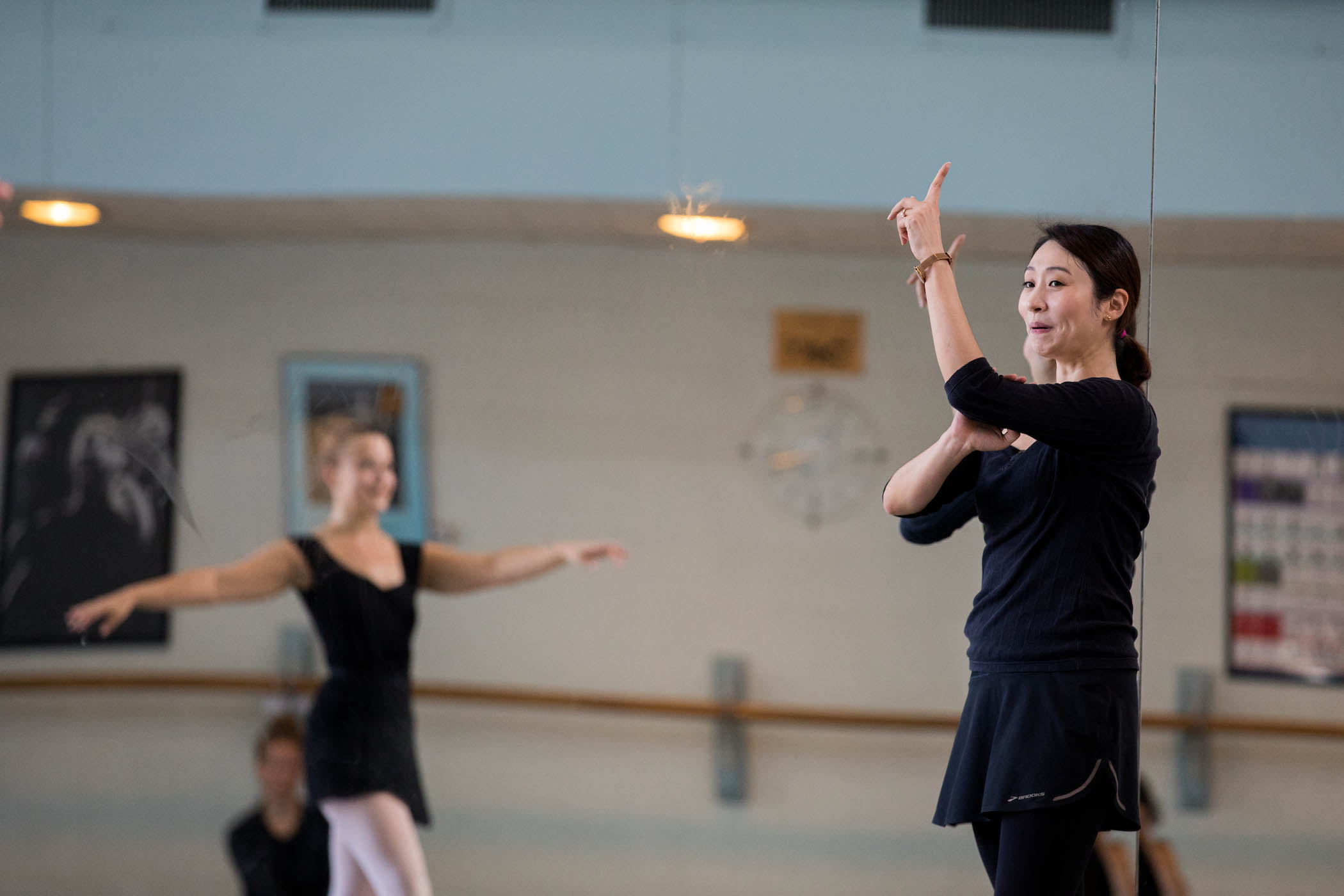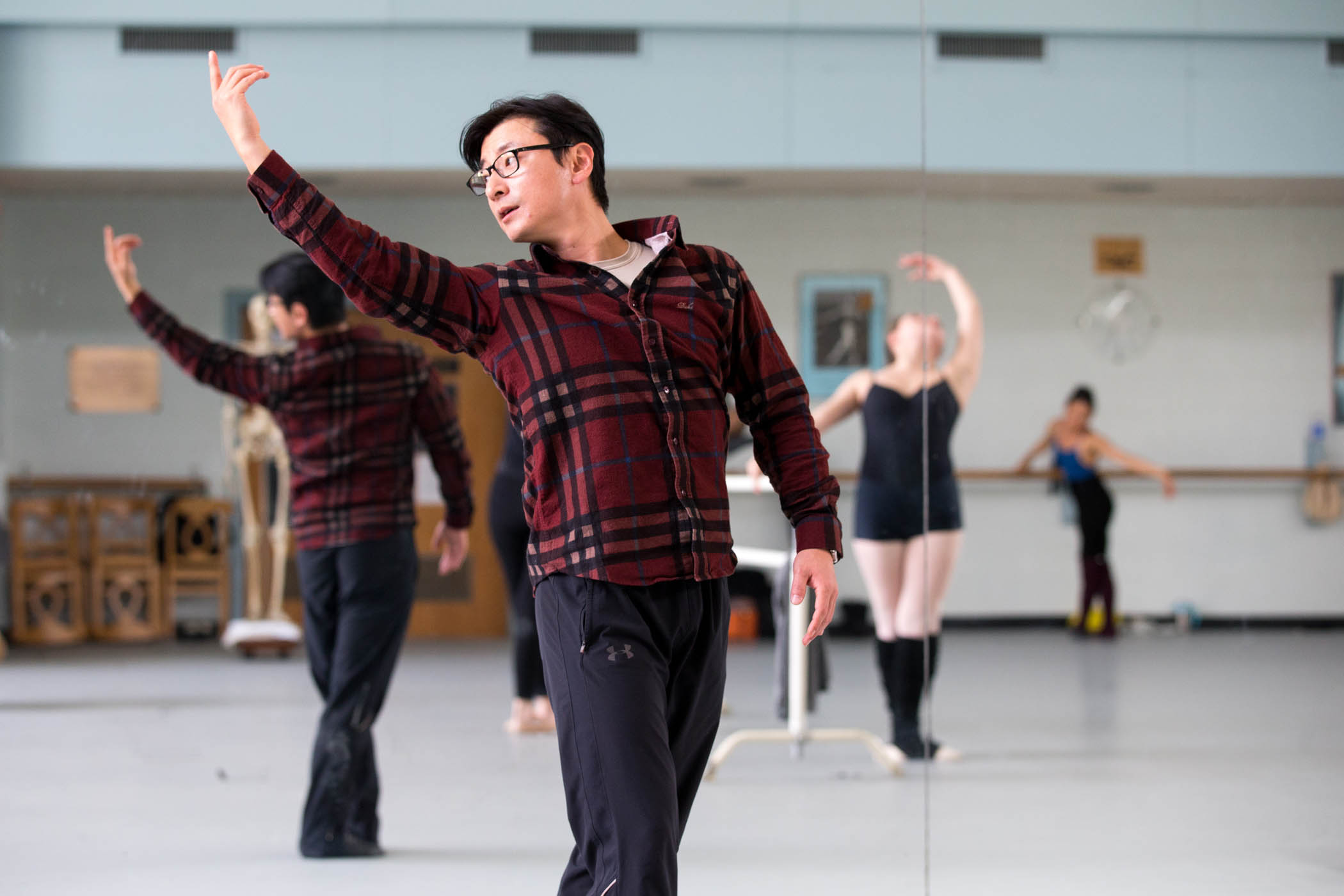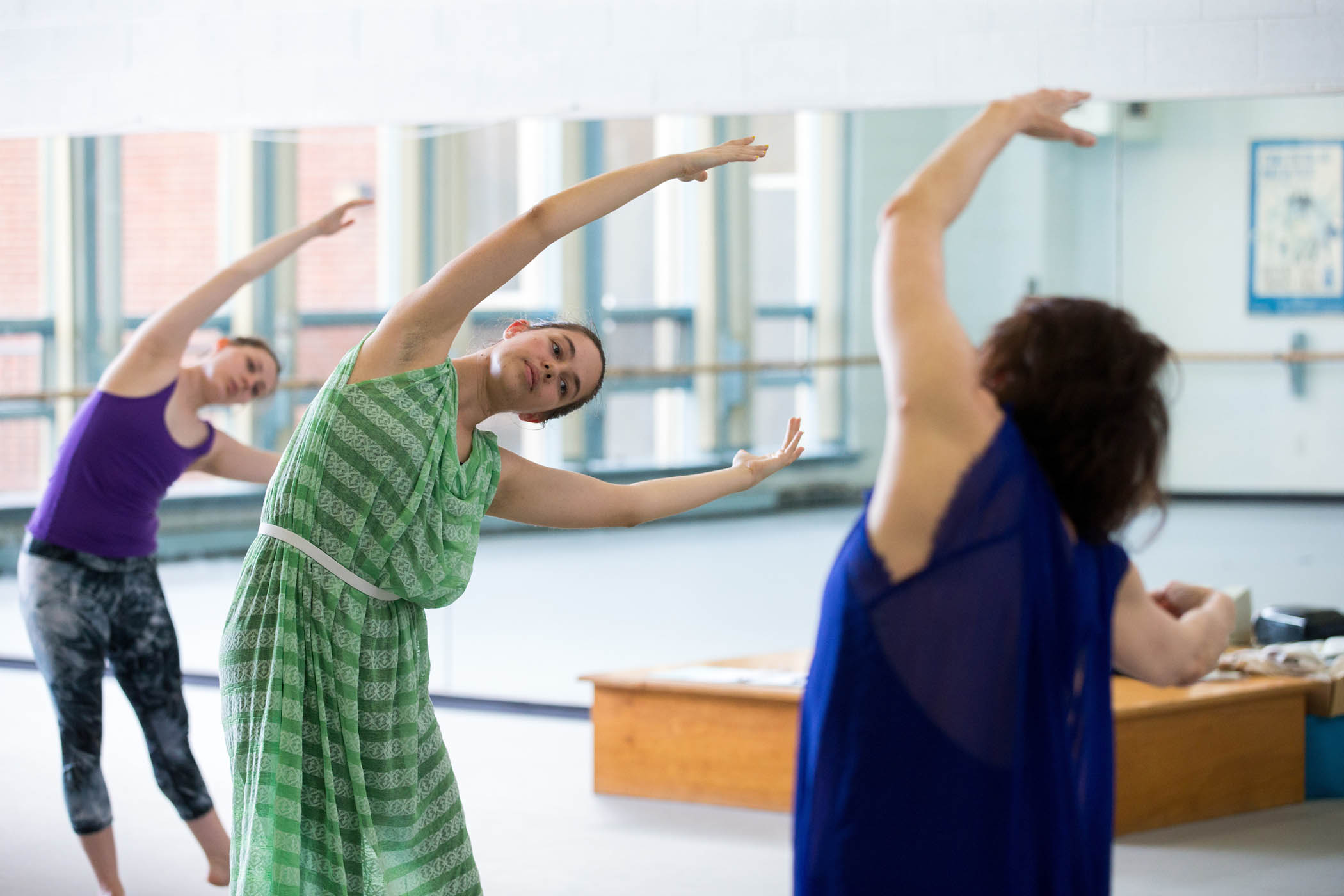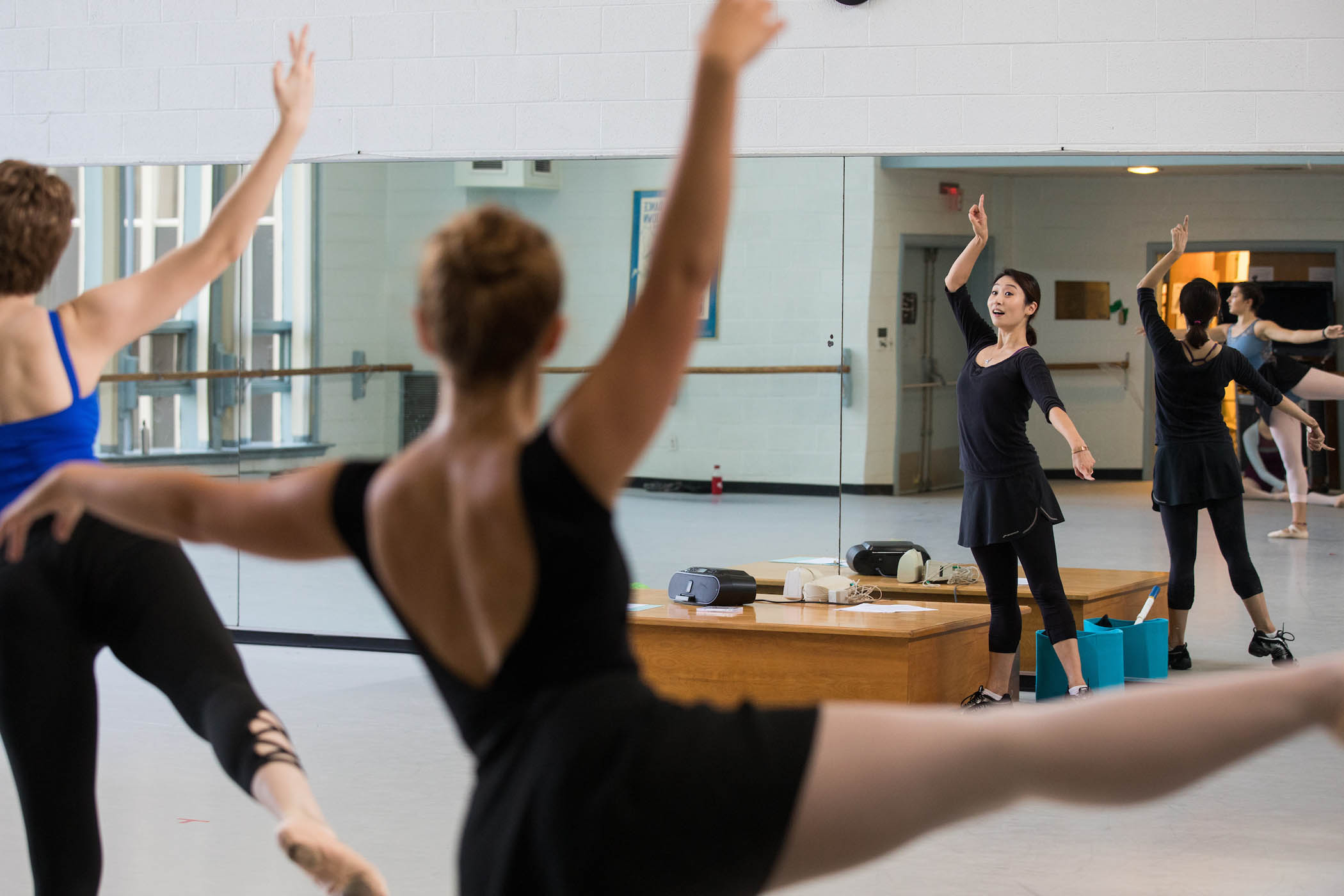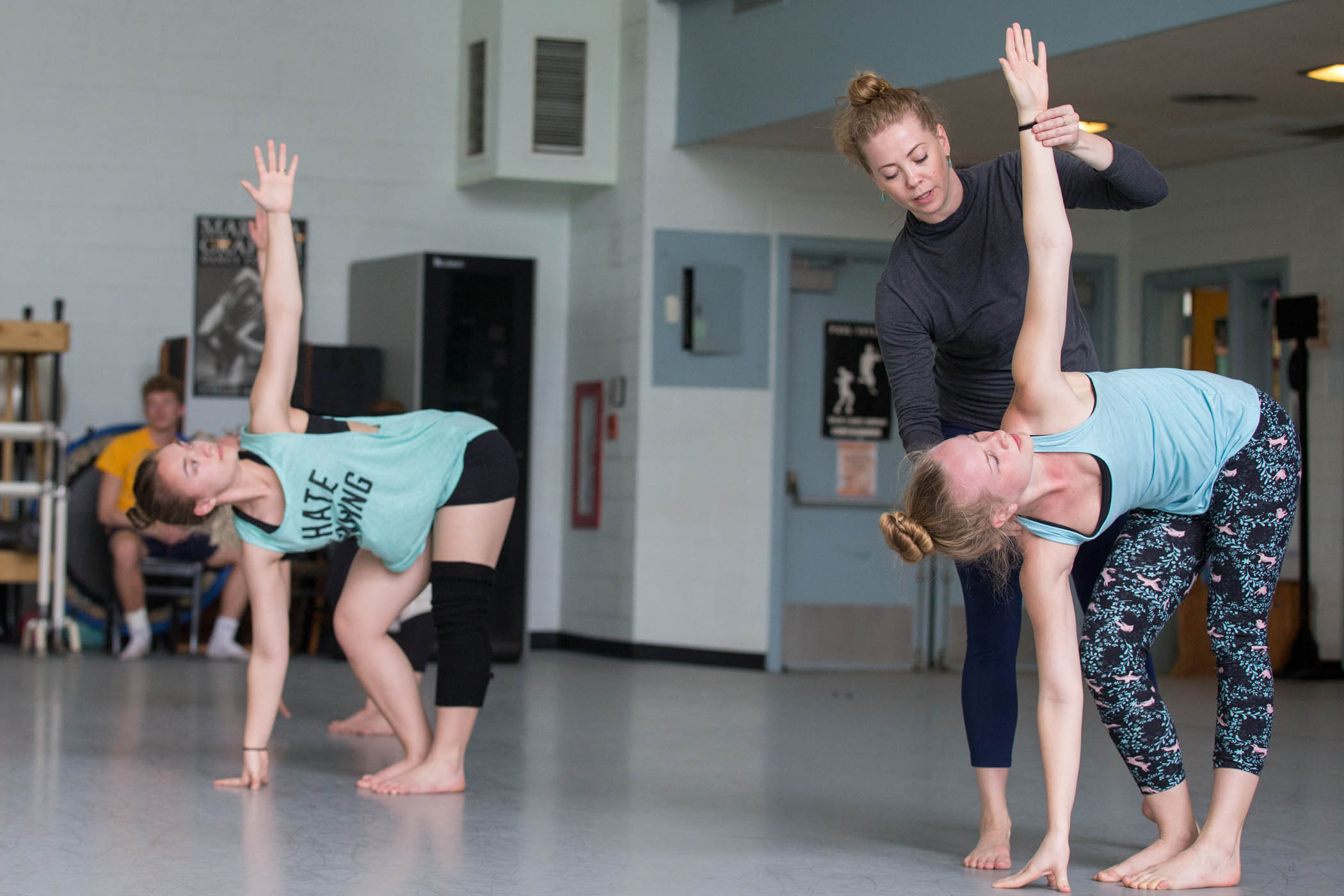 The Helen McGehee Visiting Artist Program is an endowed program that was founded in 1971 by McGehee, who began her own dance training at the College.
A leading soloist with the Martha Graham Dance Company for nearly thirty years, Helen McGehee made it possible for generations of students to be inspired by these guest artists, many of whom have staged and choreographed works for student performance.
The Guest Artist Series in Music, founded in 2002, brings professional musicians from around the country and the world to campus to perform, teach, and engage with the community in educational outreach.
The program is sustained by several endowments, including the Elinor Rigby Endowed Visiting Musical Artists Fund and the Edwin H. and Elaine Dahl St. Vincent Music Fund.
A traditional collegiate concert choir, Chorale has performed in Carnegie Hall, Washington National Cathedral, National Presbyterian Church, University of West Indies Chapel, and is one of very few choirs to be invited to sing in the United States Holocaust Memorial Museum.
The ensemble has also commissioned and performed world premieres of a number of works, frequently with the composers in residence.
In October 2016, as part of the College's 125th anniversary celebration, the ensemble presented an arrangement of Carol Barnett's "From the Good Earth," featuring text of the College's most distinguished alumna, Pearl S. Buck (Class of 1914).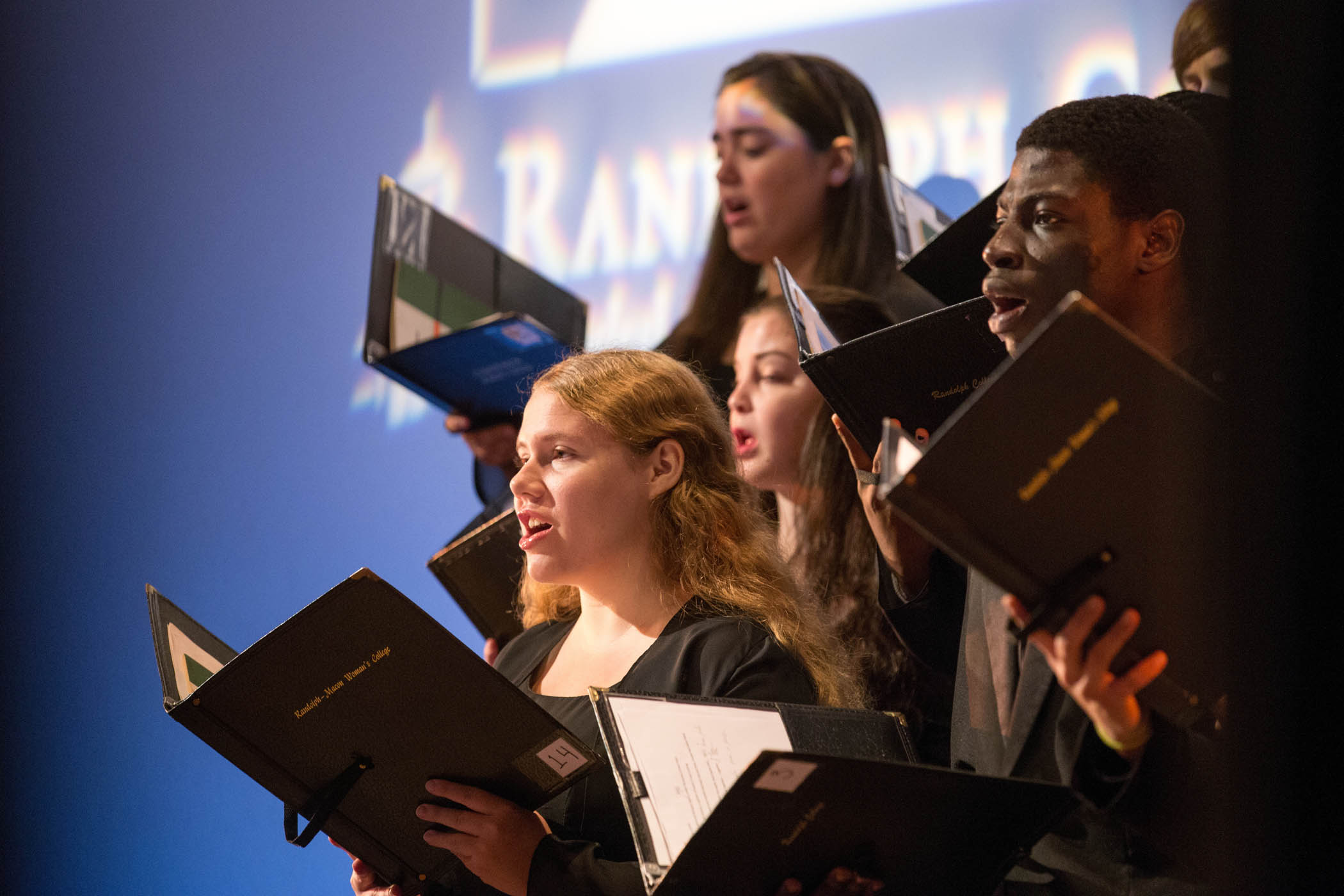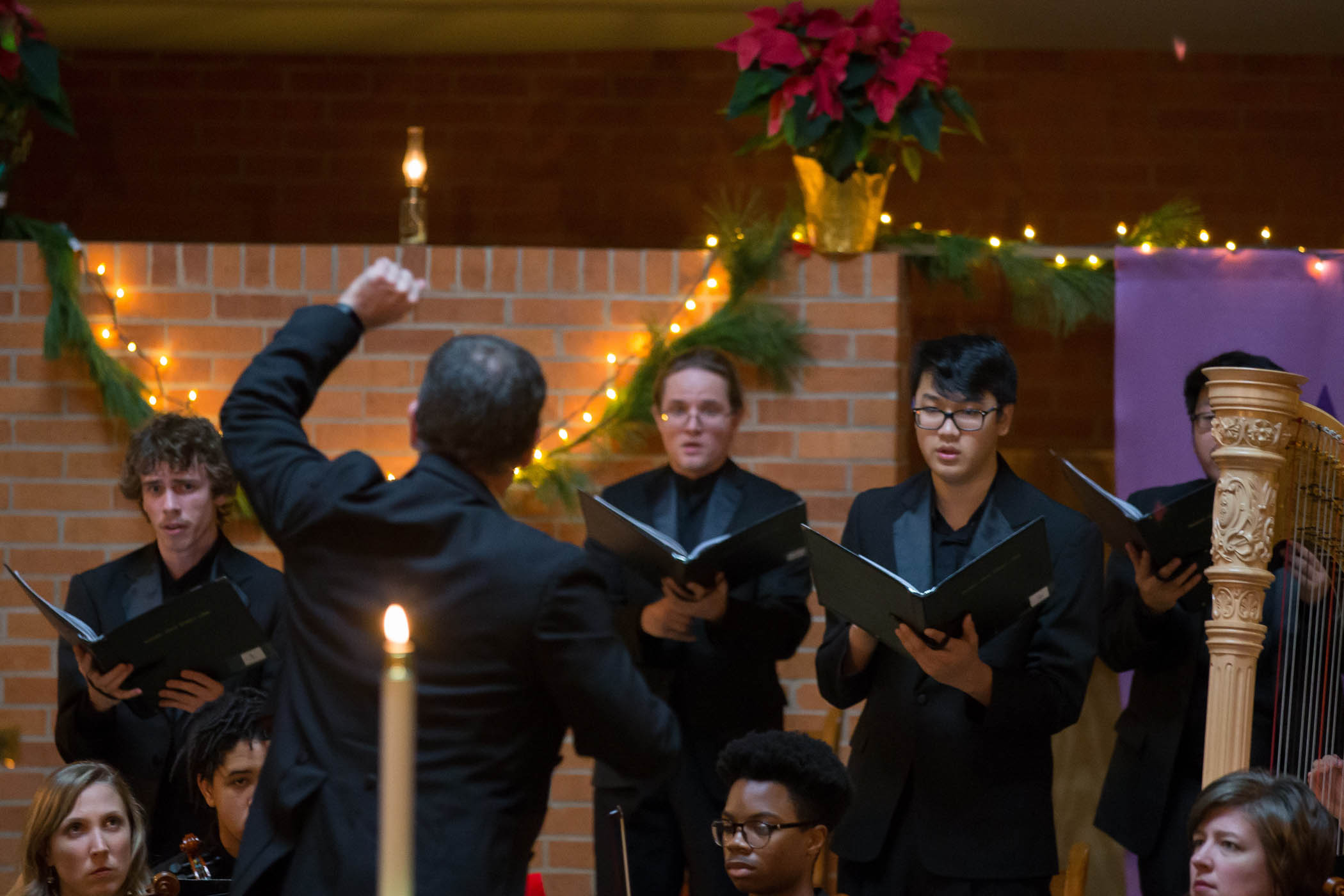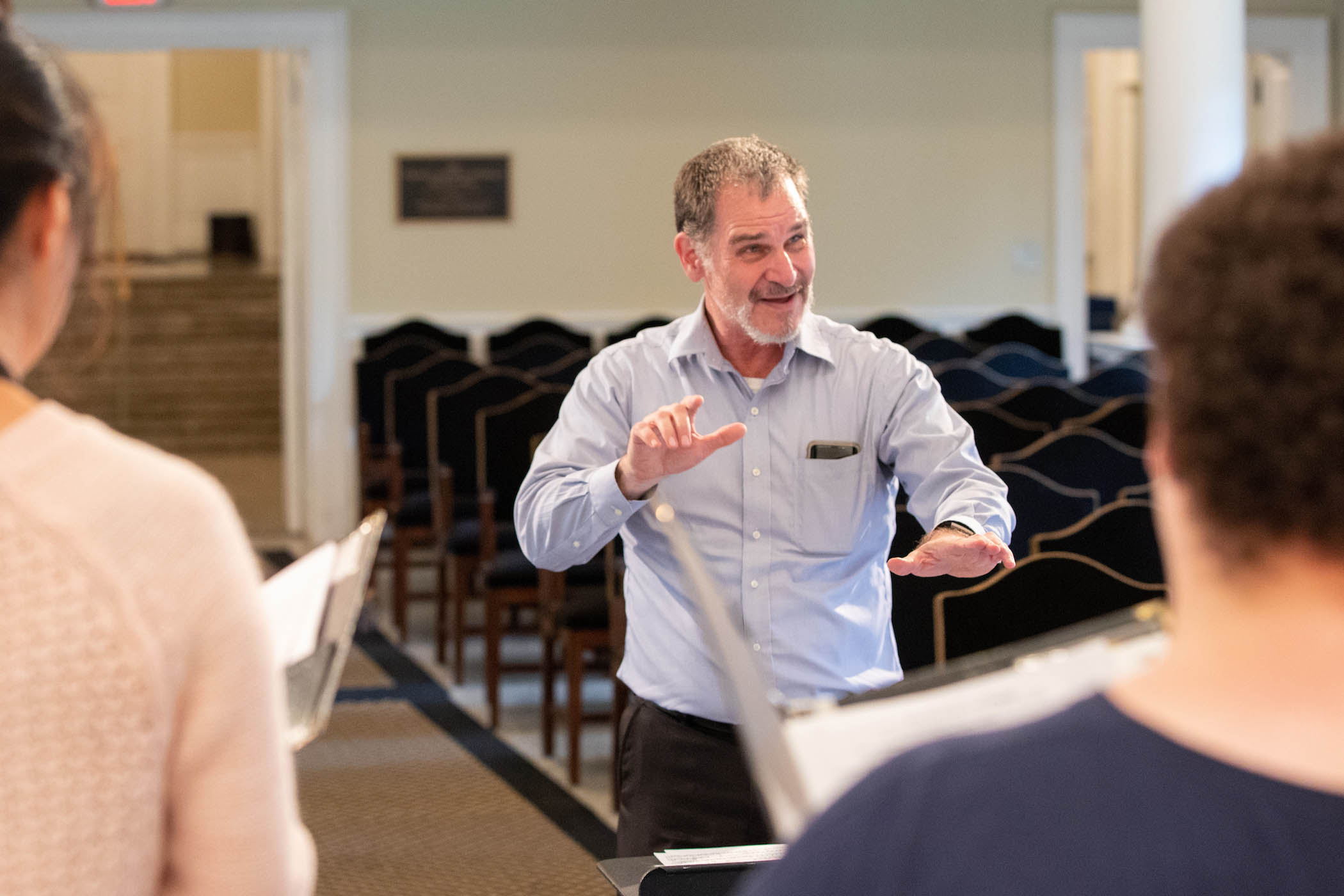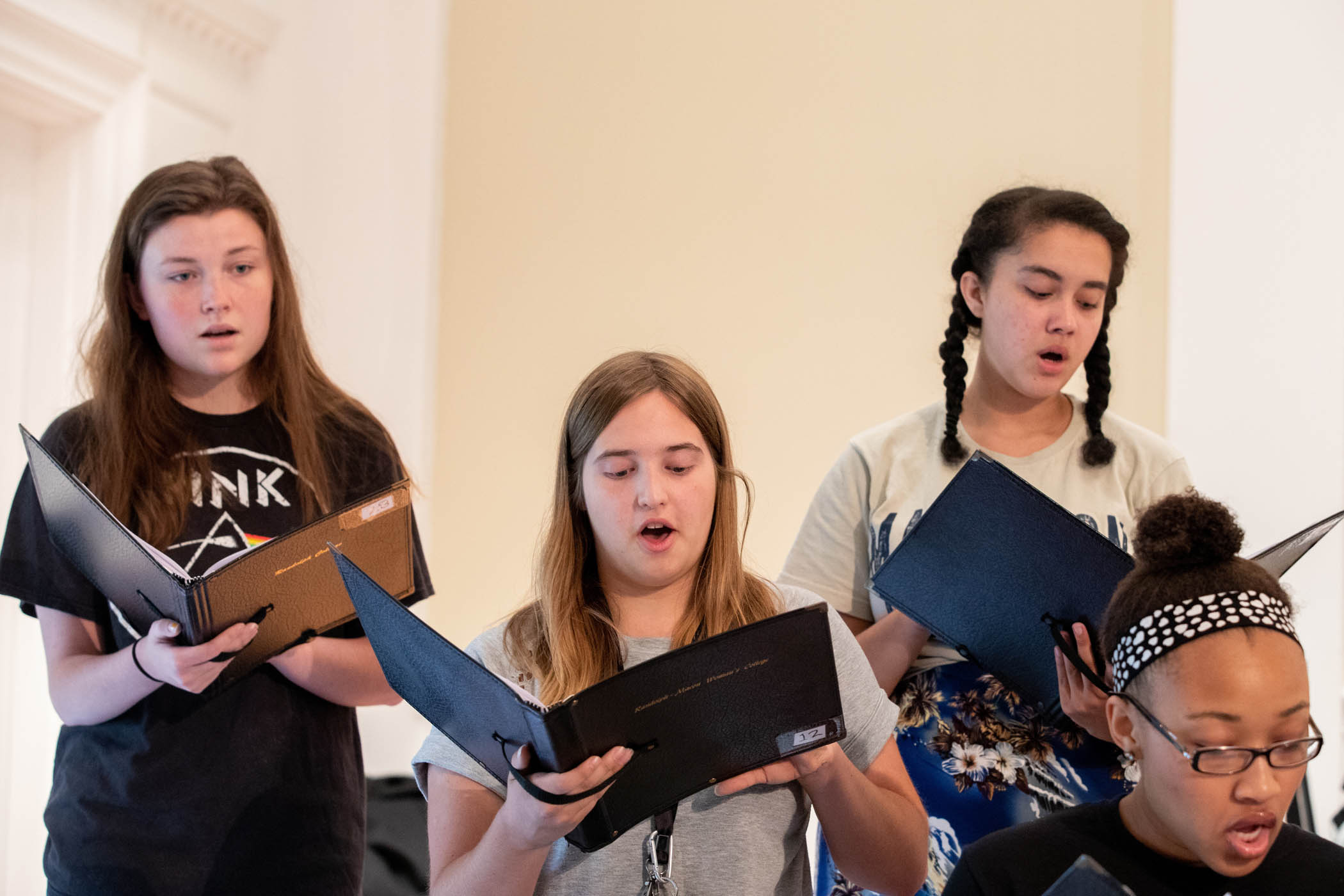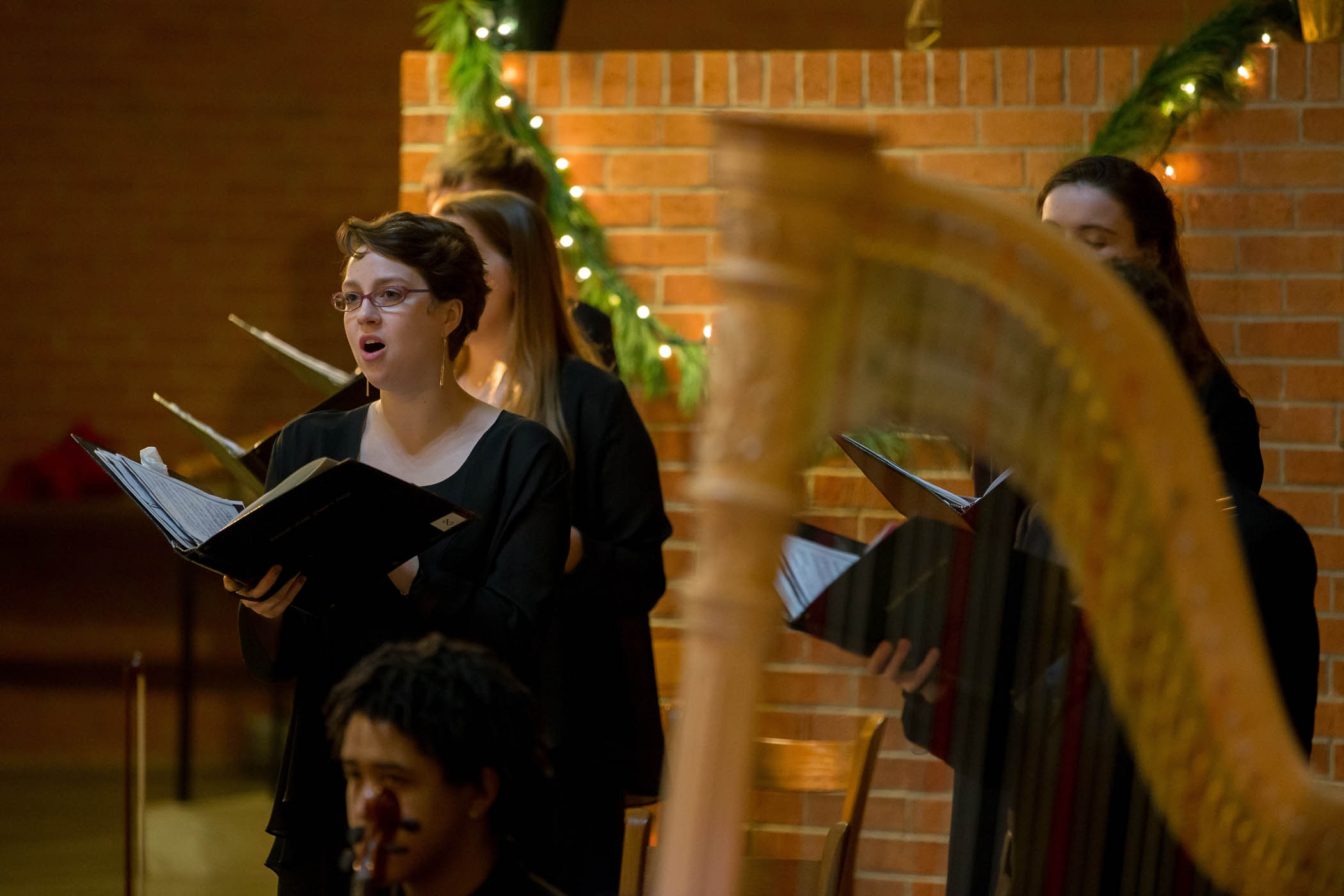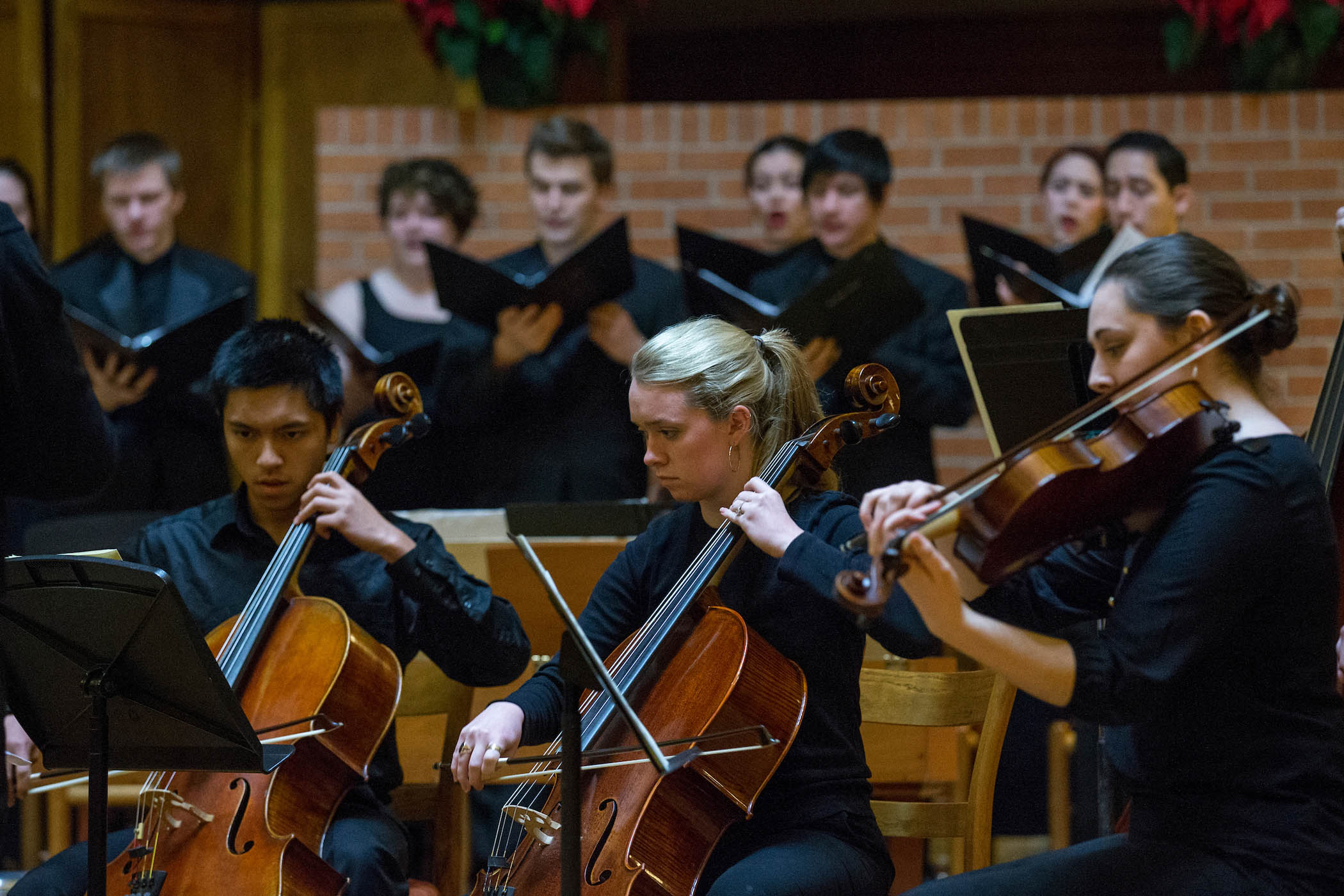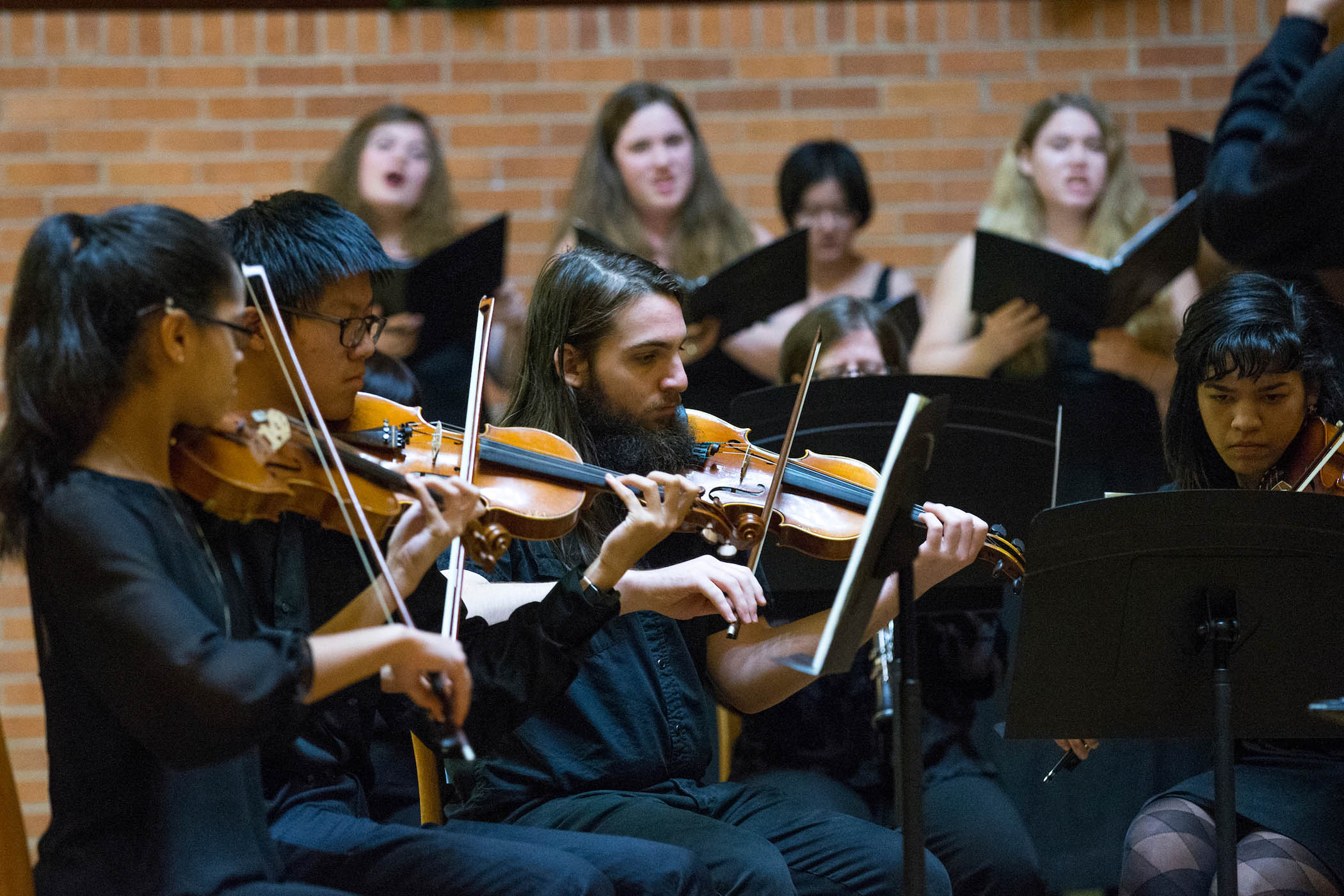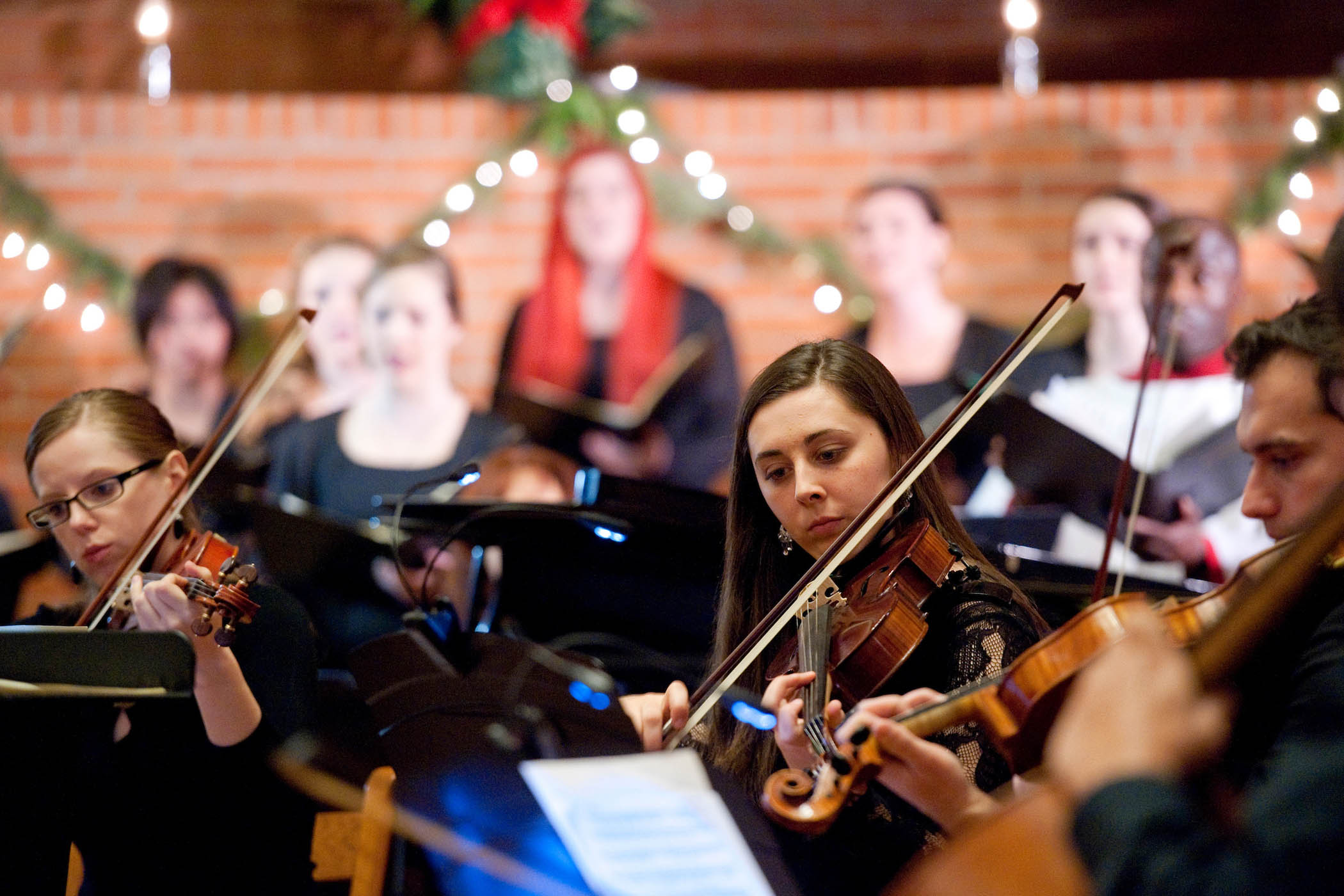 Chamber Orchestra provides a rare opportunity for students to gain valuable experience performing side by side with local professional musicians.
Larger works performed by the ensemble include Stravinsky Pulcinella Suite, and Beethoven symphonies No. 1, 6, and 8; with choir, Mozart Requiem, and Gonzalez Misa Azteca.
Unique among colleges and universities in the United States, our tradition of the Greek Play goes back to 1909. Every other year, students perform an authentic Greek drama. The production adheres to the original conventions that governed theatre in the time of the great tragedians, believing that the best plays will emerge from the conditions for which they were written.
The College boasts the Mabel K. Whiteside Greek Theatre, a classic outdoor Greek theatre also affectionately known by students as The Dell. This unique facility allows the plays to be performed in daylight for an audience seated in a semi-circle around the performers.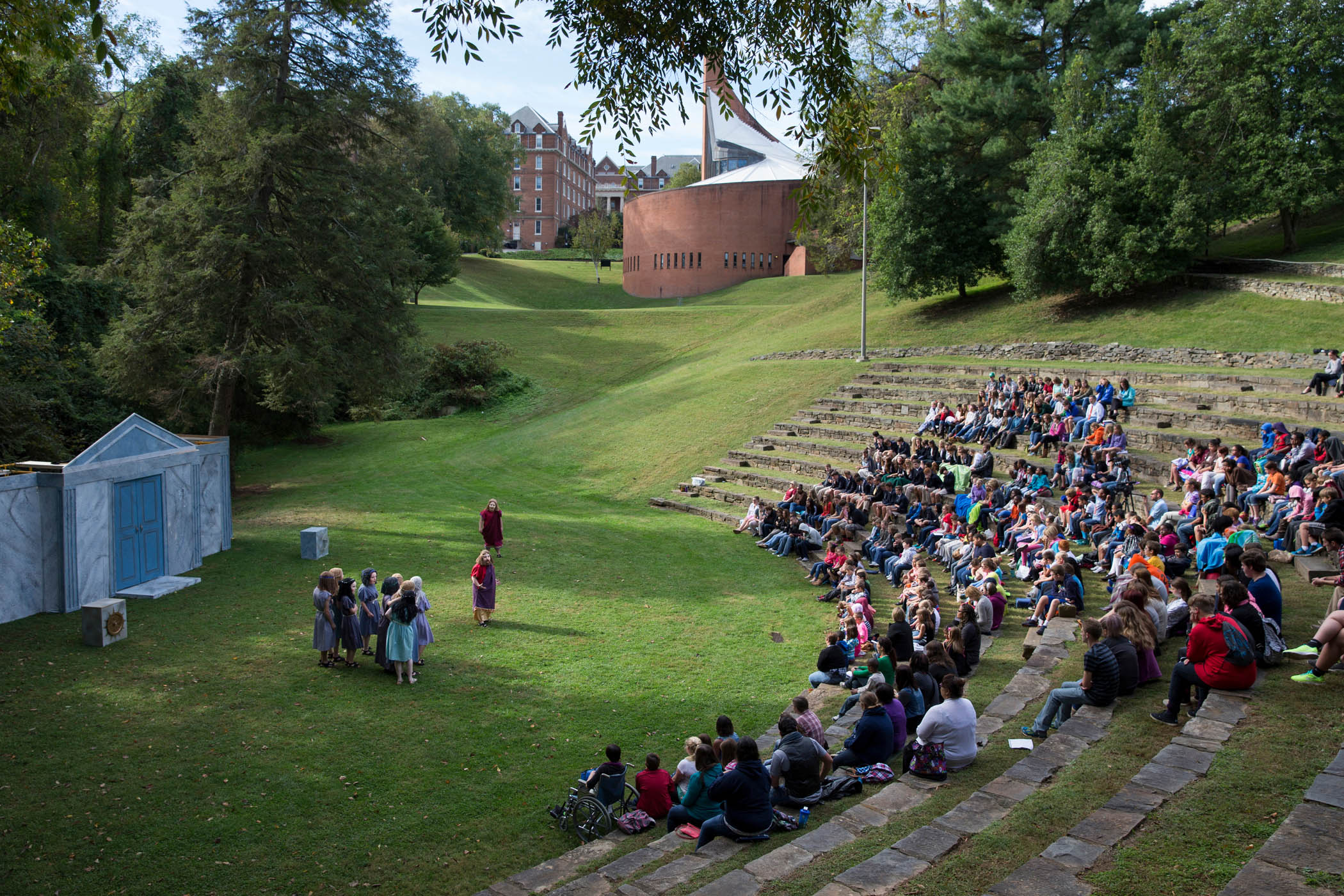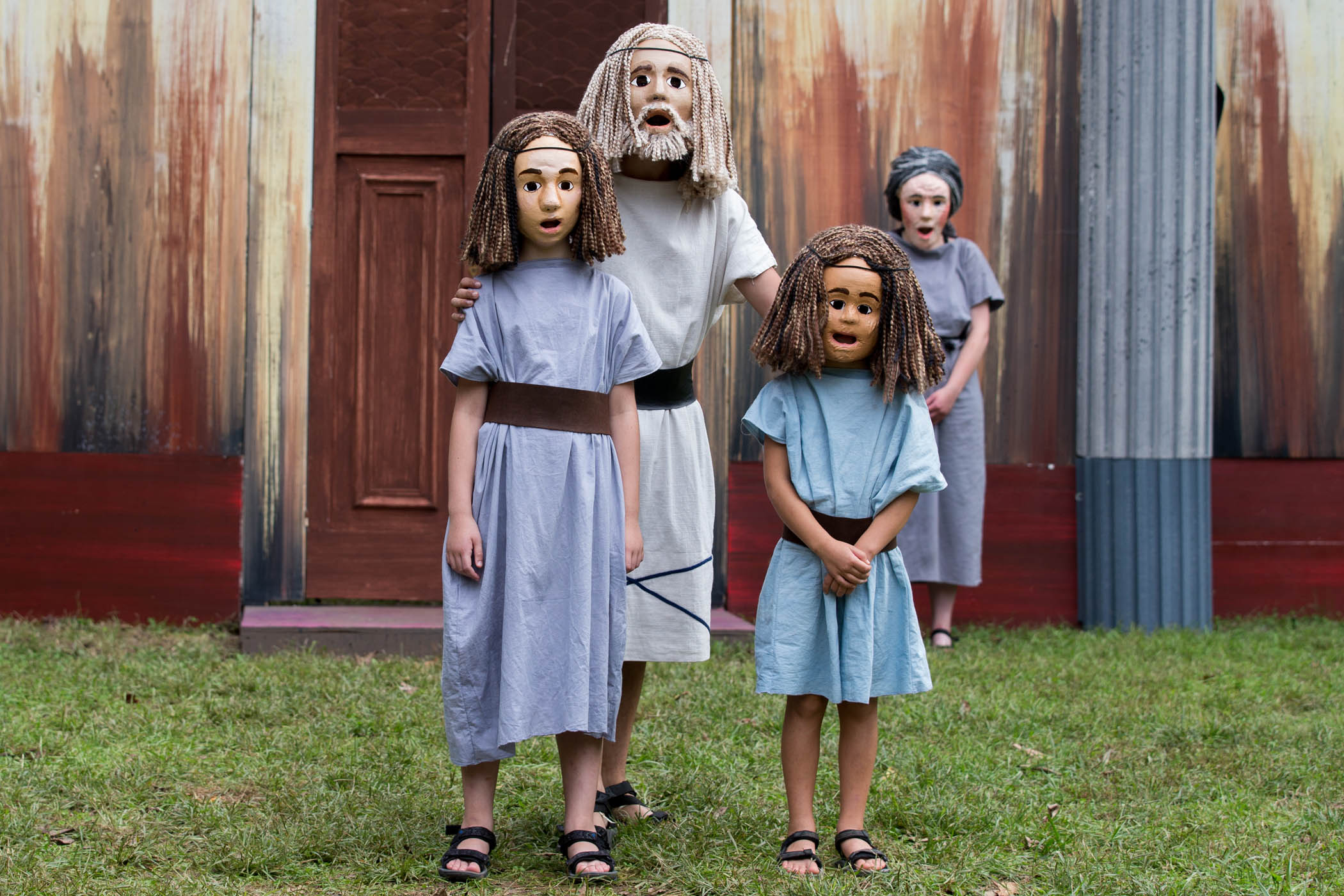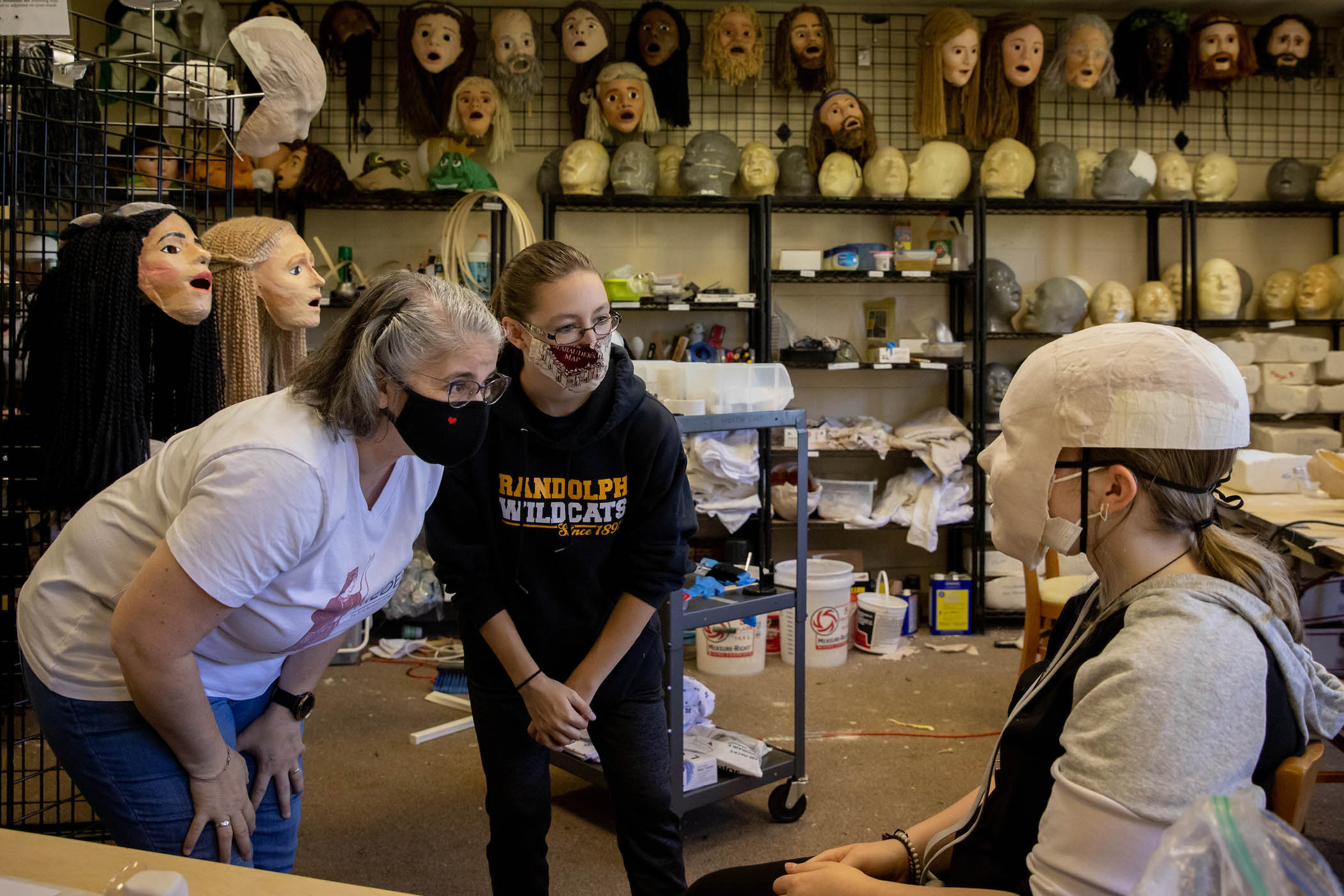 Endstation Theatre Company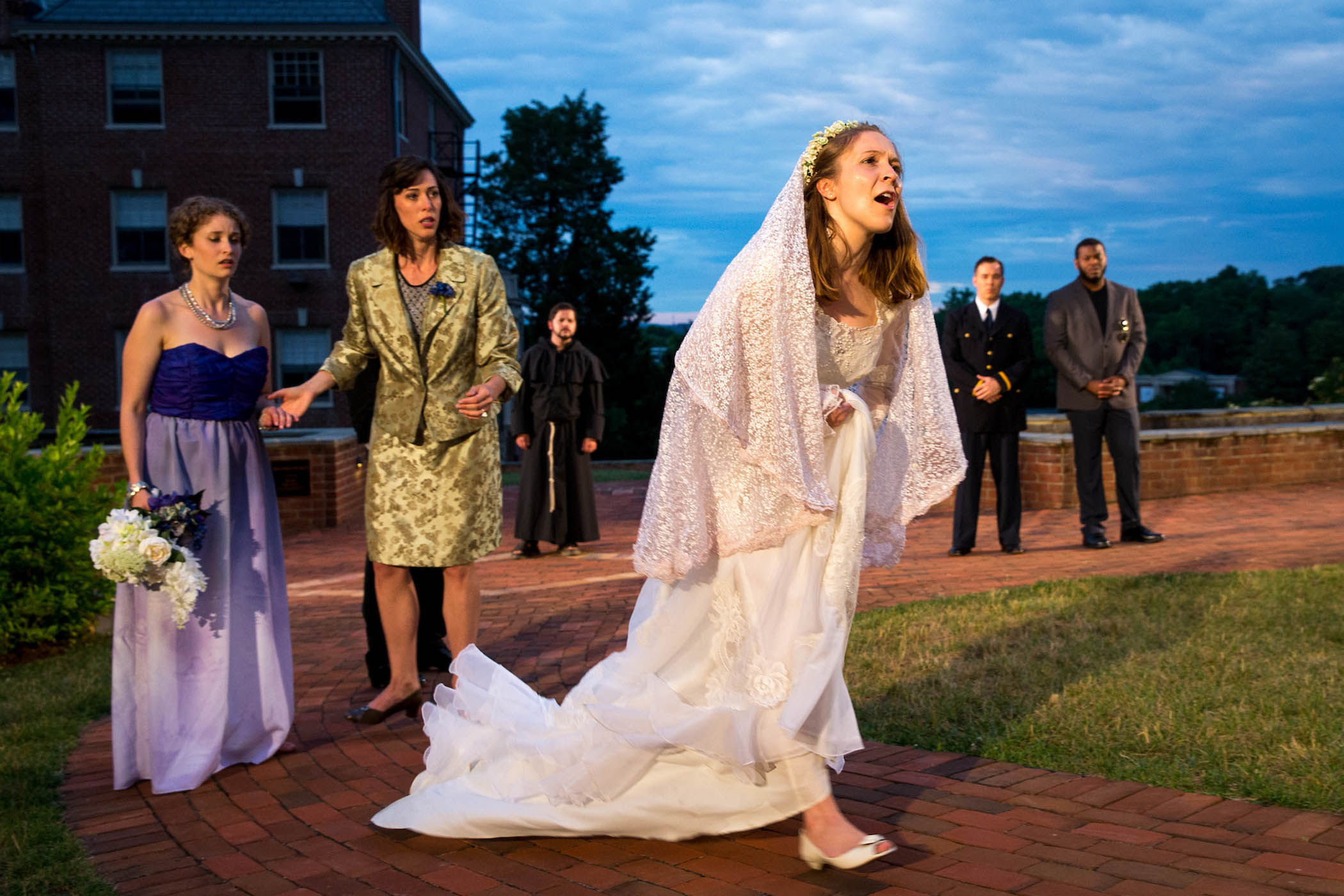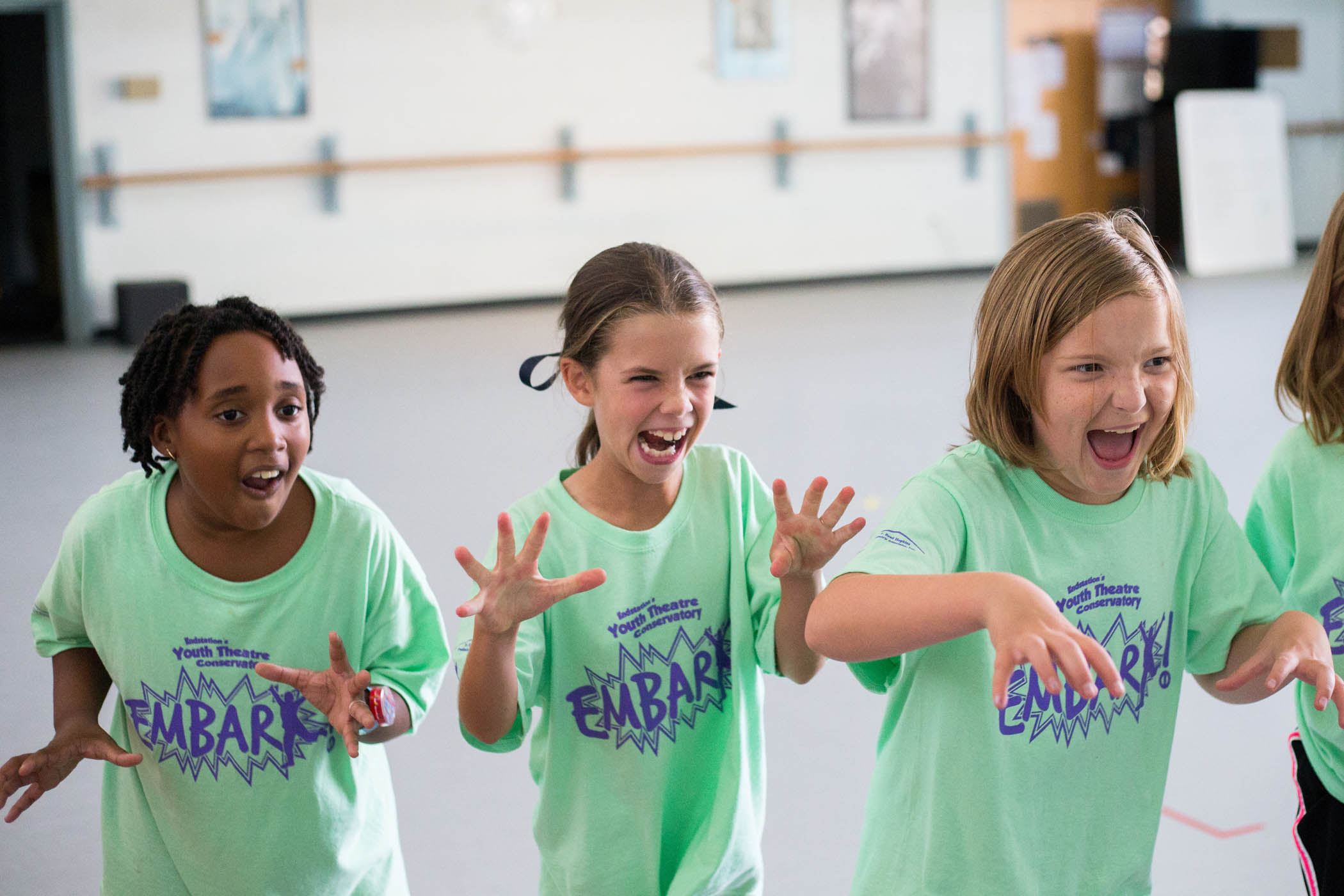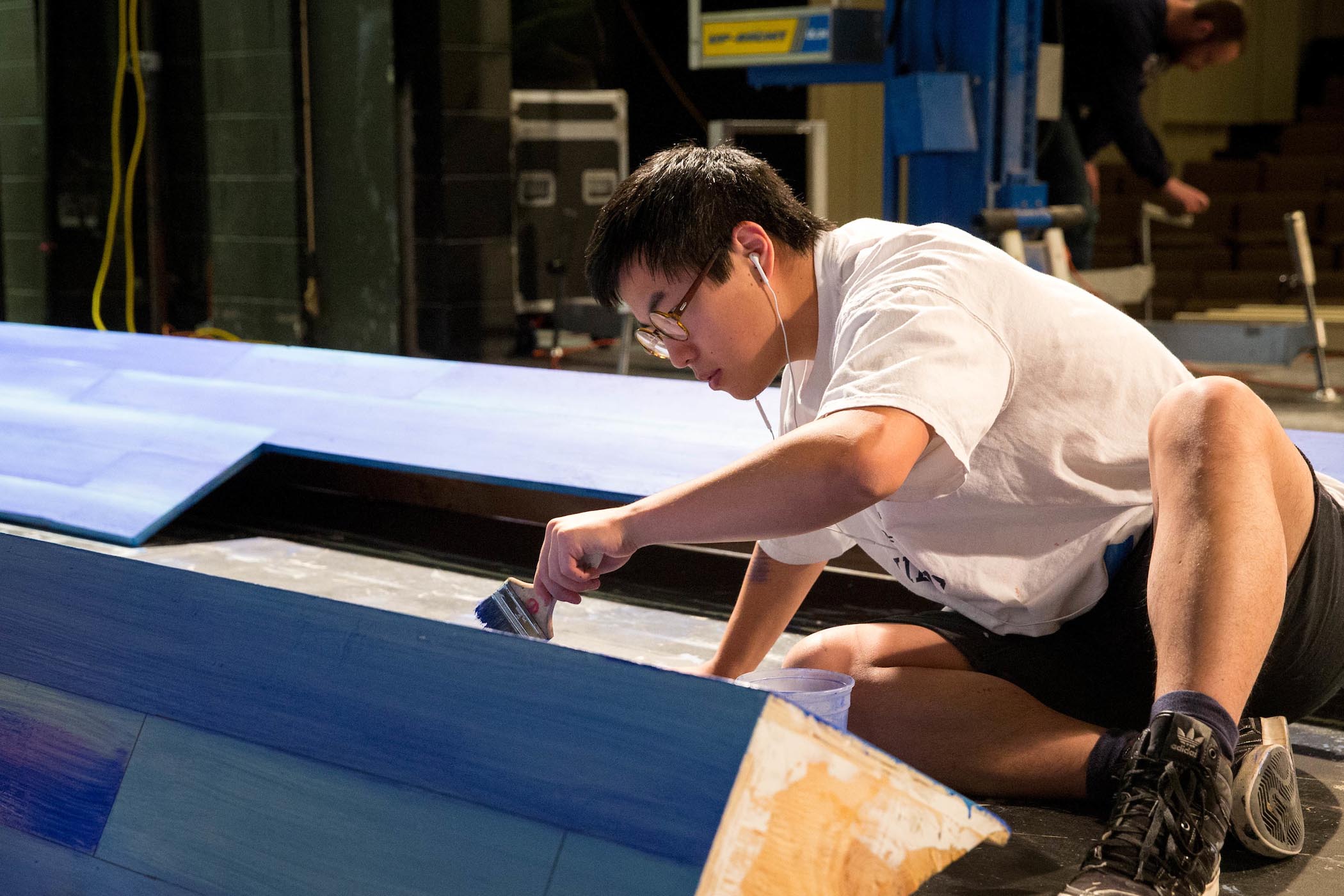 As Randolph's professional theatre company in residence, Endstation Theatre Company uses the campus as the home base for its summer program.
Founded in 2007,  Endstation is known for producing new works, reinterpretations of classical plays, and other works chosen specifically for the Central Virginia community based on the historical, current, and cultural events of the area.
Productions are performed in the College's Thoresen Theatre as well as other campus venues such as the Mabel K. Whiteside Greek Theatre (aka The Dell) and Michels Plaza as well off-campus sites like Thomas Jefferson's Poplar Forest, the Academy Center for the Arts  and the Old City Cemetery.
Endstation also hosts the Embark! Youth Theatre Conservatory, a 2-week summer program held at Randolph which gives rising 3rd through graduating 12th graders the opportunity to hone their skills under the direction of theatre professionals from around the region and nation.
Randolph College students enjoy apprenticeship opportunities, workshops, and access to Endstation's specialized designers, technicians, and artists.
More information: www.endstationtheatre.org
Sock and Buskin, the student drama club, supports the theatre productions and promotes drama as an essential part of life at the College.
Historic Preservation Law
Janie Campbell '12, history major
Preservation Consultant, law firm of Rogers Lewis Jackson Mann & Quinn, LLC, Columbia, South Carolina
Janie's group works with developers seeking tax credits for rehabilitating historic properties.
"I work closely with project architects to ensure that historic, character defining elements of each building are preserved and restored, which can vary tremendously as what is significant to a 1929 airplane hangar is vastly different from what makes a 1963 mid-century modern motel unique!"
She writes National Register of Historic Places nominations and Historic Preservation Certification applications, which detail the property's significance. She also conducts site visits to ensure work is being completed as described and photographs the before, during, and after conditions of each project.
"Randolph certainly laid the foundation for my research and writing skills. The Summer Research Program, in particular, prepared me for the type of place-based research I do now. "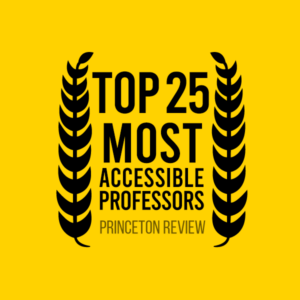 Top Ranked Professors
Randolph College's faculty are consistently recognized as among the best in the nation. The Princeton Review ranked the College in #12 for most accessible professors in the 2023 edition of its flagship college guide, The Best 388 Colleges.
Randolph has been ranked in the top 20 for most accessible professors for six consecutive years.
Teresa Angell
Cello Instructor
Leigh Berkeley
Clarinet and Saxophone Instructor
J. Mark Campbell
Trumpet Instructor
Kevin Chiarizzio
Trombone and Low Brass Instructor
Jacob Dishman
Staff Accompanist
Christopher Fosnaugh
Percussion and Drumset Instructor
Kyle Greaney
Clarinet and Saxophone Instructor
Hermina Hendricks
Senior Lecturer in Music
Alycia Hugo
Flute Instructor
Hope Maddox
Costume Shop Supervisor
Nora Moore
Voice Instructor
Kathryn Munson
Adjunct Instructor of Dance
Bill Parrish
Oboe Instructor
Kay Rooney
Violin and Viola Instructor
Rafael Scarfullery
Guitar Instructor
Curtis Smith
Piano and Organ Instructor; College Organist
Wildcat Weekend Performing Arts Showcase
September 23, 2023
Greek Play: Euripedes' Ion
October 6-8, 2023
Sense and Sensibility
by Jane Austen
Adapted by Kate Hamill
November 16-19, 2023
Candlelight Concert
December 9, 2023
Spring Musical: Edges
by Benj Pasek and Justin Paul
February 15-18, 2024
Winter Music Showcase
February 25, 2024
Spring Dance Concert
April 5-6, 2024
Spring Music Concert
April 25, 2024
Randolph students can take advantage of unique programs which give them a more enriching education than can be found anywhere else.
The Liberal Arts Advantage
Randolph graduates learn to think critically, solve problems and work well with others. They are prepared to succeed in all aspects of life.
Learn More
Isabelle Fenton '24 explores passion for the arts through Lyric Opera of Chicago internship
The 10-week Donald P. Baiocchi Lyric Opera of Chicago Internship program allows Randolph students to gain hands-on experience in arts management and nonprofit fundraising while working for the Lyric's development office.
Read More