Dance courses are available in ballet, jazz, and modern dance techniques from elementary through advanced levels.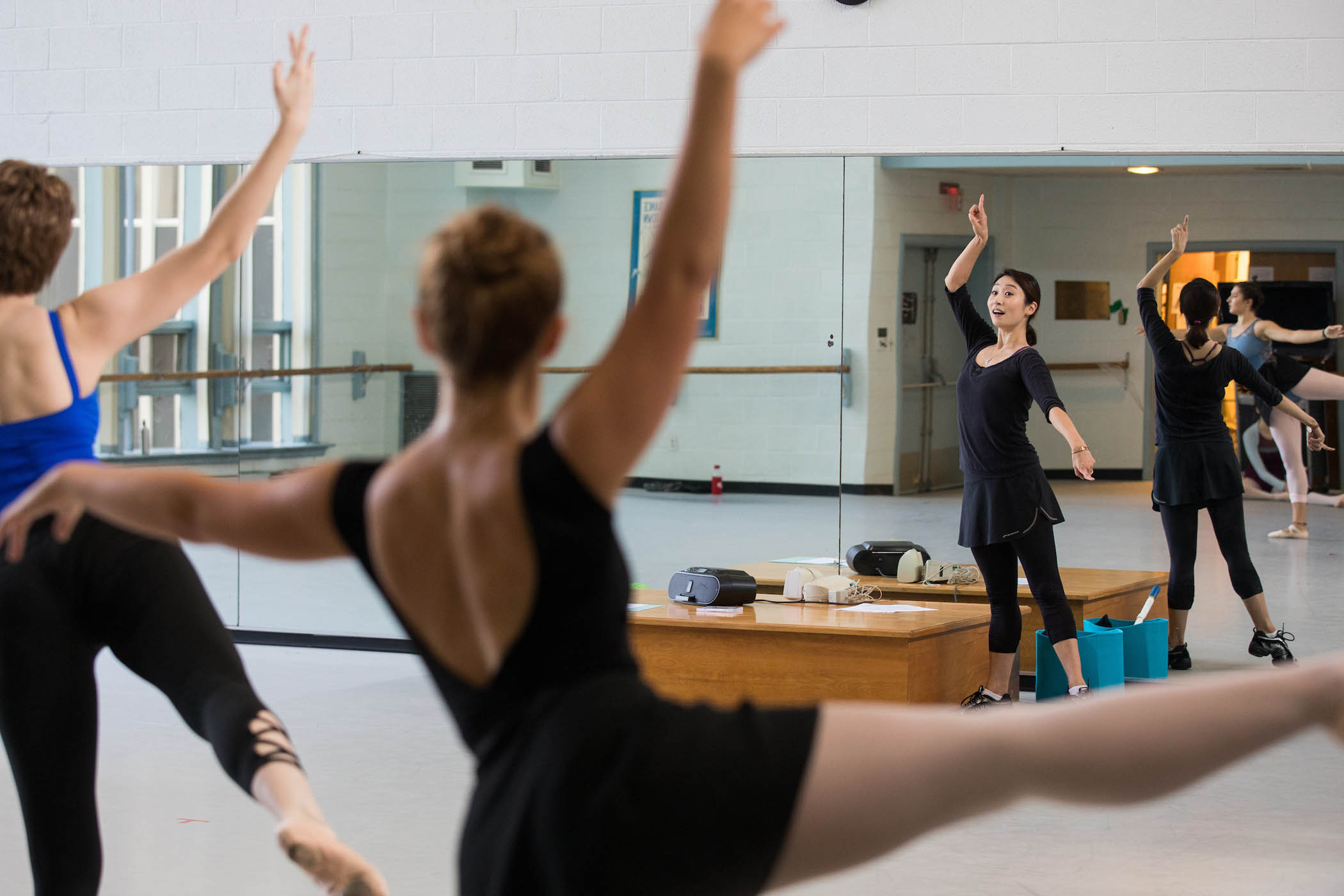 Why Study Dance at Randolph?
Students interested in dance may minor in dance or simply take a courses of interest in dance.
Courses are available in ballet, jazz, and modern dance techniques from elementary through advanced levels. These courses expose students to the joy and power of movement, as well as the discipline of dance. Students develop both physical and spatial awareness and increased flexibility and coordination. Students also gain a greater understanding and appreciation of the art form, making them more
well-informed patrons of the art form.
Dance technique courses in ballet, jazz, and modern dance are taught by an impressive array of guest teachers brought to the College through the Helen McGehee Visiting Artist Program. Throughout the academic year students study with guest instructors, choreographers, and dancers from the professional world of dance, many of whom have performed nationally and internationally with some of the most prestigious dance companies in the world and trained and taught at leading conservatories, such as the Juilliard School. Dance technique courses have live musical accompaniment.
Education
Music
Sport and Exercise Studies
Theatre
Visiting Artists
The Helen McGehee Visiting Artist Program is an endowed program that was founded in 1971 by Ms. McGehee who began her own dance training at the College. She was a leading soloist with the Martha Graham Dance Company for nearly thirty years. Because of her vision and commitment to the College, Helen McGehee made it possible for generations of students to be inspired by these guest artists many of whom stage and choreograph works for student performances.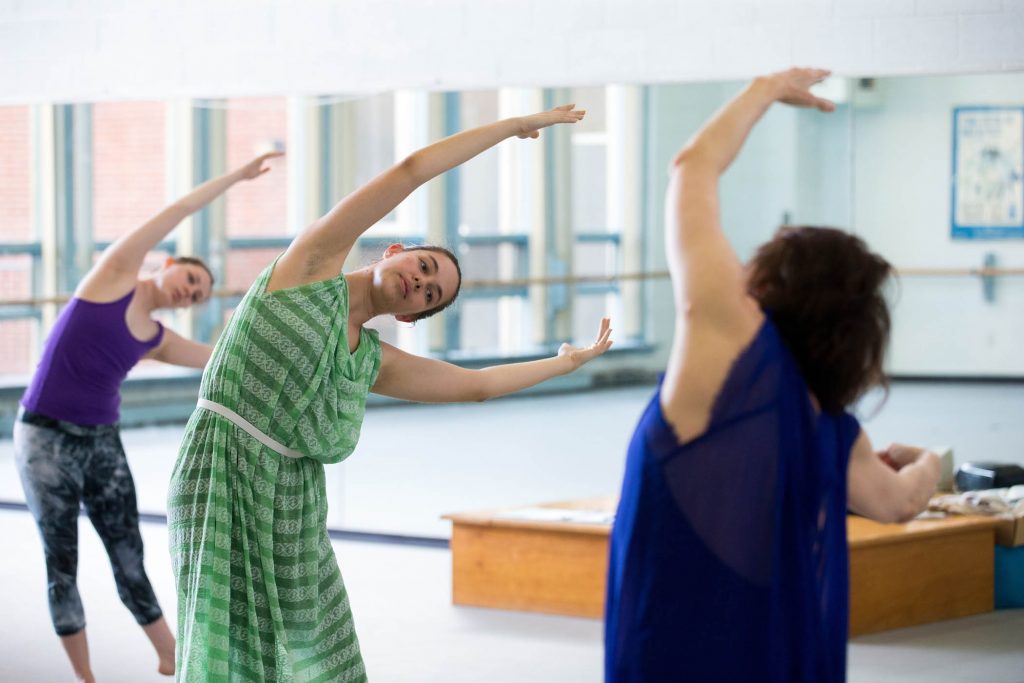 Small Classes
Randolph professors offer unique, engaging courses on topics like peace and conflict resolution, children's rights, the United Nations, and global health.
The Honor Code
Randolph students live by our Honor Code and act with the highest integrity in both academic and social life.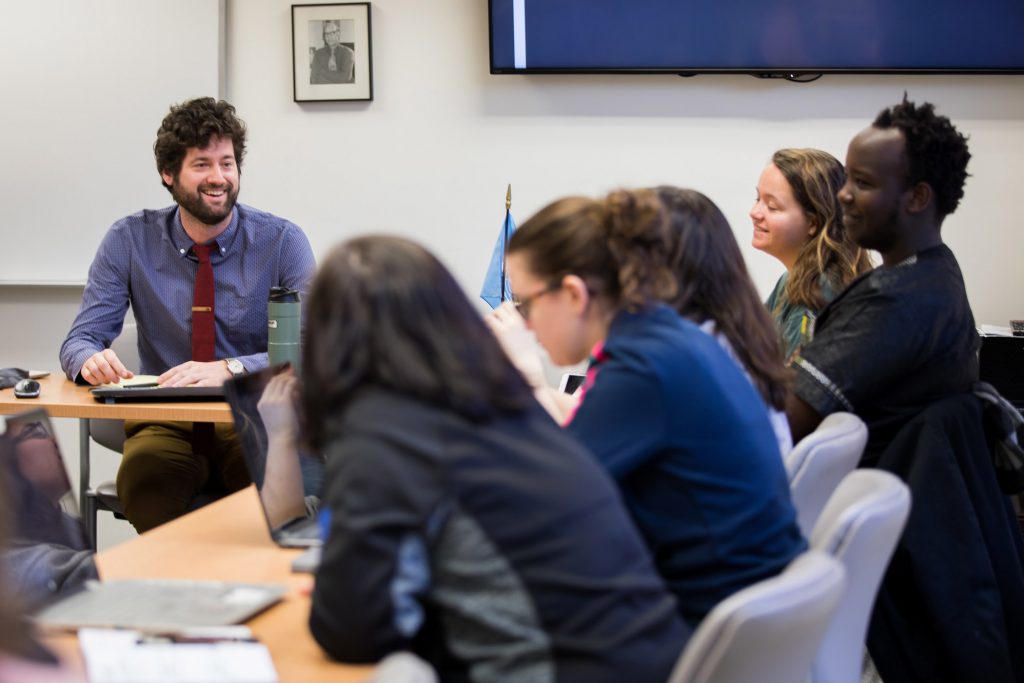 Model UN Team
In recent years, our student delegations to the National Model United Nations (NMUN) conference in New York City have consistently been honored among the best.
Participation is selective and chosen delegates take a full credit class to prepare.  
Delegates learn the structure, systems, and history of the UN with an emphasis on writing, research, speaking, and collaboration.
Study Abroad
Randolph maintains partnerships with study abroad programs in the United Kingdom, Spain, France, and  Japan, for full-year or semester-only experiences.
In addition, you can enroll in a foreign university or study abroad in an approved program coordinated by another U.S. institution.
Randolph also offers several unique international and cultural experience programs.
American Culture Program
Study abroad at home! This unique road trip program explores the diverse cultures of the United States.
Summer Study Seminars
Randolph professors lead 2-week study seminars across a range of academic disciplines and in countries around the globe either during winter break, spring break, or the summer. Recent destinations include Iceland, China, Cuba, and Rome, Italy.
National Gallery Internship
Randolph students have exclusive access to an 8-week internship at The National Gallery, London.
Internships
Randolph students put classroom learning into practice by participating in internships.
With help from the Career Development Center, political science majors have experienced government at work during internships in the congressional offices, federal and state offices, political campaigns, advocacy groups, social service agencies, and more. ing with social service agencies.
Recent internships include the Department of Veterans Affairs, Moms Demand Action, CASA, U.S. State Department, SAWA, U.S. House of Representatives, and more.
Courses are available in ballet, jazz, and modern dance.
The Department also offers courses in
anatomy,
dance history,
Pilates,
dance composition, and
repertory.
Dance composition courses expose students to the art and craft of choreography.
Students interested in performance take courses in repertory.
These classes stress the demands and artistry of dance performance while exposing students to the work of many choreographers of note, including: Anton Dolin, Michel Fokine, Martha Graham, Jose Limon, Marius Petipa, Pilobolus, Paul Taylor, and many others.
In addition, the department offers certification in dance education.
Traditionally, the department produces two major dance concerts per academic year in the fall and the spring. The performance showcases individual and ensemble pieces choreographed by students, faculty and visiting artists.
In addition, students have performed their original works at the College's annual Symposium of Artists and Scholars.
Students and recent alumnae have received competitive internships at the
Kennedy Center for the Performing Arts,
Chicago Lyric Opera,
the Spoleto Festival,
the Juilliard School and
the American Dance Festival.
Recent graduates have danced with various dance companies including:
the Jump Rhythm Jazz Project,
the Bebe Miller Dance Co.,
Ivy Baldwin Dances, and
Hamby Dances.
Students have attended graduate dance programs at
American University,
New York University,
SUNY Brockport,
Ohio State University, and
the University of Illinois.
Several teach dance at the elementary and secondary levels.
Others have taken positions at
the Kennedy Center for the Performing Arts,
the American Dance Festival, and
the Houston Museum of Fine Arts.
Historic Preservation Law
Janie Campbell '12, history major
Preservation Consultant, law firm of Rogers Lewis Jackson Mann & Quinn, LLC, Columbia, South Carolina
Janie's group works with developers seeking tax credits for rehabilitating historic properties.
"I work closely with project architects to ensure that historic, character defining elements of each building are preserved and restored, which can vary tremendously as what is significant to a 1929 airplane hangar is vastly different from what makes a 1963 mid-century modern motel unique!"
She writes National Register of Historic Places nominations and Historic Preservation Certification applications, which detail the property's significance. She also conducts site visits to ensure work is being completed as described and photographs the before, during, and after conditions of each project.
"Randolph certainly laid the foundation for my research and writing skills. The Summer Research Program, in particular, prepared me for the type of place-based research I do now. "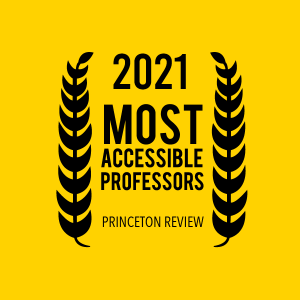 Top Ranked Professors
Randolph College's faculty are consistently recognized as among the best in the nation. The Princeton Review ranked the College in the Top 20 for most accessible professors in the 2021 edition of its flagship college guide, The Best 387 Colleges.
Randolph has been ranked in the top 20 for most accessible professors for four consecutive years.
Randolph students can take advantage of unique programs which give them a more enriching education than can be found anywhere else.
Money for Your Research
The Randolph Innovative Student Experience (RISE) program provides every student a $2,000 grant to fund research, creative work, experiential learning or other scholarly pursuits.
Learn More
Randolph students participate in Model UN
Earlier this month, Randolph College sent a delegation of students to an international summit in New York City, where they discussed international relations and proposed solutions to some of the world's most pressing issues.
Read More