Randolph students can craft an Asian Studies minor that will prepare them for the ever-increasing career opportunities available to those with a grasp of the languages, contemporary affairs, and rich traditions of Asia.
Why Pursue Asian Studies at Randolph?
Randolph College offers a breadth of academic expertise, with particularly strong course offerings on the Middle East, the Indian subcontinent and the Tibetan plateau, and the east Asian cultures of China, Japan, and Korea, as well as the Asian diaspora.  
With exposure to Asia's monumental contributions to humankind in the areas of political organization, religion, art, philosophy, and technology, students can craft Asian Studies minors that will prepare them for careers in a variety of fields.
Asian Studies interdisciplinary minor
Opportunities for Experience
Spend a year or a semester studying, living, and learning abroad.  Broaden your perspective while gaining the skills you need to succeed in our global society.
Randolph College has affilate agreements with two institutions in Japan:
Students can choose our other affiliates in the United Kingdom or Spain, faculty-led Study Seminar trips, special programs through academic departments, or design their own experiences.
In recent years, our student delegations to the National Model United Nations (NMUN) conference in New York City have consistently been honored among the best.
Participation is selective and chosen delegates take a full credit class to prepare.
Delegates learn the structure, systems, and history of the UN with an emphasis on writing, research, speaking, and collaboration.
All Randolph students learn global citizenship with the capability to accurately understand and adapt to cultural differences and find commonality.
Asian Studies majors must gain working knowledge of at least one Asian language and a broad understanding of the modern political history, economy, diplomacy, and societies of Asian countries—especially the two most prominent players in East Asia: China and Japan.
Spend the summer working closely with a professor on a focused aspect of an Asian Studies topic of your choosing.
Randolph's intensive eight-week Summer Research Program enables students to work with professors on a research of their own design; live in a residence hall on campus, participate in on-campus summer events, attend special seminars with guest speakers; and share the progress and results of their research.
Symposium of Artists and Scholars
Modeled after a traditional academic conference, the SAS brings together students of all disciplines to share the results and highlights of the best work being produced at the College –  oral presentations, readings of creative works, performances, exhibitions of student artwork, and poster presentations.
Learn by doing – in the field and on the job.  The Career Development Center will help place you in positions with leading companies and organizations in your field of study.
Historic Preservation Law
Janie Campbell '12, history major
Preservation Consultant, law firm of Rogers Lewis Jackson Mann & Quinn, LLC, Columbia, South Carolina
Janie's group works with developers seeking tax credits for rehabilitating historic properties.
"I work closely with project architects to ensure that historic, character defining elements of each building are preserved and restored, which can vary tremendously as what is significant to a 1929 airplane hangar is vastly different from what makes a 1963 mid-century modern motel unique!"
She writes National Register of Historic Places nominations and Historic Preservation Certification applications, which detail the property's significance. She also conducts site visits to ensure work is being completed as described and photographs the before, during, and after conditions of each project.
"Randolph certainly laid the foundation for my research and writing skills. The Summer Research Program, in particular, prepared me for the type of place-based research I do now. "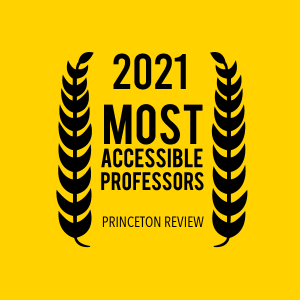 Top Ranked Professors
Randolph College's faculty are consistently recognized as among the best in the nation. The Princeton Review ranked the College in the Top 20 for most accessible professors in the 2021 edition of its flagship college guide, The Best 387 Colleges.
Randolph has been ranked in the top 20 for most accessible professors for four consecutive years.
Randolph students can take advantage of unique programs which give them a more enriching education than can be found anywhere else.
The Randolph Plan
Randolph students work with faculty mentors to explore a broad range of disciplines as they chart their academic path.
Learn More
Tibetan filmmaker Ngawang Choephel to screen film at Randolph
"Ganden: A Joyful Land," which documents the lives and memories of the last Tibetan Buddhist monks to study at the famous Ganden Monastery in Tibet, will be shown at 7 p.m. Wednesday, April 12, in Nichols Theatre. 
Read More