March 8, 2023
Tibetan filmmaker Ngawang Choephel to screen film at Randolph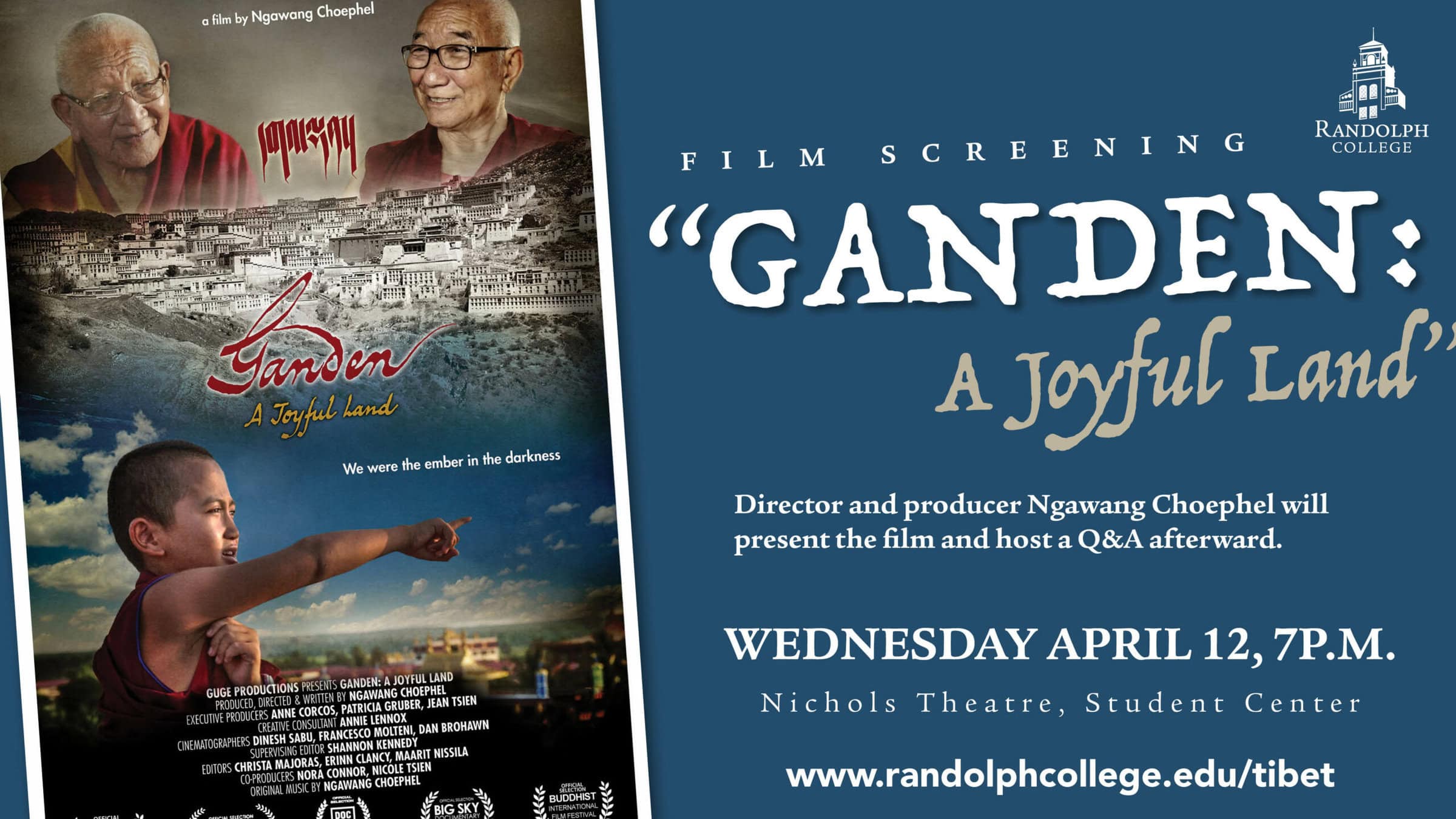 The film, Ganden: A Joyful Land, which documents the lives and memories of the last Tibetan Buddhist monks to study at the famous Ganden Monastery in Tibet, will be screened at Randolph College next month. 
The College's Asian studies program, with the support of the David F. Anthony Asian Studies Fund, is sponsoring the event, which will also include a Q&A with the filmmaker, Ngawang Choephel. 
The screening is scheduled for 7 p.m. Wednesday, April 12, in Nichols Theatre. 
The Ganden Monastery was one of the largest monasteries in Tibet—home to more than 5,000 monks—before it was destroyed by the People's Liberation Army in 1959, during the early days of the Cultural Revolution there. 
Choephel was born in western Tibet in 1966, but he grew up in a refugee camp in southern India after fleeing Chinese occupation with his mother when he was two years old. 
He attended the Tibetan Institute of Performing Arts in northern India and spent much of his adult life immersed in traditional Tibetan performing arts, teaching music and dance to Tibetan children in India.  
In 1992, he traveled to the United States as a Fulbright Scholar at Middlebury College in Vermont, where he studied international music and filmmaking. 
Three years later, upon returning to Tibet to work on his first film, Choephel was arrested and falsely charged with espionage by Chinese authorities. He was eventually sentenced to 18 years in prison without a trial. 
An international campaign, first led by Choephel's mother, was launched to secure his release, which finally came in 2002, after seven years in custody. 
"It was only through the efforts of political activist groups and his mother that he was able to get out," said Suzanne Bessenger, Randolph's Barbara Boyle Lemon '57 and William J. Lemon Associate Professor of Religious Studies and Asian studies program coordinator. 
Choephel would go on to finish that first film, Tibet in Song, which won a special jury prize for world cinema at the 2009 Sundance Film Festival and a 2010 Cinema for Peace International Human Rights Award. 
Ganden: A Joyful Land is his second film. The monastery itself was home to the founder of the Gelug lineage of Tibetan Buddhism, to which the Dalai Lama belongs. 
The film's subject also ties in with Bessenger's research area in Tibetan Buddhism. She's taking a group of students to Nepal this summer to study traditional Buddhist monastic education for women. 
Before its destruction, the Ganden Monastery was one of the premier institutions for male monastic education in Tibet. Bessenger said screening the film before the trip will provide a point of contrast for students. 
"It's a fantastic opportunity to round out that picture for the students about what opportunities were available—what monastics had available to them at that point, what they have available to them now, and what people think about monastic education in Tibetan culture," she said. 
Beseenger invited Choephel to come to Randolph after hearing from colleagues at William & Mary and Old Dominion University who hosted him last year. 
"My goal is always to support and host Asian Studies events on campus and in Lynchburg. It's really valuable to have a diversity of perspectives in our community," Bessenger said, noting the long history of Asian Studies at the College. 
David F. Anthony, for whom the Asian studies fund sponsoring Choephel's visit is named, was a professor of Asian studies emeritus at the College. 
"We had our first international student from China in 1918, and of course Pearl S. Buck is one of the College's most distinguished alumna, so the history of international exchange with Asia and Asian Studies at the College is more than 100 years old," Bessenger said. "I think we play an important role in the community for expanding local knowledge and understanding of Asia and Asian culture."
Tags:
asian studies, Tibet, Tibetan Buddhism