March 8, 2023
Randolph marks 132nd anniversary with Founders' Day celebration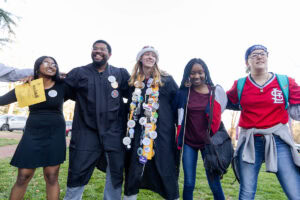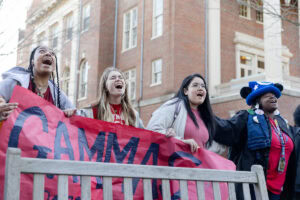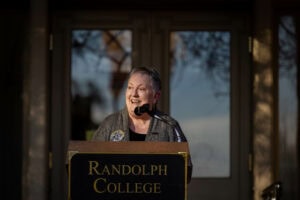 Randolph students, faculty, and staff gathered by the front steps of Main Hall Wednesday evening for the annual Founders' Day celebration.
The ceremony included speeches by President Sue Ott Rowlands and Student Government President Zeinab Elkhansa '23. Amanda Jagdeo '24, vice president of the Traditions Committee, also read the poem God Bless You, Randolph-Macon, followed by seniors and sophomores participating in the traditional sister class serenade by the Sundial.
"I would like to thank all of you for joining with us today as we look back to the early years of the College and acknowledge the contribution of our founders toward the education of women and now men," Ott Rowlands said. "This is my first Founders' Day celebration, and I've enjoyed learning more about the College and its rich history."
The College was officially founded March 10, 1891 by William Waugh Smith, then president of the all-male Randolph-Macon College in Ashland, to provide a place where young women could obtain an education equal to that given to men.
In her remarks, Ott Rowlands talked about how students in those early days knew their opportunities were groundbreaking.
"Our future is just as bright as our history, thanks to the close community of students, faculty, staff, alumnae, and alumni who call Randolph College their own," she said. "By honoring our past, and those instrumental in laying the strong academic foundation of this College, we can assure that the spirit of those women who came before us will live on."
That spirit is evident in traditions like Founder's Day, something Elkhansa touched on.
"Our traditions affect what we believe in, where we walk, what we celebrate, what we sing, and even what some of us fear," she said. "Despite all of the changes we have gone through as a college and community, one thing remains unchanged. The students at Randolph College are given the opportunity to live 'the life more abundant.' It's always a great day to be a WildCat."