Randolph College is the ideal place to study economics and business. 
Why Study Economics and Business at Randolph?
Given our small classes, you will have opportunities that would simply not be feasible at larger schools: technology-based research projects, independent studies, chances to present your work to your professors and peers.
The department offers a wide variety of opportunities for experiential learning beyond the classroom.
At Randolph, you will…
Discover how business and economic theories and policies shape our lives.
Make connections between theory and the real world.
Gain new perspectives on social and political problems by delving into the philosophical foundations, history, and theory.
Build your quantitative and analytical skills.
Bachelor of Arts Degree in Business
Bachelor of Arts Degree in Economics
Minor in Business
Minor in Economics
Mathematics
Political Science
Sociology
Senior Capstone
Randolph economics and business students complete their degree with an intensive, research-based project under the guidance of the faculty. 
Internships
Randolph students gain real world experience through required off-campus internships in a variety of fields, disciplines, and industries.
Cool Small Classes
Randolph professors offer unique, engaging courses on topics like food and social justice, labor, banking, and international economics, which often take students outside the classroom.
Intercultural Competence
All Randolph students learn global citizenship with the capability to accurately understand and adapt to cultural differences and find commonality.
Outcomes
Randolph students are prepared for success and find careers in industry, government, and service, as well as acceptance into top graduate schools.
Historic Preservation Law
Janie Campbell '12, history major
Preservation Consultant, law firm of Rogers Lewis Jackson Mann & Quinn, LLC, Columbia, South Carolina
Janie's group works with developers seeking tax credits for rehabilitating historic properties.
"I work closely with project architects to ensure that historic, character defining elements of each building are preserved and restored, which can vary tremendously as what is significant to a 1929 airplane hangar is vastly different from what makes a 1963 mid-century modern motel unique!"
She writes National Register of Historic Places nominations and Historic Preservation Certification applications, which detail the property's significance. She also conducts site visits to ensure work is being completed as described and photographs the before, during, and after conditions of each project.
"Randolph certainly laid the foundation for my research and writing skills. The Summer Research Program, in particular, prepared me for the type of place-based research I do now. "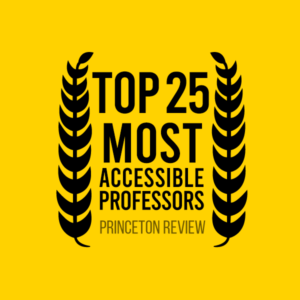 Top Ranked Professors
Randolph College's faculty are consistently recognized as among the best in the nation. The Princeton Review ranked the College in the Top 20 for most accessible professors in the 2021 edition of its flagship college guide, The Best 387 Colleges.
Randolph has been ranked in the top 20 for most accessible professors for four consecutive years.
Business and Economics Faculty
Randolph students can take advantage of unique programs which give them a more enriching education than can be found anywhere else.
The Randolph Plan
Randolph students work with faculty mentors to explore a broad range of disciplines as they chart their academic path.
Learn More
Q&A with new faculty: Alfredo Gonzalez Cambero
Cambero is a visiting assistant professor of business and economics.
Read More