Environmental Science & Studies
The environmental studies program at Randolph College embodies the conviction that to pursue a career in the realm of the environment, a student must grasp the complex interactions that characterize today's most pressing environmental problems.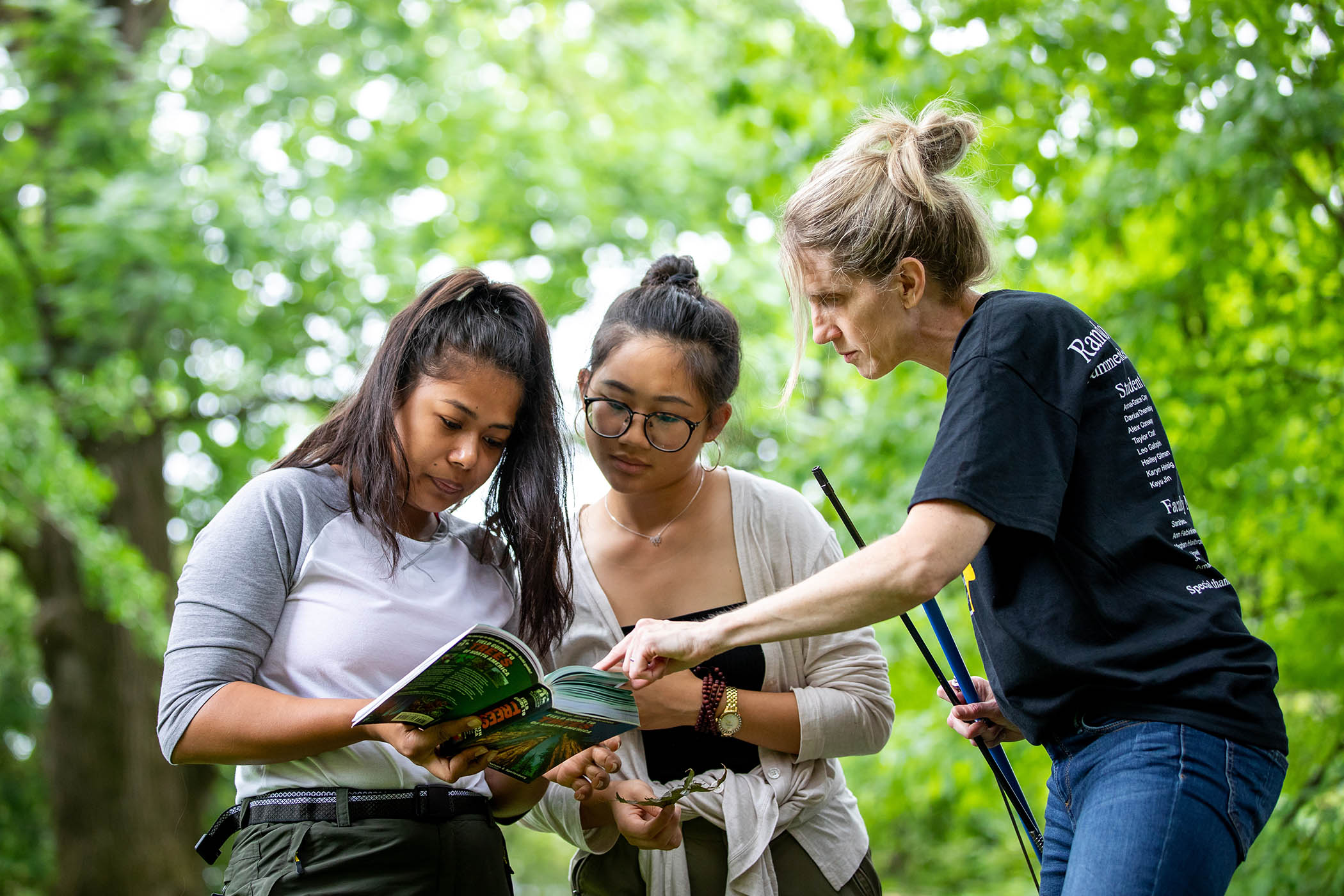 Prepared to Save the World
The goal of Randolph's environmental studies program is to develop scholars, thinkers, teachers, and activists who back up their passion for the environment with a strong grasp of the underlying science and policy and a comfortable ability to work with numbers.
Bachelor's degrees in environmental studies and environmental science are offered. They are diverse and challenging interdisciplinary programs and give students the knowledge base and practical skills and tools needed for graduate or professional school, private consulting, public advocacy or administration, and careers with government agencies and laboratories, as well as non-governmental organizations.
A minor in environmental studies is an option for students in any major program who wish to add an environmental perspective to their chosen field.
Bachelor of Arts Degreein Environmental Studies
Bachelor of Science Degree in Environmental Science
Minor in Environmental Studies
Opportunity for Experience
Many academic opportunities are available to the environmental studies student, such as the Randolph College Organic Garden, the Marine Biological Laboratory in Environmental Science at Woods Hole Oceanographic Institute, Washington Semester Programs, summer and semester fieldwork through the International School for Field Studies, and many study abroad options.
Outcomes: Real World Success
Sustainability Leadership
Megan Bloomer '06
Vice President of Sustainability and Corporate Social Responsibility (CSR) for The Cheesecake Factory
Megan Bloomer has made a career out of helping companies become more sustainable.  She has been successful because she demonstrates that sustainability is much more than a recycling program.
"I can tell you what goes into which recycling bin," Bloomer said, "but let's go talk about how we can save $20 million on energy."
In addition to making business sustainable, Bloomer helps current Randolph College students connect their liberal arts and science backgrounds to careers. In addition to setting up internship programs, she often corresponds with students to offer advice on resumes and jobs.
"I believe no one got where they are in life without someone else helping them along the way," Bloomer said. "The success that I have today in my professional life is due to a lot of people who walk around on that campus. The ability to spend an hour of my time helping current undergrads have that same kind of experience is really important to me."
Student-Led Sustainability
The College's Environmental Club is the epicenter of almost every sustainability-related, student-led project on campus. Student-members who have ideas that benefit the majority of the College's student population are encouraged to write proposals that get reviewed for Student Government funding.
Past projects have included seed funding for the Organic Garden, Earth Week activities, bike share components, student-made laundry detergent, free passes for the indoor climbing in downtown Lynchburg, and more.
Top Ranked Professors
Randolph College's faculty are consistently recognized as among the best in the nation. The Princeton Review ranked the College 18th for most accessible professors in the 2020 edition of its flagship college guide, The Best 385 Colleges.
Randolph has been ranked in the top 20 for most accessible professors for three consecutive years.
Environmental Studies & Science Faculty
Kathryn Davis '24 explores wildlife conservation in Australia
Davis participated in the School for Field Studies (SFS), one of the United States' largest environmental study abroad programs, this summer.
Read More