Through lectures, laboratory work, research, and seminars, students in Randolph College's chemistry department achieve a basic knowledge and conceptual understanding of matter, its structure and properties, and the nature, energetics, and dynamics of its transformations.
Why Study Chemistry at Randolph?
The department maintains small lecture and laboratory sections to ensure students have extensive access to faculty and the College's exceptional facilities and instruments.
Qualified majors have the opportunity to serve as lab assistants and tutors, and the faculty encourages and aids in the placement of students into summer research programs.
All seniors complete a research project under the mentorship of a faculty member.
Bachelor of Arts Degree in Chemistry
Bachelor of Science Degree in Chemistry
Bachelor of Science Degree in Chemical Physics
Minor in Chemistry
Environmental Studies
Physics
Internships and Study Abroad
Randolph students gain real world experience through required off-campus internships in a variety of fields, disciplines, and industries.
Summer Research Program
Spend the summer working closely with a professor and focused on a specific aspect of physics.
Randolph's intensive eight-week Summer Research Program enables students to conduct research that is complemented by a thorough review of the relevant literature; live in a residence hall on campus, participate in on-campus summer events, attend special seminars with guest speakers; and share the progress and results of their research.
SciFest
Every year Randolph hosts SciFest, a 3-day science and learning festival for local schoolchildren.
Randolph student and faculty volunteers lead activities, exhibits, labs, and talks designed to get young girls and boys interested in and excited about science, technology, engineering, and math (STEM).  
Senior Capstone
Randolph chemistry majors complete a research project under the mentorship of a faculty member.
Historic Preservation Law
Janie Campbell '12, history major
Preservation Consultant, law firm of Rogers Lewis Jackson Mann & Quinn, LLC, Columbia, South Carolina
Janie's group works with developers seeking tax credits for rehabilitating historic properties.
"I work closely with project architects to ensure that historic, character defining elements of each building are preserved and restored, which can vary tremendously as what is significant to a 1929 airplane hangar is vastly different from what makes a 1963 mid-century modern motel unique!"
She writes National Register of Historic Places nominations and Historic Preservation Certification applications, which detail the property's significance. She also conducts site visits to ensure work is being completed as described and photographs the before, during, and after conditions of each project.
"Randolph certainly laid the foundation for my research and writing skills. The Summer Research Program, in particular, prepared me for the type of place-based research I do now. "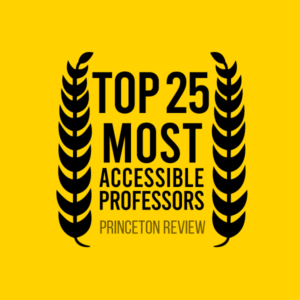 Top Ranked Professors
Randolph College's faculty are consistently recognized as among the best in the nation. The Princeton Review ranked the College in the Top 20 for most accessible professors in the 2021 edition of its flagship college guide, The Best 387 Colleges.
Randolph has been ranked in the top 20 for most accessible professors for four consecutive years.
Randolph students can take advantage of unique programs which give them a more enriching education than can be found anywhere else.
TAKE2
Two courses per half-mester means you get to focus in and dig deep into your coursework while still having time for the rest of the college experience. Two classes. Seven weeks. Repeat.
Learn More
Students studying drone-based delivery systems for summer research project
They will use simulation models to see what would happen if a drone delivery system existed in Lynchburg.
Read More