June 16, 2021
Summer research testing the nutritional value of chocolate, berries
This story is part of an ongoing series featuring the work of faculty and students participating in Randolph's Summer Research Program.
Every now and then, something in everyday life will remind Analise Presley '22 of her studies.
When it happened last summer, she couldn't wait to tell Ann Fabirkiewicz, Randolph's Charles A. Dana Professor of Chemistry and Natural Sciences.
"In organic chemistry, we use these things called sep funnels," Presley explained, referring to a piece of lab equipment used to separate the components of a mixture.
"You shake them up and when you release the air, they make this little 'poof' sound. Last summer, my hand sanitizer got hot in the car. The gas built up, and it made the same sound. So I emailed Dr. Fab and told her, 'My GermX sounds like a sep funnel!'"
For Presley, any link to Randolph and her time in the lab was welcome as she studied virtually during the spring and fall 2020 semesters.
"I just enjoy learning," said Presley, a pre-med chemistry and biology double major. "Being able to actually see what I'm doing—not just conceptualize but visualize those concepts—is really helpful."
Now she's back on campus and, along with Fabirkiewicz and Daisy Ayala-Gomez '22, in the lab, as part of Randolph's Summer Research Program.
Presley and Ayala-Gomez are both studying antioxidant properties in food—Presley in nutrient-dense berries and Ayala-Gomez in cocoa products.
Ayala-Gomez, a chemistry and psychology double major, also studied remotely over the past two semesters.
"I like the lab setting because you're applying everything you've learned in lectures," she said. "I really missed it. Being back just feels right."
Both jumped at the chance to work with Fabirkiewicz, who has long been interested in antioxidants.
"You hear about them all the time, and about the health benefits, but there's no numbers," Fabirkiewicz said. "It's all good, you know. Nutritionists say eat brightly colored food, and you'll be getting all those antioxidants because the things that give them those colors are the antioxidants. I just got interested because I wanted to determine good quantitative methods to measure it."
Presley and Ayala-Gomez are using techniques Fabirkiewicz has developed over time through previous research projects.
"This is the sort of thing, as you're bringing students through one year at a time, you can do a little more and a little more. So we've looked at different methods over the years," Fabirkiewicz said.
They spent the first week of SRP learning the techniques, before delving into each food group.
In her research, Presley is using dried and powdered berries, looking for potential differences between them. She's using multiple methods to analyze the antioxidants in her samples, studying both the individual components and their contribution to the overall antioxidant potential of the berries.
For most berries, that potential is derived from polyphenols and anthocyanins, which are brown and red, respectively. After testing the initial samples of each berry, Presley uses a process called column chromatography to separate the polyphenols and anthocyanins for further study.
"This is the cool part," Fab said. "You put the sample in the column. It starts out a brownish red and you know it's working because as it comes through the column, you see the brown, then the red. Then we test the two components separately. Because we know antioxidants work together, we expect to see synergy. If you separate out the two components, you see less antioxidant power for the individual components than you do for the whole sample."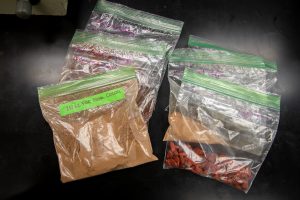 Cocoa is also rich in antioxidants, but the processing required to make commercial chocolate may damage them.
Ayala-Gomez is tracing the loss of antioxidant potential in her summer work. She's looking at various cocoa products, including chocolate liquor and several cocoa powders and cocoa nibs.
A separate step, Dutch processing, may also damage the antioxidant potential of chocolate, so they're including Dutch-processed samples to determine the cost of the process.
She, too, is isolating their individual components. Before using the column, Ayala-Gomez and Fabirkiewicz conducted several experiments to extract antioxidants from cocoa to determine which methods were most successful.
"Because the procyanidins in chocolate are delicate, we're using a milder extraction procedure," Fabirkiewicz said. "We are using an ultrasonic bath to dissolve the antioxidants in the organic solvent, then centrifuging the sample to remove the solids."
Presley and Ayala-Gomez may be studying different foods, but there's been a constant exchange between them as they work in the lab.
"It's been back and forth," Presley said. "I'll learn something that, eventually, Daisy will have to learn. I help her, and she does the same."
Tags:
Ann Fabirkiewicz, chemistry, student faculty research, student research, summer research, summer research 2021