June 21, 2021
Randolph students examining Virginia's monument landscape this summer
This story is part of an ongoing series featuring the work of faculty and students participating in Randolph's Summer Research Program.
In mid-May, Randolph professor Gerry Sherayko, Josh Bulavko '22, and Tomi-Lauren McGinnis '23 visited Lynchburg's Pierce Street Historic District as part of Randolph's Summer Research Program.
The neighborhood, an integral part of the city's Black history, is home to a group of historic markers honoring the contributions of those who once called it home.
Harlem Renaissance poet Anne Spencer. Her son, Chauncey Spencer, one of the first members of what became known as the Tuskegee Airmen. C.W. Seay, Lynchburg's first Black city council member and first Black vice mayor. Dr. R. Walter "Whirlwind" Johnson, the first Black physician to practice at Lynchburg General Hospital—and who instructed tennis legends Arthur Ashe and Althea Gibson at his Pierce Street home.
"As soon as you turn that corner, it's amazing to see all those signs, right there," said Sherayko
The visit was part of the trio's summer research project assessing Virginia's monument landscape. The project was inspired by the events of the last year, when the murder of George Floyd inspired protests, along with the questioning, and often removal, of longstanding monuments.
"We all realized we have this civic responsibility to take on something meaningful to the times and the social and political changes we're going through right now," said McGinnis, who is majoring in history and museum and heritage studies. "The change is happening right before our eyes."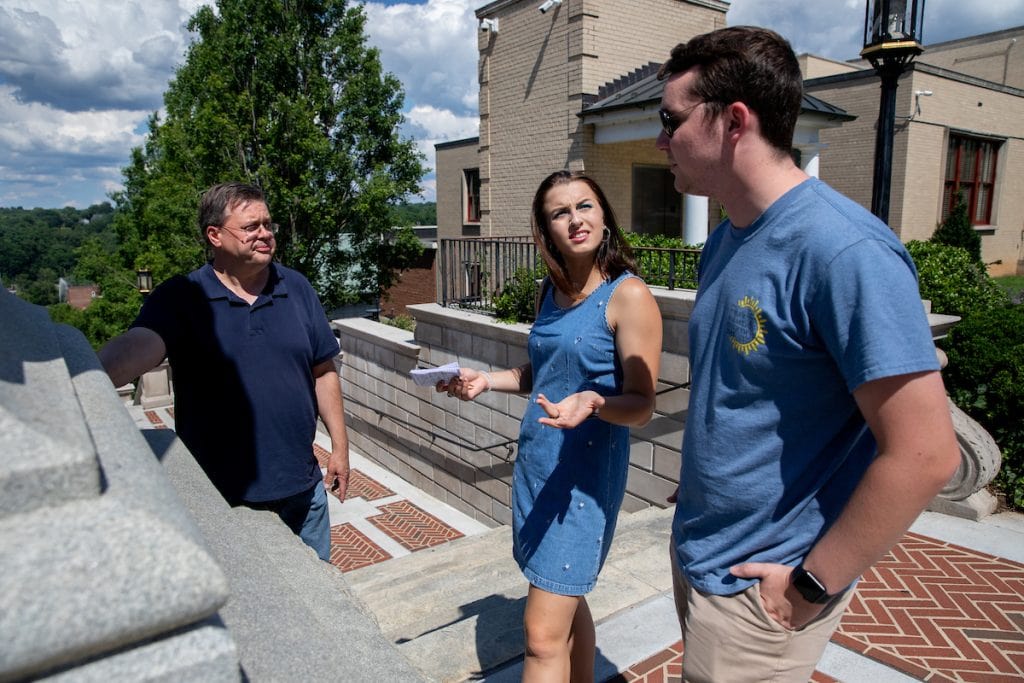 And nowhere more than right here in Virginia, which has the most Confederate memorials in the country. It also leads the nation in most monuments and symbols removed, according to the Southern Poverty Law Center (SPLC).
"It's definitely an interesting state that's changing so rapidly," Bulavko said. "We've got a really good team to tackle this project. We hope our research is going to lead to more discussions within city governments, not just in Lynchburg but throughout the entire state."
Lynchburg itself is a unique place, where many monuments celebrating the Confederacy remain, but also where folks are working to recognize people from all backgrounds.
"The amount of state historic markers about people of color, about women, have really accelerated," Sherayko said, noting Pierce Street as a prime example. "While Lynchburg hasn't taken anything down, they've taken the approach collectively to put things up. And maybe that's OK. Or maybe not. It's interesting to find out if there are conversations going on about moving things or removing things. Certainly, people have been putting them up here."
Engaging in those conversations has been a big part of their work this summer. They've been speaking with political, cultural, and religious leaders throughout Virginia to understand the changes in the monument landscape, their involvement with those changes, how their communities have responded, and plans for the future.
They've sat in on community meetings, including discussions about renaming Lynchburg's Fifth Street for Martin Luther King Jr. and planning for a possible community center on Pierce Street.
"I want them to see these grassroots meetings and these small but dedicated organizations," Sherayko said. "It's good for them to see how the public engages with these organizations, and how the public and government work together."
The group also hit the road, often and early, visiting historical sites and monuments all over Virginia and Washington, D.C.—anywhere change has occurred or where dialogue about it is ongoing.
"We've already had some interesting encounters at these sites that have been really eye-opening and vital to this research," said McGinnis, who, along with Bulavko, has been documenting their experiences in a blog.
They've attended Confederate protests in Danville, sat in on a training session for tour guides at Appomattox Court House National Historical Park, and visited Richmond's Robert E. Lee Monument, perhaps one of the state's most iconic Confederate symbols.
"It's overwhelming. There are so many things happening right now," Sherayko said. "This is the moment to have these conversations, to observe what's going on in these places."
Tags:
Gerry Sherayko, history, student faculty research, student research, summer research, summer research 2021