July 2, 2020
Before and After: Summer Research Project revisits professor's dissertation work
This story is part of an ongoing series featuring the work of faculty and students participating in Randolph's Summer Research Program, which is being held virtually this year due to COVID-19.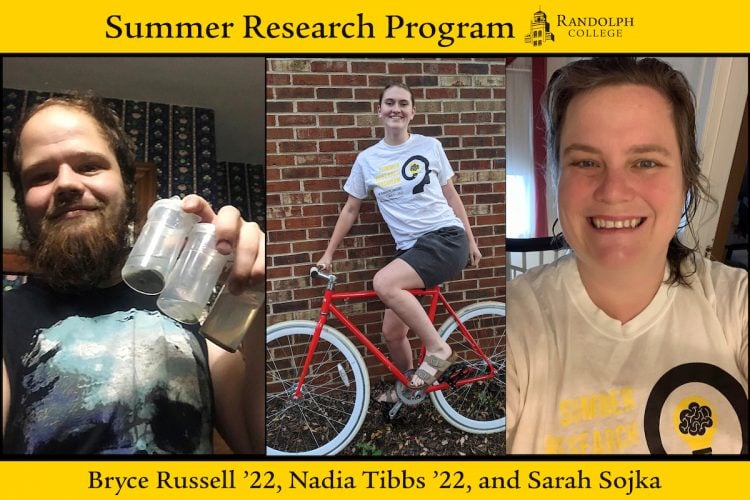 Working with sediment samples in a spare bedroom is a far cry from the work Bryce Russell '22 expected when he signed up for the Summer Research Program.
But that's how it goes in the age of COVID-19.
"I just have a tarp set up in this one room, so I don't get sea mud all over the floor," he explained. "I sit on the floor and put it on the scales. It's been working fine."
Russell and Nadia Tibbs '22 are both working with samples from the Eastern Shore of Virginia for their project, which will look at the impact of seagrass restoration on ecosystem carbon storage.
The project is tied to research from physics and environmental studies professor Sarah Sojka's dissertation, comparing samples she took between 2002 and 2003 with more recent ones.
Seagrass beds have the potential to store as much carbon as forests, but the duration of the storage and the mechanisms of it are less understood, particularly the impact of seagrass beds on carbon storage in adjacent areas.
"We've done several projects looking at the impact of seagrass restoration and how seagrass sort of interacts with sediment and affects carbon storage, but this is new," said Sojka, who landed on the idea while attending a meeting where seagrass restoration was discussed.
"We know that restoring seagrass traps some carbon in the beds themselves. We don't really know what it does outside of the beds," she said. "We talked about the possibility of doing a before and after. And I said, 'I actually have before samples.' We never planned to do a before and after, but we can. It's kind of a neat chance to see what the change has been."
The samples were taken from the Virginia Coast Reserve Long Term Ecological Research Site, where a restoration project is currently underway. The reserve—described on its website as an "extremely dynamic, heterogeneous coastal barrier landscape"—consists of mainland watersheds, tidal marshes, lagoons, and barrier islands.
"We're lucky because there is a UVa lab out there with research staff," Sojka said. "So some of the staff from the lab actually took the samples for us and then a post-doc from UVa who was driving back this way brought them back. We pieced together a way to get the work done."
There were 400 trays of new samples to evaluate, so Russell, in Waynesboro, and Tibbs, in Lynchburg, took 200 each. They've been weighing each sample and measuring grain size to collect data that will eventually be compared to Sojka's original research.
"It's been difficult being apart," Russell said. "We want to be consistent, and I don't want to be too far off from what she's doing."
To remedy that, they planned virtual meetings specifically dedicated to going over their processes.
Sojka said they've been a great team and have adapted to get the research done.
"They work really well together, even though they're not in the same place," she said. "And that, I think, is a real asset. They're attentive to that."
"They have an incredible number of samples," she added. "We'll see if we can get through all of them this summer, but I think we're going to be able to get through enough to draw some conclusions, at least some preliminary conclusions."
For both Russell and Tibbs, the project brings together a desire to participate in the program with their individual interests.
"I was really trying to get a research opportunity, but it turned out I'm actually pretty interested in this," Russell said. "I'm an environmental science major but my thing is geology. So the sediment sampling part is really cool for me. It just played out really well that it's something that I like."
When he asked Tibbs to join him in approaching Sojka about the project, she jumped on board quickly.
"I've always enjoyed my classes with Dr. Sojka, so that's just a plus," Tibbs said. "When she said she was doing research on the Eastern Shore, I was intrigued immediately. I like water resources and geology too."
And though they weren't able to visit the shore themselves this summer, there's hope for the future.
"Maybe," Sojka said, "since Bryce and Nadia still have a couple more years, we can make a trip out."
Tags:
environmental studies, geology, Sarah Sojka, seagrass, seagrass restoration, summer research, summer research 2020