June 13, 2022
Into the woods: Students assess old-growth forests and carbon storage for summer research project
This story is part of an ongoing series featuring the work of students and faculty participating in Randolph's 2022 Summer Research Program.
Tree identification is among the biggest challenges of completing an accurate forest inventory.
They can be identified by looking at a variety of features, including leaves, bark, fruits, and buds. But if you go at the wrong time of year—before the trees are leafed out in the summer—a lot of those features will be different or missing.
Even at the right time of year, other factors can hamper proper identification. A diseased tree's leaves, for instance, will look different from its healthy counterpart.
"Bring your opera glasses to the field," Gabe Quintero '23 recently joked when discussing the summer research project he's working on alongside Olivia Richards '23 and Karin Warren, Randolph's Herzog Family Professor of Environmental Studies and Science.
Their work—which builds on projects done in 2019 and 2021—focuses on old-growth forests, which have developed over long periods of time without significant disturbance, and is supported by funding from the 500-Year Forest Foundation and a grant from the Oak Hill Fund.
The 500-Year Forest Foundation conserves mature forests and the biologically diverse species they nurture in partnership with private landowners to ensure their forests are protected in the future.
"The foundation works with private landowners who already have conservation easements, but want to increase the level of protection for that forest," Richards said. "They essentially work with the landowners to create no-cut easements, which protect the forest from being cut down."
Quintero, Richards, and Warren will visit some of these properties this summer to collect data and write a comprehensive report about the forest for both the foundation and the landowners.
In each forest, they will work within sampling plots—one per 25 acres—taking note of how many trees they see, what kind of trees they are, and what the layers of the forest look like.
"The inventory we're using is one we've refined over several summers of research to get to a point where it's easy to do," Warren said. "We can go fast. Once we get experience, we can do a plot in like 20 minutes.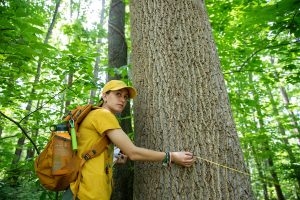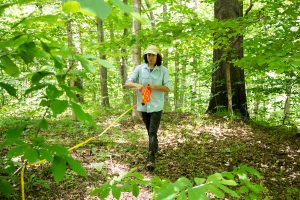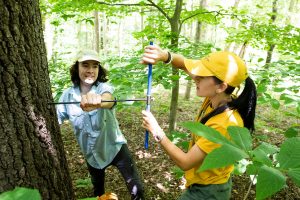 "As we're walking around the forest, in addition to those sampling plots, we're noticing things about the forest too," she added. "And we're also looking to make sure the forest looks like it's in good shape as far as adhering to easement requirements."
They also plan to explore the possible purchase of a drone to assist in the work.
"Especially with a lot of large forests, that's the way forestry is going," Warren said. "Having drones fly."
The trio has added a new item to their to-do list this summer as well. They'll be researching methods to estimate carbon uptake and storage so the foundation can advise forest owners on how to take advantage of carbon tax credits.
"Forests are one of the biggest carbon sinks from carbon dioxide in the atmosphere, so they're really important to mitigate global warming, especially older forests," Quintero said. "A side effect of trying to conserve the forest for the habitat is conserving it for the carbon uptake and carbon storage. And because of tax benefits for carbon offsetting, landowners are starting to be able to get carbon offset tax benefits for these forests."
Finding a way to measure the carbon uptake and storage, and showing landowners how they can enter the carbon market, could be another benefit and incentive for them to preserve forests, Warren said.
Both Quintero, an environmental science major, and Richards, a biology and environmental studies double major, are passionate about the work.
Quintero worked on the 500 Year Forest Foundation project last summer and hopes to enter the inventory conservation field.
Richards, who has been balancing her summer research responsibilities with her role as head Davenport Leader, recently decided she wants to be an ecologist.
"I have struggled with what to do because I have so many interests," she said. "Ecology is the study of how organisms interact with the environment, and it just felt like it tied in everything I'm interested in. Sustainability, conservation, trees. Being out in the field is my happy place."
Tags:
500-year Forest Foundation, biology, environmental science, environmental studies, Karin Warren, summer research, summer research 2022, Summer Research Program