June 13, 2019
Saving the planet, one forest at a time
Keyu Jin '20 and Priscilla Ranjitkar '20 both entered the environmental science field because of their passion for protecting the environment—and because they enjoy the hands-on activities and field trips that the major entails. Now, they're expanding their skillsets to include forestry and wilderness survival as part of a Summer Research project.
Jin and Ranjitkar have partnered with Karin Warren, the Herzog Family Professor of Environmental Studies, to take inventory of some of Virginia's oldest forests. The project is being conducted in partnership with the 500-Year Forest Foundation, a national nonprofit organization that works to preserve old growth forests. Old growth forests provide vital ecosystem services such as regulating water flows and influencing weather patterns. They also promote biodiversity and store a tremendous amount of carbon, which helps reduce the effects of climate change.
"When we talk about 500-year forests, there aren't really 500-year-old trees on these properties," Warren said. "The idea is that the nonprofit works with landowners to preserve forests that have the potential to become old growth forests over time."
Warren was appointed to the board of directors for the 500-Year Forest Foundation last year, and since the organization doesn't have its own staff designated to conduct research in the field, she recruited Jin and Ranjitkar to help her survey several properties in Albemarle County this summer. Their goal is to develop best practices, protocols, and procedures for surveying potential old growth forests. They are also learning how to use geographic information systems (GIS), and will compile what they find on each property into data sheets that the 500-Year Forest Foundation can add to its records.
"They are learning so many practical skills through this project," Warren said. "There's the data analysis, the mapping software, the field skills, and even communication skills between us and the forest owners. I also like that we're able to partner with a community nonprofit and that the research will benefit them too."
In addition to learning best practices for taking inventory of the land, Jin and Ranjitkar have also learned how to survive in the wild. They sample an average of about three plots per property, and it takes about an hour and a half to survey each one. That means long days in the hot sun and plenty of potential interactions with the local wildlife. However, the team comes prepared for each outing. Warren, Jin, and Ranjitkar each wear thick, steel-toed boots to prevent snakes from biting their feet. They also wear long-sleeve tops and tape their pants to their boots to fend off ticks and chiggers. In addition, they bring along a cooler of sandwiches for food—and have perfected the art of using the restroom in the woods.
Though the work can be exhausting, the students have also found it rewarding.
It's been such a fun project," Jin said. "I'd much rather be doing this than writing papers and reading for research. I'm learning so much by doing this and I think what we're doing will be really helpful for both the 500-Year Forest Foundation and for what I want to do in the future. I love nature, and I'm always wanting to learn more."
"This kind of fieldwork is what I want to do after graduation," Ranjitkar said. "We've been told by recent graduates that learning GIS and other hands-on skills really helps when looking for jobs in the environmental field."
In addition to the job skills, Ranjitkar has also learned how to be a good steward for the environment through her classes.
"After the classes I've taken, I've realized the importance of simple things like closing the water tap and turning off the lights," she said.
Jin and Ranjitkar both hope to change the world with the knowledge they've gained at Randolph.
"I'm an environmental studies major because I want to try and protect the planet," Jin said. "I'm afraid that pollution and climate change will make it so we can't live here, so I'm always interested in finding out how I can help protect the environment."
Below are submitted photos from the group's forest inventories in Virginia: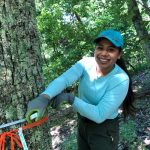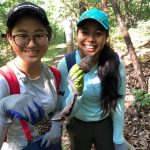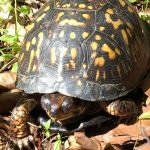 Tags:
500-year Forest Foundation, environmental science, environmental studies, Karin Warren, student faculty research, summer research, summer research 2019