Apply for Financial Aid
A variety of financial aid sources are available to help you pay for your education at Randolph College. Financial aid can come from federal, state, school, and private sources to help you pay for college.
Types of Federal Financial Aid
Grants (PELL Grant, Federal Supplemental Opportunity Grant (FSEOG), Federal Work-Study, Direct Subsidized/Unsubsidized Loans.
For specifics on each type of federal funding available, you can visit: https://studentaid.gov/understand-aid/types
Start by Submitting Your FAFSA
The Free Application for Federal Student Aid (FAFSA) is the official form that students and their families use to apply for financial assistance for college from the federal government.
When Should I Apply?
The FAFSA application opens October 1 each year.
You can submit the Free Application for Federal Student Aid (FAFSA) at www.studentaid.gov throughout the year, starting October 1 for the next academic year.
You must submit a new FAFSA each year to renew your federal financial aid for the next academic year.
Get the App
The myStudentAid app for IOS and Android will help you fill out your FAFSA application and track your progress.
Who Should Apply?
Everyone Should Submit a FAFSA Application.
We encourage everyone to complete the FAFSA, whatever the family's income level. Please contact the Office of Financial Aid if your are waiving the FAFSA and do not wish to use Federal student aid, or to receive need based aid (such as scholarships or grants).
When completing your FAFSA, add Randolph College, Federal School code number 003734
Returning students will complete a new FAFSA every year they are in school and wish to receive Federal Student Aid, preferably by June 1. Returning students will not receive a Financial Aid award letter until they have submitted a FAFSA for the upcoming academic year, or have waived the FAFSA with the Office of Financial Aid. Renew your FAFSA here.
Applying for Randolph College Scholarships
Submitting your application for Admission is all you need to do to be considered for a Randolph College scholarship – there are no other forms to complete. For more information about Randolph College's wide range of scholarship programs, visit our Scholarships page.
Dates and Deadlines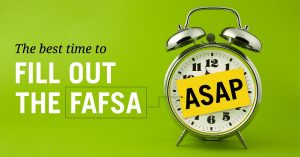 October 1:  Free Application for Federal Student Aid (FAFSA) available to high school seniors
November 15:  Early Action Application for Admission Deadline;
December 1: Spring Semester Student Application Deadline (1st Year and Transfer)
March 1:  Regular Decision Application for Admission Deadline;(rolling admission after March 1); Randolph begins notification of financial aid awards
June 1:  Enrollment Deposit due to accept admission and financial aid offers
July 1: Fall semester bills are sent by the Business Office
August 1: Fall Semester Transfer Student Application Deadline