Lynchburg Beacon of Hope
Stay Close Go Far Promise Scholarship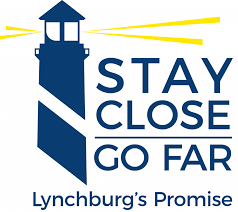 Seniors at E. C. Glass High School and Heritage High School in Lynchburg have an added incentive to go to college or pursue a vocational career.
As of spring of 2019, all graduates of the two schools—approximately 550 students—are eligible for $1,000 scholarship to attend local colleges, universities or accredited technical certification programs. The Stay Close, Go Far Promise Scholarship Program is sponsored and funded by Lynchburg Beacon of Hope in partnership with six of the area's institutions of higher learning. They include Central Virginia Community College, Centra College of Nursing, Liberty University, Longwood University, University of Lynchburg, Randolph College, and Sweet Briar College.
In the 2023-24 academic year, Lynchburg Beacon of Hope provided 27 students at Randolph College with this scholarship. Randolph will also match your Stay Close, Go Far Promise Scholarship for an additional $1,000, totaling $2,000 each year!