How to Apply for a RISE grant
Deadlines
Applications are not reviewed over winter and summer breaks. In order to receive a grant to use during those time periods, submit the RISE application a minimum of two weeks prior to the end of Session II or Session IV.
Otherwise, the deadline to apply for a RISE grant is a minimum of four weeks prior to when funds need to be spent/purchases need to be made.
There is no retroactive funding. If the money has already been committed or spent, it is not appropriate to apply for RISE.
Documentation and Forms
Before applying for a RISE grant, you must read the RISE Guidelines.
Components of a RISE application:
RISE application form (required for all applications)
RISE application essay template (required for all applications)
RISE budget sheet (required for all applications)
RISE Timeline Template (required ONLY for research, Independent Study, enhancing a class project)
Unofficial academic transcript (required for all applications)
a Institutional Review Board (IRB) Forms (if applicable
b Institutional Animal Care and Use Committee (if applicable)
For overseas travel ––Traveler Information form (needed by Associate Provost's Office)
RISE Reimbursement Form Please complete and submit both the "Summary" and "Detail"  sheets from this Excel RISE Reimbursement Form with each reimbursement request. Itemized receipts are required for all purchases. Alcohol and fuel are not reimbursable.

RISE reflection essay template (required for all applications)
Contact lbcarrera@randolphcollege.edu for assistance with the RISE application and/or reimbursement processes.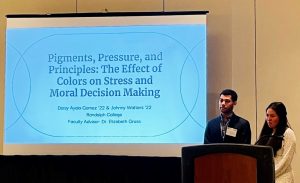 Daisy Ayala-Gomez '22  and Johnny Watters '22, both  psychology majors, used their RISE grant to support their capstone research project. They presented their findings at the Virginia Association for Psychological Science in Staunton, Virginia. Their research explored the effects of stress and color immersion in a virtual world on moral decision-making in college students.