Mid-Atlantic Regional Conference of Undergraduate Scholarship (MARCUS)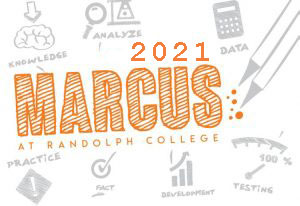 The 23nd Annual Mid-Atlantic Regional Conference of Undergraduate Scholarship (MARCUS) will take place on Saturday, October 23, 2021, hosted by Randolph College. MARCUS is a presentation venue for undergraduate scholarship in all disciplines.
While we hope we can host this conference in person in the fall of 2021, we will wait until mid-July to make the final determination of whether we can have it in-person or need to have it virtually again. Registration will open in August.
MARCUS was founded and hosted by Sweet Briar College from 1999-2018.  Randolph College served as host in 2015, and has hosted since 2019.
In October 2020, we held the conference virtually. The virtual conference presentations and information can be seen below.
Last year's Virtual Conference:
Virtual Presentation Guidelines
We will have three types of presentations, and all presentations will be available for viewing the day before the conference. All presentations will be asynchronous: we will post presentations to be viewed on the MARCUS website (here). On the day of the conference, the presentations will be open for questions, and you should plan on being available between 10 am and 2 pm; you do not need to be available to whole span of time, but you should periodically check the website for questions, and should plan to post answers to those questions. Questions and answers will be posted in the form of text-based comments attached to each presentation on the MARCUS website.
The presentation types are poster, oral presentation, or elevator speech. Each should be submitted as a video, guidance on that is below.
Poster Presentations: A standard poster is a single visual, typically between 3-5 feet on a side, with a minimum of 24 point font. Since these are virtual, you can choose the size and aspect ratio that suits you. You must include a 3-5 minute oral description of your project (maximum limit, 10 minutes). You should record this description while showing your poster  – as a video – using one of the methods described below, or using your own, favorite video creation tool. The benefits of recording your poster as a video are that you can highlight or mouse over the section you might be discussing, and you can zoom in and out on the poster within the video editing software while you discuss various aspects. If you have technical difficulties in creating a video, you may submit a high-resolution image of your poster and a voice recording separately if necessary (a single video is preferred). A separate voice recording can easily be done using the voice recorder app on a smart phone, and that audio file can be saved and shared. Please be sure to read the technical details below about recording videos.
Oral Presentations:  Oral presentations are limited to 12 minutes in length. They should have visuals synchronized with audio and submitted as a video. This is typically a narrated slide presentation, but can be a reading, a monologue, or whatever format your academic field favors. Most typically, slide presentations are recorded directly in PowerPoint, but you are not required to use PowerPoint. Please be sure to read the technical details below about recording videos.
Elevator Speech: This is your chance to describe your research to a general audience. Since the MARCUS  conference has always been an academic conference for all fields, the typical academic forms of presentation – described above – have been presentations that you might also bring to a field-specific conference (while we hope that you tailor it somewhat for the audience you expect at MARCUS). To that end, it is more likely in that a chemist will go to see a chemistry presentation than a history presentation, and a historian might be more likely to look for the history presentations. We would like to challenge the speakers and the audience to break out of their boxes, and listen to and understand each other's work: For the elevator speech, we ask the presenter to describe your research so that anyone can understand it, and in a most engaging way. You do not have to – probably should not – conform to your field's typical way of presenting research. It is not that we could not go to each other's poster and oral presentations and understand the research – we do – but here we are giving you the opportunity to do something different, and draw people in. The elevator speech is no more than 5 minutes, and can use visuals in either the same way as the poster or the oral presentations, or it can simply be a video of yourself discussing your research, as if you just met someone on an elevator. Your video may simply be taken with the video app in a smart phone.
Technical Details: You are not limited to any particular software, format, or platform, but you should submit a video as described above, that will play on YouTube (most any video format will play on YouTube). You will submit your video to a shared Google Drive folder (shared with you once you register) and it will be uploaded to YouTube, or if you have a YouTube account, you can simply submit a YouTube link via email. The MARCUS presentations will be streamed directly on the MARCUS website, only using YouTube as the platform that hosts the presentations. Some suggested ways of creating a video are to use a screen-casting software such as Screencastomatic or Snagit, which are very inexpensive, and also have free or trial versions. Screen-casting software is typically easy to use, and allows you to record yourself speaking over what you are showing on your screen, and then allows you to save it as a video file. If you have access to PowerPoint, you can record your video directly in PowerPoint, whether it is a poster or slide presentation. If you have never recorded in PowerPoint, please see the short video here to get you started. If possible, please record your presentation in a space with little or no ambient noise, and use an external microphone – it really improves audio quality; if you have a smartphone, the earbuds that come with your phone typically have a reasonable microphone. Please contact marcus@randolphcollege.edu with questions.
Dates and Deadlines
Early Bird Registration Deadline (registration is only needed for presenters): 5 pm, Friday, October 9, 2020
Regular Registration Deadline (registration is only needed for presenters): 5 pm, Friday, October 16, 2020
Presentation Submission Deadline (for all registered presenters): 11:59 pm, Sunday, October 18, 2020
Presentations will be available for viewing by the public: 9 am, Friday, October 23, 2020
Presentations will be open for questions and responses: 10 am until 2 pm, Saturday, October 24, 2020
Presentations will no longer be available for viewing: 5 pm, Friday, October 30, 2020
Program
The 2020 program will be posted on the presentation site marcus.go.randolphcollege.edu by Friday, October 23, at 9 am.
You can access a PDF of the 2019 conference program at here.
Past Proceedings are archived from 1999-2019, and can be accessed here.
Registration and Cost
Registration opens July 15 and closes October 16 (early-bird deadline is October 9).
Only presenters need to register, guests can access content freely. Each paid registrant will be mailed an item of MARCUS memorabilia that is yet to be determined (e.g. water bottle). Commemorative conference t-shirts are available for $14, and must be pre-ordered during the registration process.
–Early Bird Registration (until 5 pm, 10/9) requires a payment of $6.24 ($5 registration + $1.24 service fee), and you may submit as many as two presentations with you as first author. Each additional presentation with you as first author costs an additional $6.24. A different first author requires a unique registration. The $5 registration is refundable until October 9.
–Regular Registration (from 5 pm 10/9 until 5 pm 10/16) requires a payment of $11.44 ($10 registration + $1.44 service fee), and you may submit as many as two presentations with you as first author. Each additional presentation with you as first author costs an additional $11.44. A different first author requires a unique registration. Non-refundable.
Presenters should register, submit abstracts, and pay at https://marcus20.brownpapertickets.com/. Important registration details about brownpapertickets site:
You must register using a browser that can view the full website, do not register using a mobile device/using the mobile version of the website, it will not correctly collect your information.
When you register, you will get a questionnaire that asks for the author(s), title, abstract, etc., then the site will ask for the buyer, and that is the person who is putting in the credit card information. If you are choosing the "pay later" option, then the person submitting the form should put in their information as buyer.
If you register more than one person at a time (choosing more than one ticket at the start), you will get one questionnaire per ticket. Then when you get to the buyer screen, it will again ask for the name for each "attendee": please just retype the name of the first author for each abstract you submitted on the questionnaire.
There is an option to register without paying if your college or department is going to pay in bulk for student registrants. If the department/school is going to send a check for multiple students, they do not have to pay the service fees.
Within three days of your registration, you will be sent a confirmation from our office including the link to where to save your presentation.
Contact
Luisa Carrera, Administrative Coordinator
Center for Student Research
Randolph College
2500 Rivermont Ave
Lynchburg, VA  24503
marcus@randolphcollege.edu
434-947-8918