About the Center for Student Research
The Center for Student Research helps students at Randolph College engage in meaningful research that enhances their education and their preparation for graduate studies, careers, and other opportunities after college.
Founded in 2012, the Center administers three programs that foster, encourage, and reward research activities. The Summer Research Program allows students to conduct research in the summer, working closely with their professors to answer challenging questions. Randolph's Innovative Student Experience (RISE), allows Randolph juniors and seniors to receive up to $2,000 to support their research, creative works, and other scholarly activities. The Symposium of Artists and Scholars brings the campus community together to honor the best student research and arts each spring.
The Center holds various programs throughout the year to help students learn about these programs, as well as events designed to highlight successful research.
Staff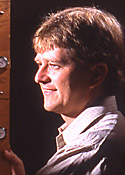 Peter Sheldon
Director of Student Research, Professor of Physics , ( e-mail )
He has a passion for science education and for finding ways to help people take an interest in science. He pioneered the Randolph College Science Festival, an annual event that invites people of all ages in the community around the college to participate in science-based activities, and each summer he directs a program that helps teachers learn better methods for teaching science.

Luisa Carrera
Administrative Coordinator, ( e-mail )
Carrera facilitates student and faculty scholarship, the Symposium of Artists and Scholars, the Summer Research program, the American Culture program, and the Mid-Atlantic Regional Conference for Undergraduate Scholarship (MARCUS). Luisa especially enjoys meeting with students to discuss how to they may receive Randolph's Innovative Student Experience (RISE) Grant award and hearing about their innovative ideas and research topics. Luisa frequently travels, hikes, kayaks, bicycles, motorcycles, and loves being out of doors.  She resides in Monroe with her husband Mark and their fabulous feline family.