LEAP – Local Educational Access Program
Randolph Tuition for 2022-2023: $27,270

LEAP Tuition: no more than $14,000

Average Tuition, Room and Board at a Virginia Public University1: $23,618
One of the Nation's Best Liberal Arts Colleges – Right Here in your Hometown!
Want to earn a college degree from a nationally recognized, liberal arts college, but don't want to go far from home? Think you can't afford a great college education?
Problem Solved.
Randolph College knows college is an investment. That's why we created the Local Educational Access Program (LEAP).
This special program allows us to offer a special rate to students from Lynchburg City and the counties of Amherst, Appomattox, Bedford, Campbell, and Nelson.
LEAP +/PLUS In 2021, we expanded our reach and are now offering LEAP benefits to students from the areas of Augusta, Rockbridge, Botetourt, Craig, Roanoke, Franklin, Pittslvania, Halifax, Charlotte, Prince Edward, Cumberland, Albemarle, Alleghany, Bath, Buckingham, Henry, and Fluvanna.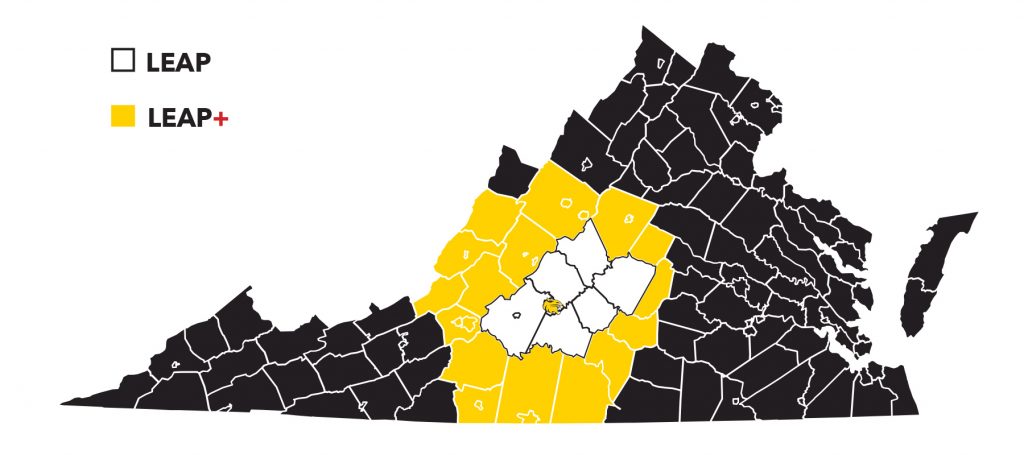 Randolph guarantees that qualified students in the Class of 2026 will PAY NO MORE THAN $14,000 THEIR FIRST YEAR IN TUITION—though many students pay far less than this after federal financial aid!
Want to live on campus?
For 2022-23, incoming LEAP students will pay no more than $21,000 in tuition, room, and board.
This means you can take advantage of Randolph's high caliber liberal arts education, caring faculty, close-knit community, excellent athletic programs, and numerous internship and other programs at a cost that is comparable to or less than the cost of tuition at state public institutions.
More Information
To learn more about LEAP and how to apply for admission, please contact the Office of Admissions, admissions@randolphcollege.edu, 434-947-8100
* Average amount due for FAFSA filers. Depending on your individual situation, federal aid may include Pell Grant funding and a Direct Loan as well as other scholarships and grants.
12020-2021 Full Time Resident Undergraduate Student Charges, SCHEV, August 2020