Jennifer Gauthier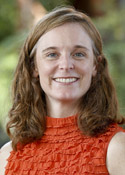 Chair of the Communication Studies Department, Associate Professor of Communication Studies
B.A., Vassar College; M.A., Wesleyan University; Ph.D., George Mason University
email
Edward Said wrote, "The job facing the cultural intellectual is therefore not to accept the politics of identity as given, but to show how all representations are constructed, for what purpose, by whom, and with what components."
I firmly believe that this is part of my job as both a cultural intellectual and a teacher. In my communication and film studies classes at Randolph, I encourage students not to take anything for granted, but to ask questions about the historical, political, economic, and social contexts of the cultural objects we examine. My ideal classroom is one where students are eager to share their ideas and learn from each other. I often learn just as much from them as they do from me.
Film is my passion, although I was an art history major as an undergraduate at Vassar College. Studying medieval manuscripts turned out to be the perfect way to develop a critical eye and close attention to detail. I strive to pass these skills on to my students and to ignite in them a passion for knowledge, intellectual inquiry and lifelong learning.
My own research on Canadian film, cultural policy and national identity has fueled my interest in the delicate relationship between art and economy. Spending a year in Ottawa as a Fulbright Scholar helped me to better understand the subtle, but important differences in our two nations. I consider myself an unofficial ambassador for Canada and its amazing, but under-appreciated films. Currently I am working on projects that examine the national cinemas of Canada, Australia and New Zealand, with special emphasis on indigenous cinemas. I am most interested in how state-sponsored film industries balance their cultural and economic goals.
In my other life, my husband Eric and I have a son Jack (born in 2007) who keeps us busy. In our free time we enjoy outdoor activities like hiking, mountain biking and canoeing, often with our golden retriever, Max. We also like to travel; some of our most recent trips have been to New Zealand, Hawaii, the Canadian Rockies, and Key West, Florida.
Matt Ashare
Adjunct Instructor in Communication Studies
B.A., Wesleyan University
email
It was Elvis Costello who, borrowing from humorist Martin Mull, infamously noted that "Writing about music is like dancing about architecture; it's a really stupid thing to want to do." It has always been in my nature to take such taunts as a dare, particularly when I sense that there's some essential fallacy lurking in the background of a clever quip. And, so, after earning a B.A. from Wesleyan University in the 80s – switching, as I did, in my junior year from a major in music to a concentration in what I believed to be the more academically "pragmatic" field of history –I set out, unconsciously perhaps, to find the flaw in Costello's logic.
While teaching a new reading/writing program for advanced students in the California public school system, and pursuing a career in music as a guitarist and songwriter, I began applying the critical thinking skills and theories I'd been exposed to as an undergraduate to all forms of art, literature, and music. Reading broadly, across genres, in both fiction and non-fiction, I sensed there was genuine value to be found in what I'd been taught were the low arts: pop music, television, comic books, etc. . . To be sure, I was fortunate to come of age when the lines dividing high- from low-brow had become blurred beyond all recognition -- a time when it was more than just fashionable for serious intellectuals to tackle formerly marginalized subjects. And I was lucky enough to find myself in the right place at the right time -- Boston in 1991 -- to put my own theories to the test as my interest in playing music gave way to a passion for writing. For, 1991 was, as Sonic Youth's Thurston Moore christened it, "The Year Punk Broke" and the "underground" subculture I'd grown up as a part of was quickly mainstreamed. Suddenly, fortuitously I was an "expert" on a relevant and pressing cultural shift on which I had a number of provocative opinions.

Writing, for me, meant first a foremost "criticism." The essay has always been my favorite form, and, when asked what I did for a living, I'd often respond, "previews, reviews, interviews, and just plain old views." As a generalist who specialized in music and other cultural emissions, I placed a high premium for myself and my writers on "cultural literacy" -- knowing, experiencing, and consuming culture in all its various facets. The best criticism, I've always taught, starts somewhere specific (a song, a film, a book, a quote, an experience) but, through a series of connections that may lead to a wholly unexpected conclusion, ends somewhere else without ever losing sight of the text. It engages the reader in a conversation while, hopefully, adding something vital to larger ongoing conversations about art, science, politics, culture, history, and life. The best feature writing also reveals something essential about its author and, in those fleeting moments, forges an intimate bond with the reader. As an editor, a teacher, and a colleague, these are the values I stress. And, perhaps, in the very best sense, it really is a little like dancing about architecture.

J. Nikol Beckham
Assistant Professor of Communication Studies
B.A., Virginia Tech; B.F.A., American Intercontinental University; M.A., San Diego State University; Ph.D., University of North Carolina
email
David Duncan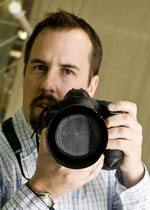 Adjunct Instructor in Communication Studies
B.F.A., Savannah College of Art & Design
email
My whole life has been revolved around telling stories. I worked as a staff photojournalist with several newspapers over the course of 12 years, eight of which was with The News & Advance in Lynchburg, VA before leaving at the end of 2005 to run my own corporate photography and video production studio, David Duncan Photography and Live Dream Share with my wife, Michelle. www.davidduncan.com www.livedreamshare.com
My clients range from editorial to corporate clients, The Washington Post, WebMD Magazine, Wired Magazine, BBC Radio 4, Smart Money Magazine, Randolph College, Norfolk Southern, Piedmont Eye Center, Cardiovascular Associates of Central Virginia, Collier Resources Company and St. John's Episcopal Church to name a few. The other side of David Duncan Photography, we cater to personal clients, photographing families and weddings and recording personal historical audio stories or sound portraits. Family and wedding www.davidduncanphoto.com
In 2005 I was accepted to attend the Poynter Institute of Journalist where I attended the Visual Edge, Visual Reporting workshop and produced a short video story on the U.S. Coast Guard Rescue Swimmers that were in New Orleans during Hurricane Katrina. I have a personal collection in the Library of Congress American Folk Life Center that was name 'David Duncan September 11th Collection'. The project was first part of a personal multimedia project and gallery show that I shot and produced after the 9/11 attacks called Innocence Lost Lynchburg 9/11. The focus was to show how Lynchburg, VA dealt with the attacks the days and months afterwards. Some of my 9/11 images were also featured in the LIFE Book and Magazine "The American Spirit" Meeting the Challenge of September 11.
Giving back to my local community is a huge priority of mine. My dad instilled a commitment to volunteer as we grew up. In my professional life, I have partnered with the YWCA of Central Virginia www.ywca.org/centralvirginiafor the past four years producing all of their photography, video content and projects pro-bono year-round creating a presence and brand online and in the community.
My goal when teaching students is to show them how to work and create content in the different mediums, work as a team and to tell stories with what they capture. I bring real world experience to my classroom and teach the way I would want to be taught, fast pace and "hands-on" the course work. I have set up group of artist, photographers and videographers who are happy to share their life experiences through my Skype Artist Series. My end goal for my class is to find a local non-profit in our community that has limited funds in their budget, one that could not afford video services, and have the students work in a real world environment with a client to produce two-five minute stories that are based around the mission of the non-profit. The finished videos are shown during a screening on campus and the videos are uploaded to www.vimeo.com/comm279where the non-profit can link to the finished stories for free on their website, blog or facebook page.