June 24, 2022
No longer invisible: Randolph student shines a spotlight on Asian-American filmmakers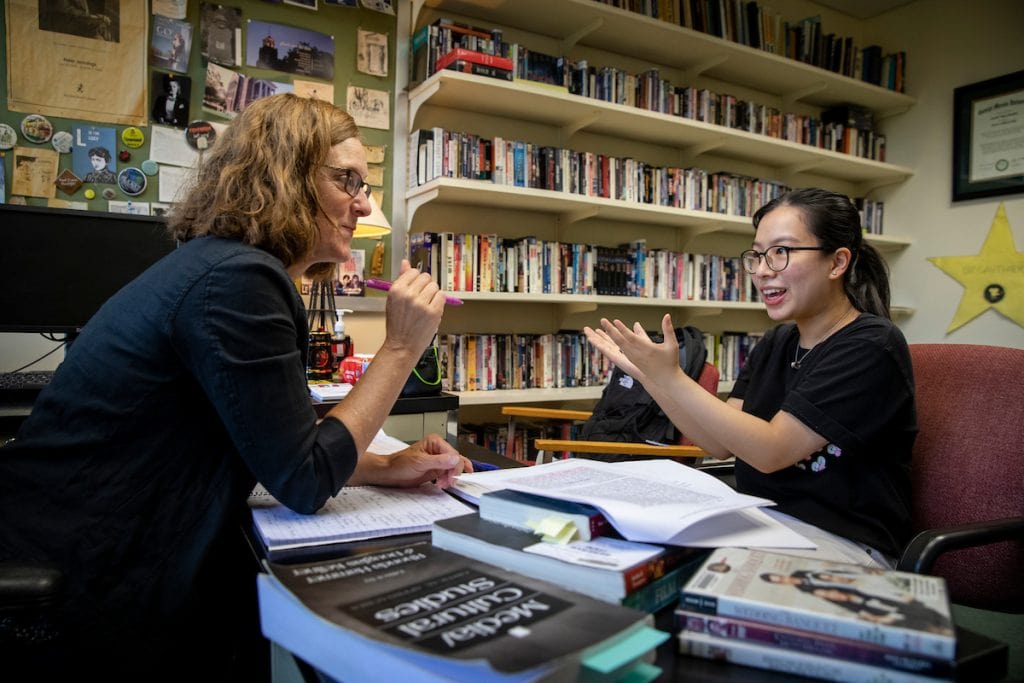 This story is part of an ongoing series featuring the work of students and faculty participating in Randolph's 2022 Summer Research Program.
Mengna Zhao '23 moved with her family from China to Japan when she was 10 years old.
As the only Chinese student in her school, she often felt alienated from her peers but found solace in popular culture.
"I would watch TV, film, and think, 'There's a lot of people who feel the same way I do,'" Zhao said. "Then I came here, and it's the same way. Media is a way to connect with the whole world. It can help heal people."
This summer, she's teaming up with media and culture professor Jennifer Gauthier to examine the work of Asian and Asian-American filmmakers as part of Randolph's Summer Research Program.
Zhao proposed the project to Gauthier not long after they watched Brokeback Mountain in one of Gauthier's film classes. The 2005 Oscar winner was directed by Taiwanese filmmaker Ang Lee.
Zhao and Gauthier will start their research looking at the history of Asian representation in film—from Anna May Wong, often considered the first Chinese-American Hollywood movie star, to Bruce Lee.
They'll look at Ang Lee's success and chart the path of who has come along since then, while looking at where they're working and the kinds of films they're making.
The project will look for patterns in the themes and style of their films and analyze the historical, political, and social contexts that may have affected a film's success, with specific attention paid to representations of gender, the role of stereotypes, and how the films address their audiences.
"The mainstream film industry is all about money," Gauthier said. "We talk about this in all of my classes. If the point is to make money, you're not going to challenge people's expectations. I've always been fascinated by filmmakers who are working in their homelands and then when they move to Hollywood, how does their filmmaking change?"
For Zhao, the work is personal. There was a time when she was too intimidated to pursue her own creative work. She is now majoring in media and culture, with minors in film studies, sociology, gender studies, and Asian studies.
She plans to become a filmmaker—a dream she realized when she arrived at Randolph College.
"I'd never really thought about it before," she said. "I saw so many of my friends doing music and theatre. There are so many possibilities. I don't have to limit myself. Maybe, one day, if something I create can affect other people, even one person, then it's totally worth it."
Tags:
asian studies, film studies, Jennifer Gauthier, media and culture, summer research, summer research 2022, Summer Research Program