Randolph's Innovative Student Experience (RISE) Program
Receive grant money to fund your own research, scholarly or creative pursuits.
You are an original. You have personal questions that drive your passions, and you have a unique way to contribute to the world.
We created Randolph's Innovative Student Experience (RISE) Program to give you the opportunity to pursue your unique passions. Every Randolph College sophomore, junior or senior can apply to receive a grant of $2,000 for research, creative work, experiential learning, and other scholarly pursuits.
In the past, students have used the RISE award to travel to singing competitions, purchase cancer cells for biological research, travel to the U.S. Virgin Islands to study water samples, research antioxidants in fresh fruit, study abroad in Europe, and more.
How will you use your RISE award?
You can use your RISE grant for projects beginning your sophomore year through graduation. If you transfer to Randolph, you must wait one semester before applying for a RISE grant.
Not sure what to do with your RISE grant? Talk with your faculty advisor and other professors to brainstorm ways that the RISE grant can enhance your education. Or, visit us in the Center for Student Research (Main 137) to talk about your ideas.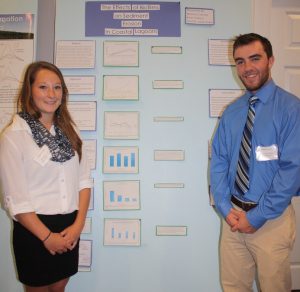 How to apply
Before applying for a RISE grant, you must read the RISE guidelines. Make sure you use v.4 of the application. Submit your proposal in a timely manner, giving the Committee for Student Scholarship at least four weeks to review your proposals.  If your grant is approved, complete and submit the reimbursement request form for personal funds spent on the approved project. If you are missing the receipts for the expenses, submit the missing receipt form also. There will be no retroactive funding. If the money has already been committed or spent, it is not appropriate to apply for RISE.
All completed RISE proposals must be turned in four weeks prior to committing any money to a project or trip (program fees, housing deposits, flights, etc.). For example, if you are applying for an internship or a study abroad program, you should apply for RISE at the time of application or before; you should not wait to hear if you have received the position to apply for RISE if you are not going to have four weeks before you have to commit to the internship or study abroad program. 
Forms and Documentation
Contact csr@randolphcollege.edu  for assistance with the RISE application process.
The RISE Program is part of the Center for Student Research