Giving Tuesday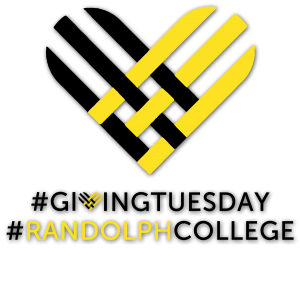 Giving Tuesday 2018 is November 27!
Giving Tuesday is a globally recognized day of giving back, and follows the holiday shopping days of Black Friday and Cyber Monday. On this day, individuals worldwide unite their efforts for the benefit of the charitable causes that matter most to them and for the betterment of their communities.
Mark your calendar to make your gift that makes a world of difference for our Randolph community on November 27.
Last year nearly 600 alums, parents, students, faculty and staff, and friends united to raise over $150,000 for the Annual Fund on Giving Tuesday. Thanks to their generosity, it was the largest online giving day in the College's history!
This year, we are setting our sights even higher—750 donors in 24 hours. 
To achieve this ambitious goal, we need YOU!
Ways to Help:
Make your Giving Tuesday gift to the Annual Fund.
Offer a Giving Tuesday challenge or match for your class. For example, pledge to give $10 for each classmate who makes a gift of any amount on Giving Tuesday.
Help us spread the word about Giving Tuesday to classmates and friends by sharing the College's emails, social media posts, or by any other means you prefer to communicate such as phone, mailed notes, or text.
Consider serving as an official Giving Tuesday social media ambassador.
For more information, please contact Tamara Jamerson, Annual Fund Director, at 434.485.8067 or by email at tjamerson@randolphcollege.edu.