September 22, 2021
Randolph's beloved Greek Play returns with the tragedy 'Heracles & Deianeira'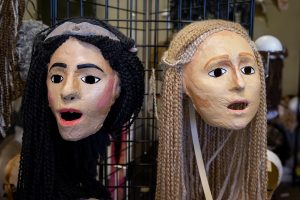 After working on Randolph College's most current Greek Play for nearly two years, director Amy R. Cohen has started comparing the tragedy's main characters to one of theatre's most enduring figures.
Heracles & Deianeira, traditionally referred to as Sophocles' Women of Trachis, is about the titular married couple and a misunderstanding between them that causes Heracles to become very ill.
It's widely believed that when Sophocles presented the tragedy, the roles of both husband and wife were played by the same actor.
"That is a grand demand of an actor," said Cohen, a classics professor and the Catherine Ehrman Thoresen '23 and William E. Thoresen Chair of Speech and Theatre. "They are both such towering characters in their different ways, and Sophocles gives them so much to do. The speeches are so rich, and I've honestly started to think about it as if those two roles together are kind of Sophocles' Hamlet, as far as how big a task it is and how rich the actor's part is."
The play, which opens Oct. 1, was staged virtually through Zoom last fall, with the ultimate goal of once again performing in Randolph's Mabel K. Whiteside Greek Theatre this year.
Cohen chose a new translation for the upcoming production, so while returning cast members have learned new lines, their familiarity with the characters is still there.
"They knew the shape of the play and their characters really well, so that gave them a head start there," she said of Jaelyn Evans '22 and Sabina Sabat '22, who are reprising their roles from the 2020 staged reading. "We have some shorthand about those characters now. We know them so well."
Evans and Sabat play a total of five characters between them, including Heracles and Deianeira's son, while Greek Play newcomer River Gay '24 joined the cast last spring as both title characters.
"They showed such confidence and intelligence in cold reading the two roles, such clarity in distinguishing between them, and a voice and presence I knew would carry in the Dell, which takes a lot to fill," Cohen said of Gay's audition.
Several members of the chorus have also returned, joined by a group of first-year students who auditioned after orientation.
Rehearsals for this new iteration of the production began in early August, not long after Cohen's design team arrived to start working on the Greek Play's iconic, custom-made masks, created using the College's 3-D printer.
Cohen also recruited a couple of players from the College's lacrosse team to lend a hand; they're playing soldiers who carry an ailing Heracles into the Dell.
"There's something about it that feels, honestly, very Greek," she said. "Any big sanctuary you can think of, like Delphi, had the temple to the god but many also had a theatre and a stadium. The things that went on there would be international panhellenic competitions in arts and sports. So it feels like a really natural partnership."
Performances of Heracles and Deianeira are scheduled for 4 p.m. Oct. 1, 2, and 3, in the Mabel K. Whiteside Greek Theatre at Randolph College. Admission is free. Visit https://www.randolphcollege.edu/greekplay/ for details.
Tags:
center for ancient drama, classics, greek play, greek tragedy, performing arts, theatre, traditions