August 13, 2021
First-years get a jump-start on college life through Randolph's SUPER program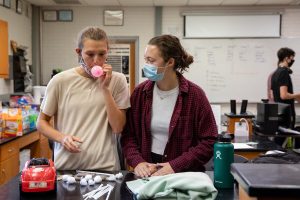 One by one, students lined up to take a turn sending their contraptions down a makeshift ramp held up by Peter Sheldon, Randolph's Charles A. Dana Professor of Physics & Engineering.
In this variation of the popular egg drop experiment, students were tasked with using the same set of materials—straws, popsicle sticks, cotton balls, rubber bands, and a balloon—to protect their egg as it traveled down the ramp in a toy car and crashed into the wall.
The hands-on lab was a bit of a break from the intensity of the College's Step-Up to Physical Science and Engineering at Randolph program, also known as SUPER.
Created in 2010, SUPER is designed to recruit, train, and retain the nation's future scientists by making college more accessible for math and science majors.
SUPER scholars arrive on campus two weeks before their peers to get a head start on math and science courses, learn about services offered by the College to help them succeed in their field, and get acclimated to college life.
"It's been exciting to meet other people with similar interests," said Shauna Shepard '25. "It's been intense, which I think has been a good thing. It's nice to keep busy."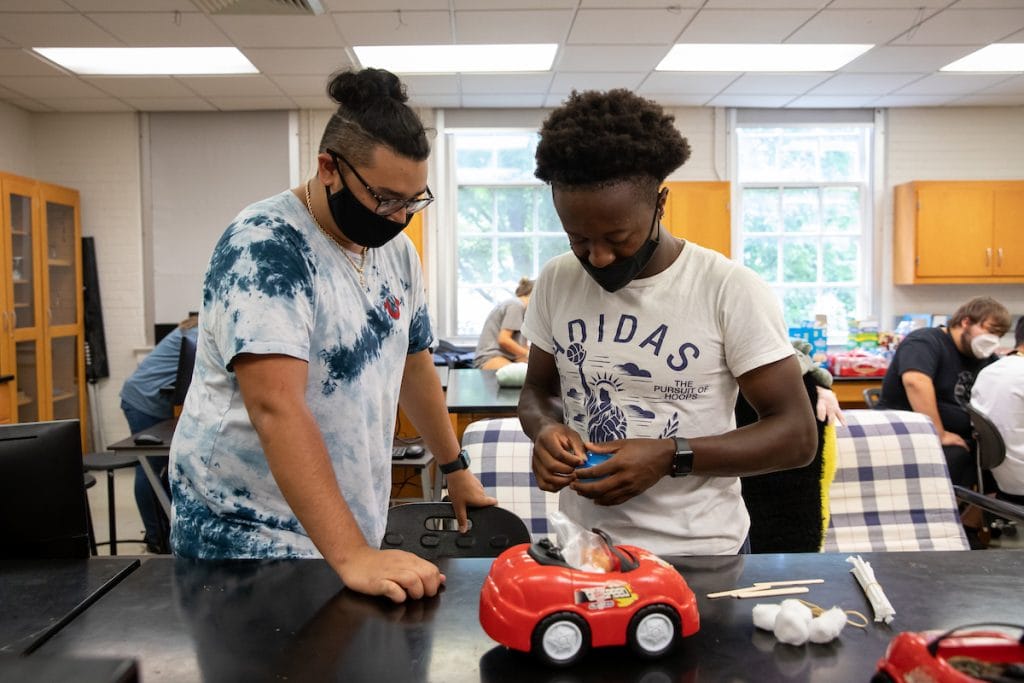 The program also includes social events and activities, advising sessions, study halls, and a mentorship program linking the first-years with older students.
"It's been a really good time to learn the campus," said Omar Tomlinson '25, who plans to major in chemistry, "and the social events really have helped us get closer."
This year, thanks to a nearly $1 million grant from the National Science Foundation, SUPER was expanded to include mental health and inclusion initiatives to support student well-being and resilience.
Meghan Halbrook, professor of sport and exercise studies, has been leading those sessions with students, which will continue on a monthly basis this fall.
"It's nice to know there are so many people at the College who want you to succeed," said Summer Knowles '25, who, like Shepard, acknowledged the rigors of the program.
"It's been challenging, but I feel like I've gained more confidence."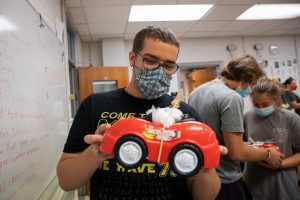 Students eat most of their meals together. As for the social events, you name it, and they've likely tried it since the program began Aug. 5. Movie nights, mini golf, scavenger hunts, and even a trip to Kings Dominion.
On tap for next week: A pool party, more classes, a resume development session with the College's Career Development Center, and a tour of North Fork, a research park affiliated with the University of Virginia.
After completing the program, SUPER scholars participate in mentoring, academic support services, and career guidance activities throughout the fall and spring semesters.
When Joudly St. Fleur '25 first heard about SUPER, it was described to her as an extra support system. It's something she's found to be true over the last week.
"Extra people, extra help," said St. Fleur, who is interested in pharmacology. "And you can never have too much help."
Tags:
fall 2021, first year programs, First-year, science, sciences, STEM, SUPER