July 23, 2021
Animal Planet: Izaiah Burgos '24 realizes dreams with zoo internship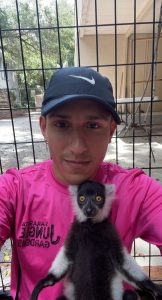 Growing up, Izaiah Burgos '24 could often be found glued to the TV, watching Animal Planet, during downtime.
"Every morning and night, like clockwork," he said. "Exploring the natural world, and the animals in it, was always a dream of mine."
Burgos, a Randolph biology major on a pre-vet track, is realizing those dreams through his summer internship with Sarasota Jungle Gardens. The 10-acre Florida attraction is home to more than 200 native and exotic animals—including birds of prey, primates, small mammals, alligators, crocodiles, and pink flamingos—many rescued or donated.
This summer, he's been helping with animal care around the park while also participating in the summer camp program, outreach in the surrounding area, animal encounters, and live shows.
"It's small enough where I can learn more about the zoo world without being overwhelmed," said Burgos, who is from Florida and wanted an internship close to home where he could earn animal care hours.
He plans to attend veterinary school, with a focus on exotic animals. He's getting his fill of them this summer and shared photos of himself posing with a tortoise, alligators, tropical birds, and even a tarantula crawling on his arm.
"I've always been interested in the medical field and, originally, I was on a pre-med track," Burgos explained. "Taking medicine and adding it to another part of my life that I loved made the decision clear as day. The idea of working with amazing, foreign animals that you don't see every day and the opportunity to be exposed to them in a way that not everyone gets to, was so alluring I just had to go down that route. It felt right. Now I'm more excited than ever about my future and what I can achieve."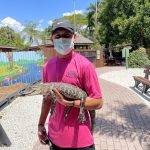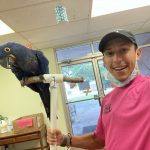 Tags:
biology, pre-veterinary, student internships, summer internships, veterinary medicine