August 17, 2021
STAR program shows first-year students how to thrive in college
College life is already underway for 20 Randolph first-years, including Pinky Johns '25.
The Rustburg native is enrolled in the College's Summer Transition at Randolph (STAR) program, which is designed to ease first-years' adjustment to college through a mix of academics and social activities.
STAR offers students like Johns an opportunity to get a head start on that adjustment, earning academic credits, familiarizing themselves with campus, meeting faculty and staff, and getting to know classmates.
"I definitely would have been overwhelmed coming in without it," she said Friday, one week into the two-week program.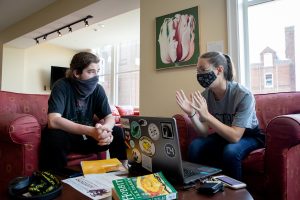 STAR participants also begin their first-year writing course—Writing in College, which continues on a weekly basis into the fall semester—during the program.
They hone their writing skills during daily study halls and one-on-one meetings with tutors from the Academic Services Center, while also getting tips on things like note- and test-taking, time management, and goal setting.
This year, they're also attending advising meetings, sessions about career development and planning, and an introduction to TAKE2, Randolph's new curriculum model.
TAKE2, which will find students taking two classes every seven weeks, has John Wade '25, of Mechanicsville, excited.
"I'm easily overwhelmed, and like the prospect of doing the same amount of work over a longer period of time," said Wade, who has already been impressed with Randolph's tight-knit community.
Students have also found time to bond outside of the classroom through various activities, including trivia, game and movie nights, and frisbee golf. Over the weekend, they got a taste of the offerings from local food trucks that set up on campus and attended a Hillcats game.
"STAR provides students with an introduction to academic life at college and an opportunity to meet friends at Randolph prior to the start of classes," said Kim Sheldon, director of student success. "Most importantly, STAR gives first-year students time to learn how to become students who can thrive in college. I wish we could offer this program to all of our first-year students."
Tags:
fall 2021, first year programs, First-year, STAR program, Summer Transition at Randolph