March 30, 2016
Filmmaker Allen Moore to present Driver Lecture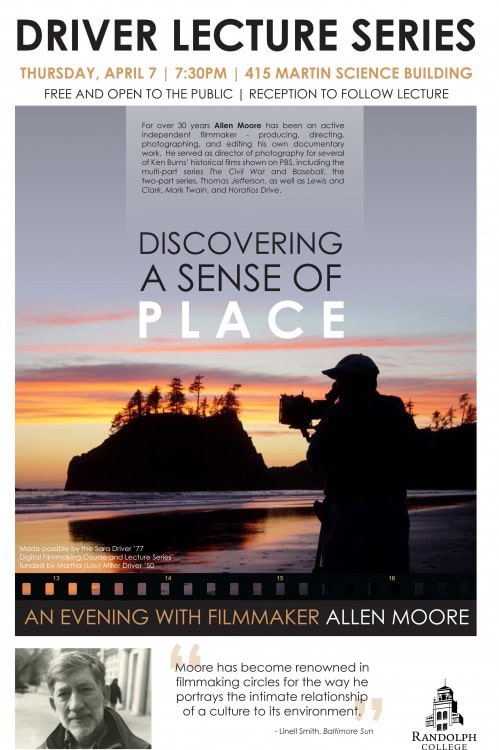 Independent filmmaker Allen Moore will share his personal experiences as a cinematographer and give advice to Randolph students about how to enter the film industry for the Spring 2016 Sara Driver '77 Lecture. The program is free and open to the public, and will take place April 7 at 7:30 p.m. in Room 415 of Martin Science Building.
Moore is an active independent filmmaker who has produced, directed, photographed, and edited his own documentaries for more than 30 years. He served as director of photography for several of Ken Burns' historical films that aired on PBS, including the multipart series The Civil War and Baseball, the two-part series Thomas Jefferson, as well as Lewis and Clark, Mark Twain, and Horatio's Drive. He is a faculty member at the Maryland Institute College of Art, and is currently enrolled in a residency program at the Virginia Center for the Creative Arts.
Communication studies professor Jennifer Gauthier is excited that Moore has agreed to take time out of his residency and share his expertise with Randolph students.
"Allen Moore's lecture offers us a chance to hear from a highly respected professional in the film industry and to think about documentaries as a means of expression," she said. "For a small liberal arts college, we are unique in offering our students the chance to learn filmmaking skills and to learn from professionals. These experiences will equip our students with the knowledge and skills that will set them apart when they go out looking for jobs."
The Driver Lecture is made possible by Sara Driver '77 and the Digital Filmmaking Course and Lecture Series, funded by her mother, Martha (Lou) Miller Driver '50. Each semester, the series brings a professional from the film or media industry to campus to work with students and deliver a public lecture.
"Our goal is to introduce students to the practical world of media production," Gauthier said. "This lecture supports our department's mission of blending the critical and historical aspects of the industry with the practical."
For more information about Randolph College's communication studies program, please visit https://www.randolphcollege.edu/communicationstudies/.
Tags:
alumnae funded, communication studies, Driver Lecture, events, Jennifer Gauthier, lectures, speakers