April 1, 2016
Science Fest 2016 to feature panel of alumnae scientists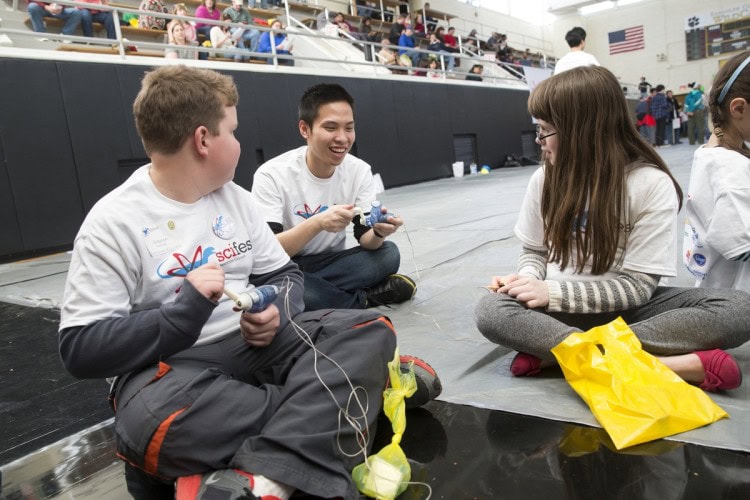 A regional LEGO competition, demonstrations of science in music, the popular Science Day for elementary school children, and inspirational stories from successful alumnae scientists will be just some of the highlights of the 8th annual Randolph College Science Festival.
The Science Festival is a four-day series of free events that allow the public to discover and celebrate the beauty of science and its connection to many aspects of life. The program, which has something for all ages, has grown significantly since it began in 2009.
The main series of events begins Thursday, March 31, when Nick Giordano will deliver the keynote address at 7:30 p.m. in Wimberly Recital Hall (inside Presser Hall). Giordano is a physics professor and dean of the College of Sciences and Mathematics at Auburn University. The musical theme will continue at 7 p.m. April 1, when Nicholas Perna gives the lecture, "Spectral Visualization of Singing Voice Acoustics." Perna is a voice and pedagogy professor at Mississippi College, and will discuss vocal acoustics and utilize VoceVista software to demonstrate spectral feedback of the singing voice.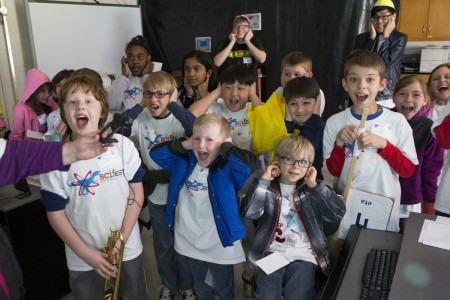 As part of the College's 125th anniversary celebration, this year's festival will feature a special Women in Science Panel discussion on Friday, April 1 at 3:30 p.m. in Nichols Theatre (inside the Student Center). For the event, alumnae panelists will share stories about their successful science careers and offer advice to others aspiring to enter the field. Students will have the opportunity to meet the panelists prior to the event at a reception and open house at the Center for Student Research, which starts at 2:30 p.m.
Another unique addition to this year's Science Festival is the Junior FIRST LEGO League Regional Competition in Houston Memorial Chapel on Sunday, April 3. For the competition, teams of children ages 6-9 will work with experts in the field to create a "challenge" that relates to an important real-world issue. Competitors then use their challenge ideas to create architectural posters and models. For more information, visit http://www.firstinspires.org/robotics/flljr.
"The 2016 Science Festival is going to be awesome," said Peter Sheldon, a Randolph physics professor and founder and director of the Science Festival. "We are particularly proud to have a music series featuring our keynote on the science of the piano, and another speaker on the science of voice. We are also proud to be hosting for the first time the regional Jr. FIRST LEGO League Expo on Sunday, along with our drop-in hands-on activities open to all ages."
The Randolph College Science Festival expanded from Science Day, a free program offered to elementary-aged children, which was started by students in 2005. The popularity of the one-day Science Day, which routinely fills its registration early, led to the creation of an even bigger festival that would allow Randolph to share the beauty, fun, and relevance of science to all ages. The event has grown to encompass multiple days. It is organized and operated by the Randolph College Society of Physics Students and other student, staff, and faculty volunteers around campus.
Other highlights of the 2016 Science Festival include:
A Scientist Goes to the Movies: Jurassic World April 1 at 8 p.m. in Nichols Theatre: Biology professor Doug Shedd will provide commentary on the scientific aspects of the popular dinosaur movie. Free popcorn will be provided.
Science Day is scheduled for Saturday, April 2. The popular event features an afternoon of activities for students in grades 3-6. The Randolph College Nursery School also will host Science Day for Little Scientists for children ages 3-7. Prior registration is required for these events.
The Poetry Reading and Competition Awards will be held April 2 at 6 p.m. in Thoresen Theatre (Harold G. Leggett Building): Finalists in Randolph's K-12 science-based poetry competition will share their work, and over $1,000 in prizes will be awarded to the authors of the top entries.
Science Festival Stars begins at 8:30 p.m. on April 2 in the Winfree Observatory: Look up at the stars using a telescope at the Winfree Observatory. The event will be held rain or shine.
Drop-in Science Activities will be held Sunday, April 3 at 1 p.m. in Martin Science Building: Robots, lasers, and local companies, and organizations will be on hand with interesting scientific activities, including the Non-Newtonian Fluid Pool.
The Science Festival Petting Zoo and Bouncy Houses will be in place April 3 on front campus: A petting zoo for all ages will be open from 1-3 p.m. Bouncy houses will be available for children from 1-3 p.m. and for College students only from 3-4 p.m.
The Science Saturdays Reception will take place Sunday, April 3 at 2 p.m. in Martin Science Building: High school students who participated in Randolph's free Science Saturdays program will be recognized as Science Saturday Scholars. Find more information about the program at randolphcollege.edu/sciencesaturdays.
Visit www.randolphscience.org for a full schedule of events.
Tags:
125th anniversary, Center for Student Research, community, events, Junior FIRST LEGO League Regional Competition, peter sheldon, science, science day, science festival, science saturdays, women in science