August 25, 2022
College's role in the women's suffrage movement to be recognized with historic marker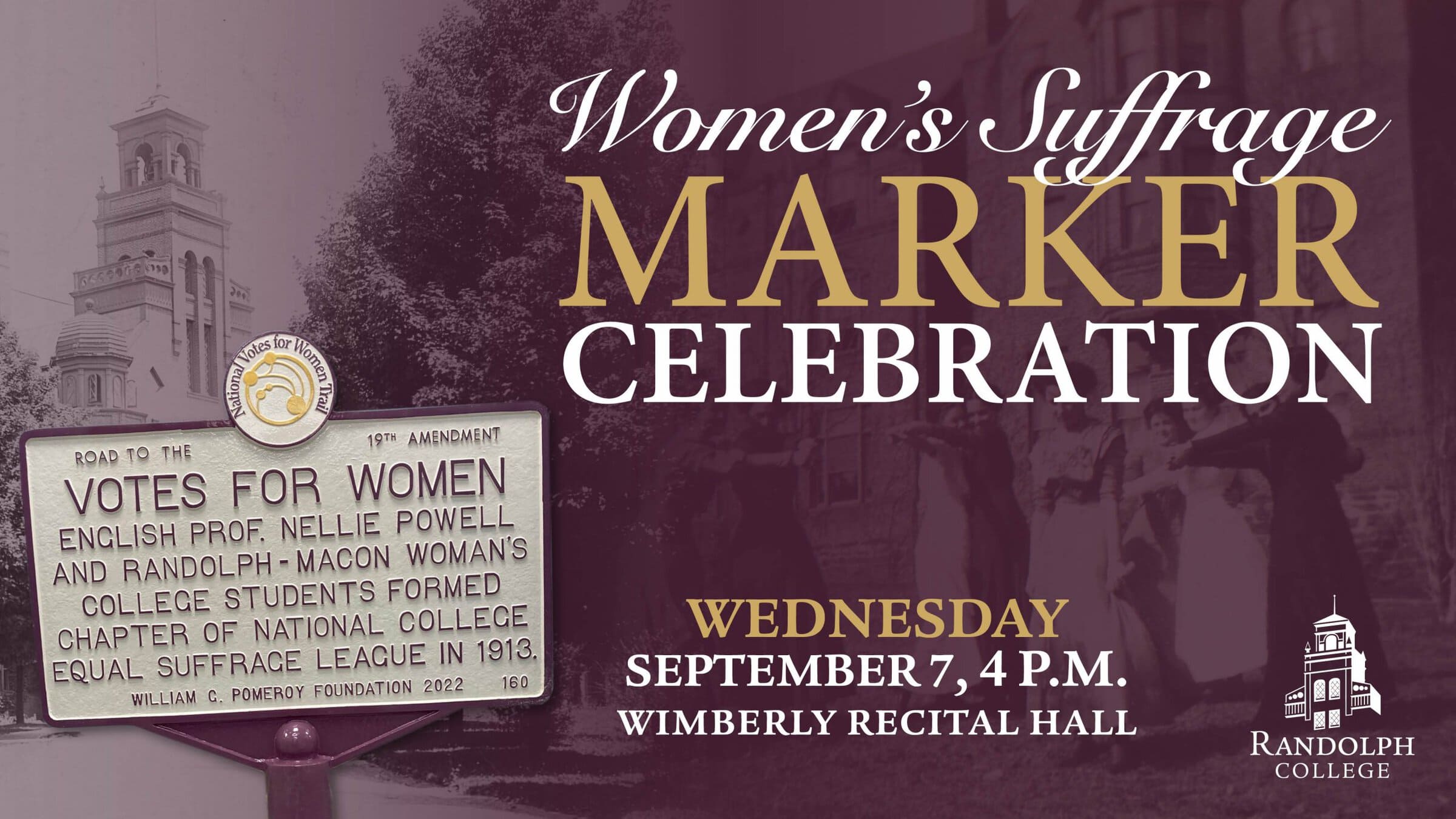 Randolph College is one of two sites in Virginia that will be included on the National Votes for Women Trail, which seeks to tell the story of the long struggle for women's voting rights in America.
The trail—a project of the National Collaborative for Women's History Sites—is providing free roadside markers for significant suffrage sites around the country.
"The trail highlights how the women's suffrage movement was waged in cities, towns, and rural areas around the country, even in states like Virginia that did not ultimately ratify the 19th Amendment," said Nancy Tate, the trail's Virginia state coordinator. "Research has revealed a vibrant suffrage movement in Lynchburg, including professors, students, and various educational programs at what was then Randolph-Macon Woman's College."
The marker will honor English professor Nellie Powell and the students who formed an Equal Suffrage League chapter at the College in 1913.
The club, which boasted 140 members by 1914, sponsored talks by students and faculty, as well as local, state, and national suffrage leaders. Powell and the president of the Lynchburg chapter also hosted a suffrage school on campus, covering public speaking along with political, social, and legal topics.
The historic marker, which is being placed near the corner of Rivermont and Norfolk avenues, will be unveiled following a reception on Wednesday, Sept. 7, at 4 p.m. in Wimberly Recital Hall.
The event will include remarks from Tate; Randolph President Sue Ott Rowlands; Jennifer Gauthier, a Randolph professor of media and culture and co-president of the local League of Women Voters; and Ted Delaney, director of the Lynchburg Museum System.
The National Collaborative for Women's History Sites (NCWHS) led the effort to develop the trail in honor of the centennial celebration of women's suffrage in the United States in 2020.
It began as a virtual database, with more than 2,300 sites—including Randolph—and is now becoming a physical reality with funding from the William G. Pomery Foundation and the federal Women's Suffrage Centennial Commission.
Two-hundred roadside markers will go up all over the country, representing the diversity of places, events, and people important to the passage of the 19th Amendment.
Tags:
Gender Studies, history, political science