April 8, 2021
The Masked Singers: Special masks allow Randolph music students to safely sing together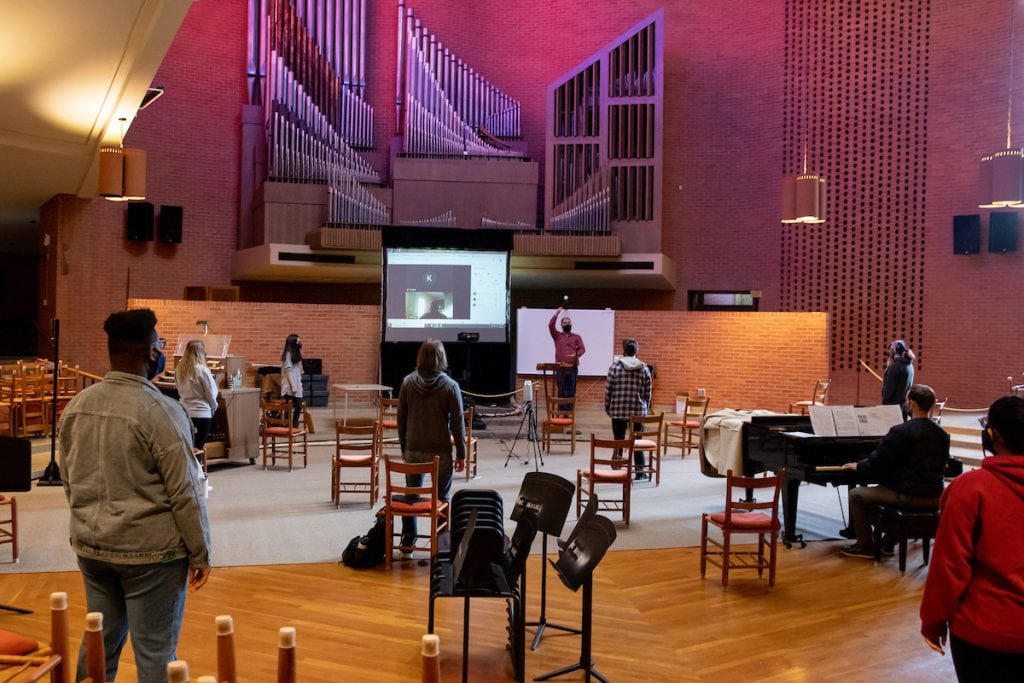 Music professor Randall Speer had an odd instruction for Chorale students as in-person spring rehearsals got underway.
The students were gathered in Houston Memorial Chapel, ready to tackle their new normal—singing while masked.
"I asked them to enunciate as though they were really frustrated with a toddler and could barely contain their anger," Speer said, laughing. "And they were singing lovelier, which I find kind of hilarious. It worked."
Music instruction presents a unique challenge when trying to adhere to COVID-19 protocols for distancing. So Randolph's music department invested in specially designed singing masks that allow students to practice together in the same space.
Much like in conversation, cloth or surgical masks can muffle sound. The singing masks now on the market extend a few inches from the wearer's face.
"There's space for the sound to travel, and there's also space for actual diction," said Emily Yap Chua, a music professor. "It makes a huge difference."
Andréa Jovel '24, a Chorale member, said the masks give her more room to move her mouth and use proper techniques while singing, which produces a better quality of sound.
And what the masks allow—singing together safely—is a game changer.
"It feels amazing to be on campus," Jovel said. "I find myself jumping into the music like I never missed a beat. It's easier to collaborate and feel the music in the chapel than through a screen."
Watch: The Department of Music's 2021 Winter Showcase
Speer is leaving class and rehearsals completely energized, and he and his students are flying through the repertoire. It's the opposite of the fall semester, when asynchronous meetings slowed the pace of instruction.
"Now I'm experiencing this in reverse," Speer said. "They're moving faster than what I'd originally planned. It makes all the difference, just having them in the same room."
Chua compared the experience to an oasis in a desert.
"After that first or second day of teaching, we got so much done," she said. "The students were so engaged in the process of music-making. It's been so much better for them, especially in this discipline."
One-on-one voice lessons are mostly virtual for the time being. Those students have also been issued singing masks, with the hopes of moving to some in-person instruction later in the semester.
"No one is going to be singing unmasked in a space with another person," Chua said.
In the meantime, they've assigned private practice rooms to the music students who wanted them.
"They have a space in which they can sing the way they're supposed to without a mask on because it's not shared," Chua said. "We are doing everything we can to provide access to anything that makes it a productive and comfortable experience."
Both Chua and Speer said they've been heartened by the students' positivity and work ethic.
"They're enthusiastic about trying whatever they can to make this art form work under the current conditions, and for that we're really thankful," Speer said. "They're genuinely involved."
Tags:
chorale, music, music department, Vita No. 10