March 20, 2019
Randolph announces new STAR program for incoming students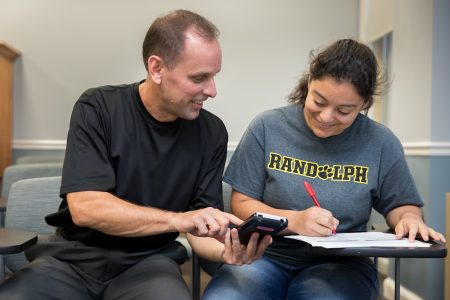 Starting this summer, first-year students will have another opportunity to get a head start on college life and academics through the Summer Transition at Randolph (STAR) program. STAR is made possible thanks to a grant from The Endeavor Foundation, which encourages program development in support of the liberal arts.
The STAR program is a free, two-week session for enrolling, first-time-first-year students at Randolph. Participants will receive 3.5 academic credits as they familiarize themselves with campus, establish relationships with faculty and staff, and share academic enrichment experiences. As part of the curriculum, students will begin their first-year writing course, Writing in College, which will continue on a weekly basis during the first quarter of the first semester. Students will also complete the IST 101 course, Academic Strategies, which addresses skills such as goal setting, self-regulation, time management, and note and test taking.
"New students should apply because the STAR program will give you an advantage as you start your college career," said Kimberly Sheldon, director of student success. "It's a great way to get to know friends and faculty as you lock down the skills necessary to excel academically."
In addition to classroom preparation, the STAR program also gives new students the advantage of living on campus and adjusting to college life before fall orientation begins. The program is residential, and students will live together in one of Randolph's residence halls for the duration of the two-week session, regardless of residential status for the academic year. Commuter students and residential students are both encouraged to participate, and meals will be provided in the Cheatham Dining Hall.
Students will also participate in activities like ropes courses, escape rooms, minor league baseball games, and other social events to help get to know and connect with their classmates and the College.
"Students who completed transition programs like STAR at Randolph in the past were much more comfortable going into orientation and the start of classes," Sheldon said. "The STAR program is worth the time, and there's ice cream too!"
Students may be accepted directly into the program in their admissions letter, or may complete a short, STAR inquiry form for consideration. Candidates are encouraged to confirm participation by July 1, since space in the program is limited. The inaugural, 2019 program runs from August 14-28.
For more information about STAR, please visit www.randolphcollege.edu/star or contact Kim Sheldon, director of student success, at 434-485-8066 or ksheldon@randolphcollege.edu.
Tags:
first year programs, First-year, grants, Kimberly Sheldon, new students, STAR program, Students Transitioning at Randolph, The Endeavor Foundation