June 27, 2018
Visit Randolph during Virginia Private College Week!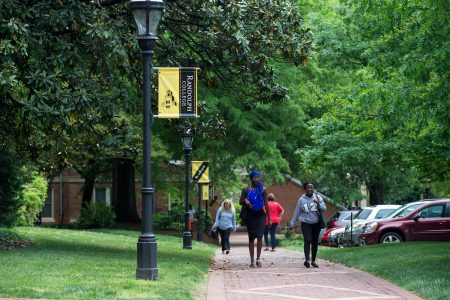 Randolph and 23 other private colleges from around the state will celebrate Virginia Private College Week July 23-28.
The event provides rising high school juniors and seniors—and their families—as well as prospective transfer students the opportunity to learn more about the vast array of educational offerings in the state. The week is sponsored by the Council of Independent Colleges in Virginia (CICV).
During the week, Randolph and other participating colleges will offer tours and information sessions about admissions, financial aid, and academic and extracurricular programs. Students who visit three participating colleges during this week will also receive three application fee waivers. These waivers can be used at any CICV college. In addition, students visiting at least three institutions will also be eligible for a drawing for a $500 Amazon gift card.
"Visiting campuses in person is one of the most important steps in the college search process," said Robert Lambeth, CICV president. "I encourage parents to explore which college will be the best fit for their son or daughter, and I want to reassure them that a quality education at a Virginia private college is affordable and within reach."
Randolph College will feature tour and information sessions at 9 a.m. and 2 p.m. Monday through Friday and at 9 a.m. on Saturday.
For more information or to register for Randolph College's program for Virginia Private College Week, please visit http://www.randolphcollege.edu/admission/visit/ or call 800-745-7692 or 434-947-8100. You can also meet the Admissions staff and find your area counselor at http://www.randolphcollege.edu/admission/staff/.
For more information about CICV, including a list of participating colleges, please visit http://www.vaprivatecolleges.org/Our-Colleges/Virginia-Private-College-Week.aspx.
Tags:
admission, college admission, Council of Independent Colleges, Virginia Private College Week, visit, VPCW