April 11, 2016
Randolph's Spring Theatre Production opens Thursday
Tickets are now on sale for Randolph College's Spring Theatre Production of the family-friendly musical, Once Upon a Mattress.
The show opens Thursday, April 14, at 7:30 p.m., and other shows are scheduled at the same time on April 15, 17, and 18. Prior to a matinee showing on April 16 at 2 p.m., the College will host a Fair Play Day when families are invited to lunch, a meet-and-greet with the characters, a costume contest, and other activities throughout the Leggett Building and Thoresen Theatre. Fair Play Day begins at 12:30 p.m.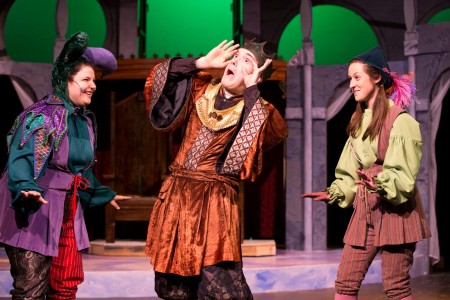 Once Upon a Mattress is a romantic comedy that reveals the real shenanigans behind the Hans Christian Anderson tale, The Princess and the Pea. The theatre adaptation of the book by Jay Thompson, Marshall Barer, and Dean Fuller is directed by theatre professor Stephanie Earl. Music, composed by Mary Rodgers, will be performed by the Randolph College Chamber Orchestra under the direction of music professor Randall Speer.
Written in 1959, the classic musical features strong lead roles for women, which was rare for its time. Earl said those roles will give Randolph's actresses and female singers a chance to shine and showcase their talents on stage. The play also carries a message of female empowerment.
"The princess is not your traditional, perfect Snow White or Sleeping Beauty. She's a princess they find in the swamps who's loud, brash, and unconventional, and everybody loves her anyway," Earl said. "There's a great message about being true to yourself that I find really appealing."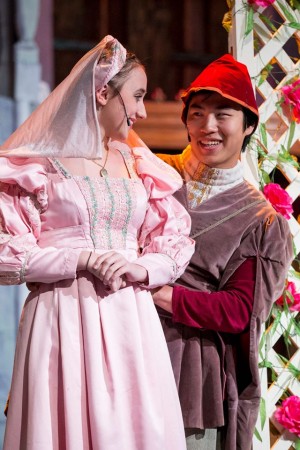 Earl said the show, which includes the full orchestra and a cast of 18, is one of the largest musicals the College has produced in at least a decade. What sets it apart, though, is its goofy humor. "It's like going to see Shrek," she said. "It's something that people from young to old will really enjoy."
Once Upon a Mattress is the first production Earl has directed at Randolph, and she has been pleased with the work and dedication of her students.
"It's exciting and I feel like the whole year's been leading up to this," Earl said. "I feel a lot of anticipation to get it up and ready, but I'm having a really good time working with the students. They've all come to the rehearsals well prepared and with a lot of energy."
Tickets for Once Upon a Mattress are available at http://www.randolphcollege.edu/tickets/.
Tags:
community, events, family programs, Stephanie Earl, theatre