March 25, 2016
Founders' Day ceremony celebrates College's past and future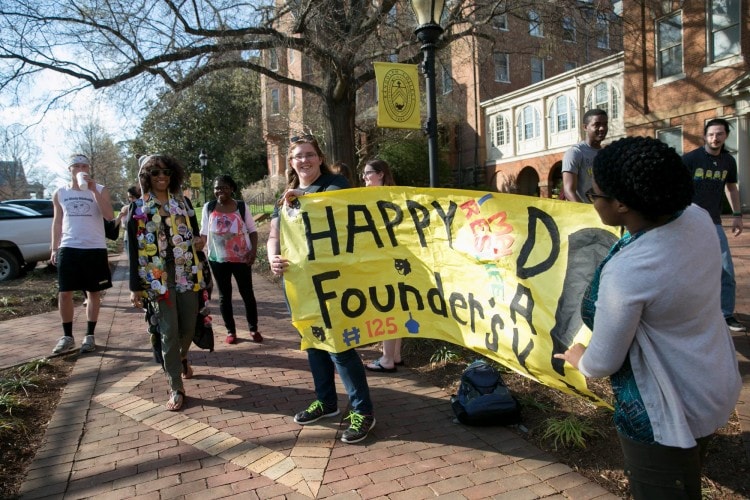 With the establishment of Randolph-Macon Woman's College in 1891, William Waugh Smith fulfilled his vision of establishing an educational institution for women that was comparable to those provided for men. On Thursday evening, the Randolph College community gathered to celebrate Smith and the others who worked so diligently to found the College 125 years ago.
The College was officially founded March 10, 1891. However, since this date usually falls during spring break, the College celebrates Founders' Day later in March. On Thursday, students, faculty, and staff gathered for a brief ceremony, after which they planted rose bushes along the Red Brick Wall in celebration of a line in the College song, which reads, "where roses tumble along sunny walls."
Randolph College President Bradley W. Bateman said the Founders' Day tradition allows students, faculty, and staff to pay homage to the rich history of Randolph-Macon Woman's College, and now, to the accomplishments of Randolph College.
"The College has changed over the years, of course, adapting to the needs of generations of students; however, even more has stayed the same," Bateman said. "Most importantly, we continue to have a wonderful faculty with academic excellence, and a passion for the liberal arts that remains at the heart of everything we do. Our future is just as bright as our history, thanks to the close community of students, faculty, staff, alumnae, and alumni who call Randolph College their own."
Student Government President Sandeep Poudyal '16 wished William Waugh Smith a happy belated 171st birthday. He shared several notable changes in student life, like when the College lifted a ban on Bridge card games in 1928 and its ban on smoking and dancing in the 1930s. Poudyal also compared today's lack of dating rules to the 1920s, when students were required to have male visitors approved in advance by the College and their parents.
"We have so much freedom now, and I still can't find a date," he joked, drawing laughter from the crowd.
Poudyal echoed Bateman's sentiments that while the College has changed in many ways during the course of its 125-year history, the principles upon which Smith founded R-MWC live on at Randolph. Small class sizes, a strong sense of community, and close relationships with faculty and staff are values that students continue to treasure about their College experience today.
"The way students feel about their four years here hasn't changed," Poudyal said. "Student life has improved so much, but the things we hold dear to us have always been a part of Randolph and will always be a part of Randolph."
See more photos from the Founders' Day celebration on the Randolph College Facebook page, and visit http://web.randolphcollege.edu/125/ for upcoming events celebrating the 125th anniversary of the College's founding.
Tags:
125th anniversary, Bradley W. Bateman, Founders Day, Sandeep Poudyal