May 17, 2015
Randolph College celebrates the Class of 2015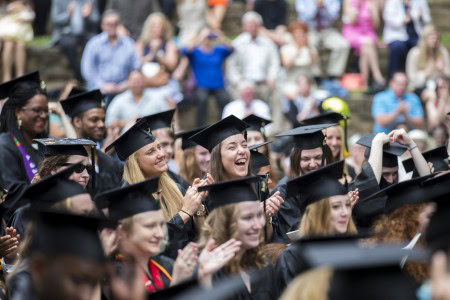 With the weather alternating between sprinkles, warm sun, and overcast clouds, an audience of family, friends, faculty, and staff filled the Dell Sunday, May 17 for the 2015 Commencement ceremony. It was a celebration of endings and beginnings and a call for the graduates to use their leadership skills and passions to make the world a better place.
View Commencement Photo Gallery >>>
"Since our humble beginnings in 1891 as Randolph-Macon Woman's College, we have never shied away from our commitment to providing a uniquely personalized education in the liberal arts that prepares students to engage the world critically, and creatively, live and work honorably, and to experience life abundantly," President Bradley W. Bateman told the audience. "Today, we add these women and men before me to the list of graduates who are leaving this College prepared to reach extraordinary levels of achievement."
The 144 graduates, including 17 who received master's degrees, represented 21 states and eight countries. During Commencement, the College also recognized the recipients of the prestigious Maude Huff Fife Award. The award, named after a graduate of the Class of 1918, is given to the student whose quality point ratio is the highest in the senior class. This year, the award was shared by three students: Grace Gardiner, Hart Gillespie, and Tu Nguyen.
"We have all been lucky enough to learn and grow in a supportive, nurturing environment," said Sarah-Elizabeth Cottone '15, senior class president. "Now I challenge myself and my fellow graduates to leave Randolph and our comfort zones behind. Confidence and self-assurance are things I have gained while a student at Randolph, and I am ready to take on the challenges that my future undoubtedly holds."
Bateman said Randolph students hear the word "abundance" often at the College. "We use the word abundance here at the center of our identity," he said. "It appears in our mission statement. Vita abundantior is our College statement. It is how we understand each other, and it is what we say we educate you for."
He encouraged the graduates to think about more than material abundance as they move on to the next phase of their lives. "We say to you that the true abundance is not how much money you make," Bateman said. "The true abundance is not how much money you give. The true abundance is how richly you are able to live your life, and how richly you are able to give to others."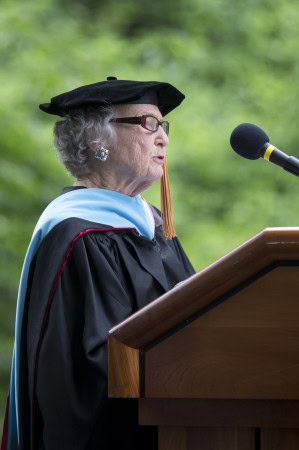 Commencement speaker Rosel Schewel, who is known for her philanthropy, commitment to education, and passion for civil rights, applauded the students for their volunteering and other service activities during college. She encouraged them to expand those efforts after graduation.
"…make a commitment to be involved in your community wherever you live," she said. "Use what you have learned at Randolph to influence your own life in a way that makes the world a better place for everyone."
Schewel shared three stories of small groups of people whose courageous efforts did just that. In 1954, she and a group of other leaders for the Girl Scout Council made the decision to open registration for what was then a new summer camp program to all students—regardless of race. "Today, that sounds like an easy decision," she told the audience. "But in 1954, it caused an uproar."
Some white parents withdrew their children, and several board members resigned. But the remaining board stuck with its decision and began one of the first integrated children's programs in the city. "This was a small step toward social justice," she said. "But it is often in these small instances when a few people band together to take a stand that change begins to happen."
Schewel told students about a group of students and parents in Prince Edward County who protested the deplorable conditions of schools for black students. Their fight made it to the U.S. Supreme Court, and Brown vs. the Board of Education paved the way for the integration of all schools across the nation.
She also reminded students of graduates from their own alma mater who made a difference in the civil rights movement in Lynchburg. The two students of then-Randolph-Macon Woman's College joined several other local college students in a sit-in at a local drug store. "Mary Edith Bentley and Rebecca Owen were Randolph students like you," Schewel said. "Because they stood up for their belief that all people are created equal and should be treated as equals, they were sentenced to 30 days in jail. But they were also victorious. The lunch counters and restaurants and motels and water fountains and swimming pools and public schools of the South were desegregated because of this small, brave group of people and other small groups just like them across the nation."
Being a part of solutions and helping others brings a sense of personal satisfaction," she told the graduates. "The world you are about to enter is filled with opportunity and promise. Randolph College has prepared you well to take advantage of all that it has to offer."
Students, she added, may find themselves with jobs, families, and friends that they love. "But the satisfaction of being a part of something greater than yourself, something that lifts others up, that moves others one step nearer to a safe, healthier life, or enhances the life in your community will give you a sense of accomplishment that exceeds any other."
One person with the courage and passion to step forward with an idea can carry an entire group with her, Schewel said.
"Be the person that steps forward," she added. "Be the one that makes a difference."
Tags:
Commencement, graduates, Maude Huff Fife Award, Rosel Schewel, service