February 19, 2015
CASE recognizes Randolph with five awards
Randolph College received five awards—including one first-place prize—from the Council for Advancement and Support of Education (CASE) on Tuesday.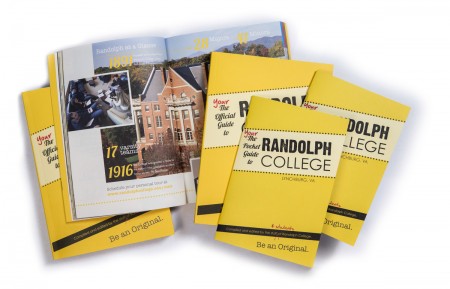 The awards recognize excellence in the College's publications and communications strategy. Randolph competed against colleges and universities of all sizes throughout the southeastern United States.
CASE presented Randolph with a Grand Award, the highest award possible, in the crisis and issues management planning category.
The College's new recruitment publication, Your Official Guide to Randolph College, also garnered high praise from CASE judges. Randolph was awarded an Award of Excellence in three separate categories for the piece, including recruitment publication, publications writing, and editorial design.
CASE also presented Randolph a Special Merit Award in the single page publication category for another recruitment piece, Open at Your Own Risk.
"These awards are a testament to the hard work, talent, and creativity of the staff of College Relations," said Wesley Fugate, vice president and chief of staff. "While the awards are a wonderful reflection upon these outstanding individuals, the real reward is the impact their work has on the student experience and Randolph College. They are instrumental to the good work we do at Randolph."
Tags:
admissions, awards, national recognition, Office of College Relations