August 27, 2014
Randolph College welcomes new students for academic year marked with positive change
LYNCHBURG—Randolph College welcomed more than 220 new students today, marking the beginning of a new academic year filled with positive changes at Randolph.
The new students and their families were greeted and assisted with moving in by faculty, staff, and several groups of returning students already on campus. The remainder of the student body, expected to number about 685 total this year, will arrive this weekend. The student body has grown 37 percent since 2009.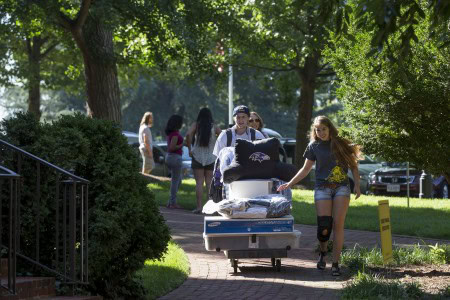 "We look forward to every new class and every academic year, but this year is especially exciting," said Randolph College President Bradley W. Bateman. "We have made progress on several ventures that will enhance the education and the life of Randolph's growing student body. We expect to continue this forward momentum in the years ahead."
Several significant changes await students this fall. One of the most notable is the addition of an apartment-style residence hall across Rivermont Avenue from the main campus. The College purchased the Grosvenor Apartments in 2013 and spent the past year renovating the property. All of the renovations were made possible thanks to gifts from alumnae. The new housing option will house 43 students beginning this fall, and a professional residence hall staff member will also reside on the property.
Each apartment has a kitchen, dining room, one or two bedrooms, and a living area, all with new furniture. The complex is also served by the campus Internet and security systems. The new residence hall gives students a new style of housing option where they can live more independently. It also will help the College house its growing population of students.
Randolph also recently completed the first phase of a renovation of Cheatham Dining Hall. The servery was redesigned to create additional serving stations that will accommodate more students as well as make room for an elevator entrance that will serve Wright Hall, another residence hall undergoing renovations. The new elevator will provide greater accessibility to the dining hall.
The look in Cheatham has also been refreshed with new cabinets, countertops, and lighting.
This academic year also marks exciting advancements in a partnership the College recently formed with the National Gallery, London. Ashok Roy, the museum's director of science, will deliver a public address at Randolph on October 8. In "F for Fake, R For Real: The Rise and Fall of Two Madonnas," Roy will explain the scientific methods used to establish the authenticity of various works of art.
The partnership also allowed Randolph to establish an internship program with the National Gallery, London, beginning in the summer of 2015. A special trip for Randolph College alumnae and alumni has also been planned next summer. The trip includes a reception in the National Gallery.
Classes for the fall 2014 semester will begin on Monday, Sept. 1. On Sept. 2, the College will officially open the academic year with its annual Convocation.
Tags:
class of 2018, Grosvenor Apartments, National Gallery, new students