August 6, 2014
Pennsylvania newspaper publishes articles by Randolph student intern
Phuong Tran '15 has had two front page stories published on the front page of western Pennsylvania's largest newspaper this week.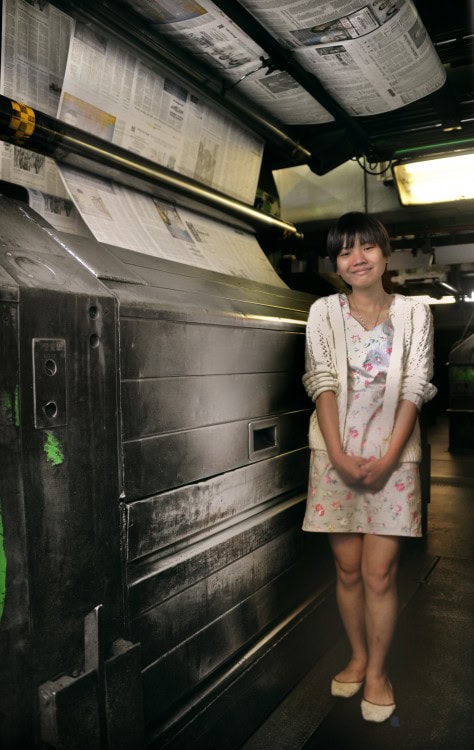 Tran, who is working as an intern copyeditor at the Pittsburgh Post-Gazette this summer, proposed two stories to an editor in charge of the paper's "New Immigrants" series. She got the green light to write them and then set out to find Vietnamese immigrants who could shed light on life in the city.
Tran's story about a doctor who fled to America during the Vietnam War appeared Sunday, and a story about a nail salon owner followed the next day. "I got good feedback from my editor and several e-mails from readers," she said. "It made me feel good to know that people are enjoying the stories I tell."
A communication studies and philosophy major, Tran learned about the internship opportunity through Randolph College President Bradley W. Bateman. She told Bateman about her interest in journalism at a College event last year. Bateman remembered that and later introduced her to his friend David Shribman, executive editor at the Pittsburgh Post-Gazette.
When Tran began the internship, she was given an option for where in the paper to work. "I was reluctant because I didn't know much about Pittsburgh," she said. "I said at first I want to be a copyeditor so I can read a lot of articles about Pittsburgh and get used to the city." So she spent most of her summer reading stories to ensure they made sense, were written correctly, and conformed to Associated Press style. She suggested story ideas when she felt prepared.
Her summer work has helped Tran realize some new skills that she wants to learn during her final year at Randolph, including more social media and photography. "I don't want to just focus on being a reporter, I want to be more well-rounded," she said.
However, the internship also demonstrated to Tran just how prepared she already was for working as a journalist. She discovered her background in the liberal arts was an asset.
"It's pretty exciting, because I now have first-hand experience in working at a newspaper and working with other aspiring journalists from bigger schools," she said. "I realized that even though I'm from a small liberal arts college, I'm just as good as them. I feel confident."
Tags:
communication studies, comparative philosophy, internships, journalism, philosophy